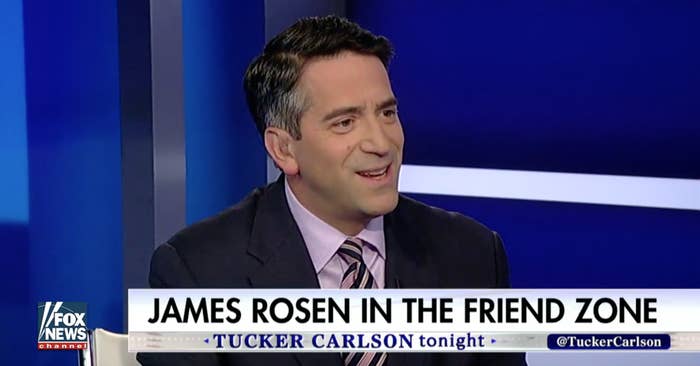 James Rosen, Fox News' former chief Washington correspondent, left the network suddenly in December amid increased scrutiny over allegations that he sexually harassed three coworkers, National Public Radio reported Wednesday.
Rosen was a pillar of Fox News' Washington DC and national security coverage, at one point becoming the target of a leak investigation by the Obama administration's Department of Justice over his reporting on North Korea.
After an 18-year career at the network, however, Rosen suddenly left Fox News, with no on-air announcement or explanation from Fox News.
But on Wednesday, NPR's David Folkenflik reported Rosen had developed a pattern of "flirting aggressively with many peers" and allegedly made sexual advances toward two Fox News reporters and a producer. As scrutiny of the allegations increased, he parted ways with the network, NPR reported.
Fox News did not immediately respond to BuzzFeed News' requests for comment. And attempts to reach Rosen were unsuccessful.
He has kept a low profile since leaving the networking, tweeting on Jan. 2 that he hoped to share news of his next endeavor soon.
Rosen left Fox News just days after 21st Century Fox mogul Rupert Murdoch brushed aside questions about sexual harassment claims at the network.
"There was a problem with our chief executive, sort of, over the years, isolated incidents," Murdoch told Sky News, referencing allegations that were made against the late Fox News' CEO Roger Ailes. "There's been nothing else since then. That was largely political because we're conservative."
Several high-profile broadcasters on the cable news channel, however, have faced sexual harassment allegations.
In April, news host Bill O'Reilly was fired after the New York Times reported Fox News paid five women about $13 million to settle harassment claims.
Political commentator Scottie Nell Hughes filed a lawsuit against Fox News alleging she was raped by anchor Charles Payne and blacklisted by the network after reporting the allegation. Hughes alleged she was forced into a sexual relationship in exchange for air time.
Francisco Cortes, a former Fox News executive, was also fired in 2017 after being accused of sexual assault.
Former host Eric Bolling was suspended in August, and in September parted ways with Fox News amid allegations that he sent sexually explicit pictures to coworkers. Bolling has since filed a $50-million lawsuit against the reporter who broke the initial story.
Citing eight of Rosen's coworkers, the former Washington correspondent allegedly groped a Fox News reporter who joined the network shortly after the Sept. 11, 2001 attacks during a shared cab ride. When she rebuffed him, Rosen allegedly "sought to steal away her sources and stories," NPR reported.
Last spring, according to NPR, Rosen tried to forcibly kiss a young reporter after the two had lunch together. He then allegedly offered her help in getting more air time on Bret Baier's nightly newscast in exchange for keeping silent.
Another Fox News producer who covered the State Department also alleged Rosen sexually harassed her. A foreign national, she reportedly accepted a deal from Fox to extend her stay in the US in exchange for not going public with her allegations.