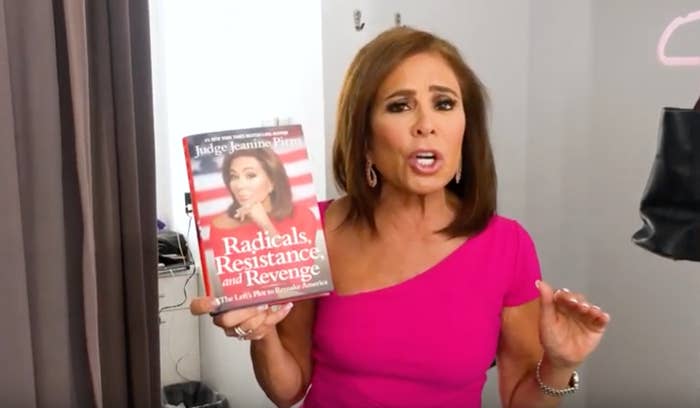 Fox News host Jeanine Pirro claimed Thursday there is a plot to "replace American citizens with illegals that will vote for Democrats," echoing a white supremacist conspiracy theory that was recently cited by a suspected terrorist who targeted Latinos in the deadly El Paso mass shooting.
Pirro made the comment during a radio interview with Fox Nation's Todd Starnes, where she was promoting her new book.
"You've got people with, we've got voter rolls, that haven't been purged of dead people in years where the Democrats have resisted that," she told Starnes. "Think about it. It's a plot to remake America, to replace American citizens with illegals that will vote for the Democrats."
Her comments came less than a month after a gunman targeted Latinos in a mass shooting in El Paso, killing 22 people and citing a "Hispanic invasion" as his reasoning for the massacre. In a 2,300-word racist manifesto posted online, the suspected shooter claimed he was "simply defending my country from cultural and ethnic replacement brought on by an invasion."
In her 12-minute interview with Starnes, Pirro claimed immigrants were part of a wider "plot."
"Their plan and their plot to remake America is to bring in the illegals, change the way the voting occurs in this country, give them licenses," she said.
Fox News did not immediately return requests for comment about Pirro's comments.
Pirro has recently been on a media blitz to promote her new book, which bears a title with a similarly sinister tone: Radicals, Resistance, and Revenge: The Left's Plot to Remake America.
On Tuesday, the day the book was released, President Donald Trump urged people on Twitter to "go get it!"

With a border wall a central piece in Trump's reelection campaign, rhetoric against immigration has been a frequent rallying cry among conservative pundits and politicians. It's also drawn concerns that the rhetoric has fueled violence against immigrants and minorities across the country, such as in El Paso.
Pirro is not the first to face scrutiny for using language similar to that of the suspected terrorist.
On Thursday, Texas Gov. Greg Abbott said "mistakes were made" in mailing a fundraising letter a day before the deadly attack, where he urged Republicans to "take matters into our own hands" and "DEFEND" the state from immigrants.
Another Fox News host, Tucker Carlson, was also heavily criticized after he claimed on his show, just days after the El Paso shooting, that white supremacy was a "hoax."

"It's actually not a real problem in America," Carlson said less than a week after the mass shooting. "This is a hoax, just like the Russia hoax. It's a conspiracy theory used to divide the country and keep a hold on power. That's exactly what's going on."
Days later, in the middle of the week, Carlson announced he was going on vacation.
Pirro, an ardent Trump supporter who hosts Justice With Judge Jeanine Saturday evenings on Fox News, has been criticized before for making xenophobic comments.
In March, CNN reported she had been suspended by the network after questioning the patriotism of Rep. Ilhan Omar, who is Muslim.
"Think about it: Omar wears a hijab," Pirro said in her show. "Is her adherence to this Islamic doctrine indicative of her adherence to Sharia law, which in itself is antithetical to the United States Constitution?"
A Fox News spokesperson condemned the remarks at the time and said that her views did not reflect those of the network.