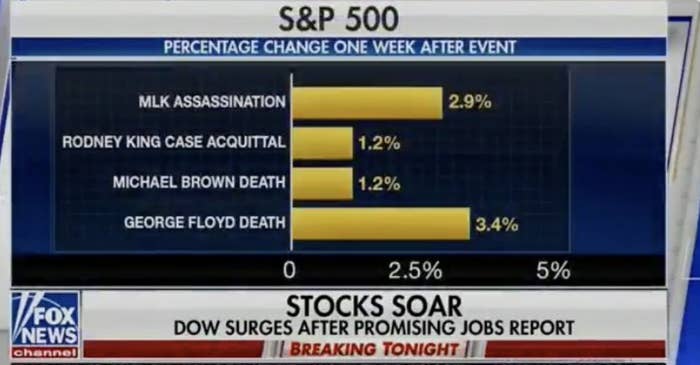 Fox News issued an apology after using a graphic on air that showed stock markets rising after the violent killing or beating of unarmed black men, such as the killing of George Floyd, and the assassination of Martin Luther King Jr.
"The infographic used on FOX News Channel's Special Report to illustrate market reactions to historic periods of civil unrest should have never aired on television without full context," a spokesperson for the cable news network told BuzzFeed News.
The graphic aired Friday while the show covered how the stock market has responded in the past to unrest in the country.
"Stock markets hitting new highs despite the nationwide protests this week," Fox business correspondent Susan Li said as the graphic appeared onscreen. "Historically, there has been a disconnect between what investors focus on and what happens across the country."
The graphic noted stock market gains during some of the darkest moments in the nation's modern history, all of which sparked weeks of unrest and protests over racial inequities and state violence against Black people.
It noted King's assassination in 1968, the acquittal of LAPD officers who beat Rodney King in 1992, and the police killings of Michael Brown in 2014 and Floyd this year.
A network spokesperson pointed out that other news and business publications have covered the impact on the economy after the same incidents. By Saturday morning, however, the network issued an apology about the graphic, noting that it had been published on air without much context.
"We apologize for the insensitivity of the image and take this issue seriously," the statement read.
The decision to air that graphic came as the nation is reeling amid days of protests and civil unrest across the country after the police killings of Floyd in Minneapolis and Breonna Taylor in Louisville, Kentucky.
Like in 1968, 1992, and 2014, protesters have taken to the streets demanding justice for the killing or beating of an unarmed black man, and an end to police brutality. The protests have been met with violence from police forces across the country.