Newly Revealed Texts Show Fox News Hosts And Donald Trump Jr. Desperately Tried To Get Trump To Stop The Capitol Riot
"Please get him on TV. Destroying everything you have accomplished."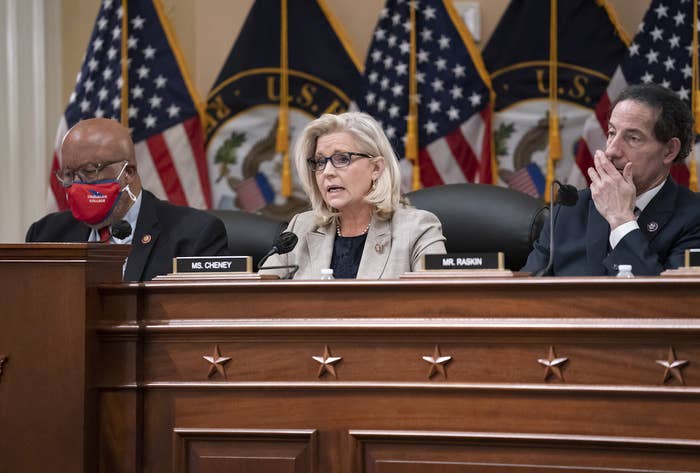 Fox News hosts Laura Ingraham, Sean Hannity, and Brian Kilmeade — some of the most fervent defenders of Donald Trump — pleaded with his chief of staff Mark Meadows to have the then-president condemn and stop violent rioters as they attacked the Capitol during the Jan. 6 insurrection, according to newly revealed texts.
Text messages from the hosts, unnamed Republican lawmakers, and even the former president's son Donald Trump Jr., were read out loud on Monday during a hearing of the congressional panel tasked with investigating the insurrection. The texts were sent to Meadows during the middle of the violence, pleading with him to get Trump to make a public statement to stop the attack.
"He's got to condemn this shit ASAP. The Capitol Police tweet is not enough," Donald Trump Jr.'s text said, according to excerpts read by Rep. Liz Cheney, vice chair of the panel.
Cheney read some of the text messages that were turned over to the committee by Meadows as part of their investigation into the attack. On Monday, its members unanimously recommended the House vote to hold Meadows in contempt for his refusal to testify before them. The House is expected to consider the matter on Tuesday.
The text messages showed the extent to which several Fox News personalities privately sought action from Trump, who was silent for hours during the insurrection. In spite of their desperate communications on Jan. 6, some of them would go on to downplay the violence at the Capitol.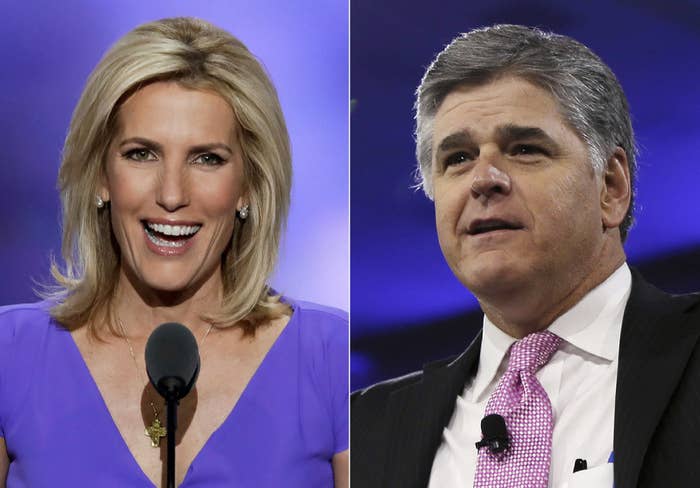 "Mark, the president needs to tell people in the Capitol to go home. This is hurting all of us," Ingraham texted Meadows at the time, according to Cheney's reading. "He is destroying his legacy."
But in public, Ingraham would go on to later attack the accounts of Capitol officers who faced down the violent mob, dismissing their testimony before Congress as "theatrics."
In a segment in July on The Ingraham Angle, Ingraham made fun of the officers with mock awards such as "Best Use of Tears and Dramatic Pauses" and "Best Use of Exaggeration" after they testified about the violence at the Capitol.
Fox News has not addressed the texts as a network but, on Tuesday, Ingraham and Hannity spoke on air and stood by their comments.
Ingraham called reports of the private texts as an effort to "tar me as a liar, a hypocrite who privately sounded the alarm on Jan. 6, but publicly downplayed it."
She shared screenshots during her show of tweets from the day calling the attack "disgraceful" and asking Trump to "tell everyone to leave the building now."
Fox & Friends host Brian Kilmeade also reached out to Meadows on Jan. 6, according to Cheney.
"Please get him on TV," Kilmeade texted. "Destroying everything you have accomplished."
Hannity, a fierce supporter of Trump, also texted Meadows in an effort to get Trump to encourage the mob to leave the Capitol on Jan. 6.
"Can he make a statement, ask people to leave the Capitol?" Hannity texted Meadows, Cheney read.
But in an interview with Trump in late November, the Fox News host defended Trump's actions that day and also attacked the Jan. 6 committee.
"It seems to me that the committee has a pre-determined conclusion, outcome," Hannity told Trump. "And that is to once again try to bludgeon you."
On Dec. 7, Meadows appeared on Hannity, and the two men again defended Trump's actions. Neither mentioned that in private Hannity had urged for the then-president to act.
"This is the same Donald Trump that said, 'Many of you will peacefully and patriotically march to the Capitol so your voices may be heard,'' Hannity said.
On Tuesday, Hannity said on his show he was going to address the comments made by Cheney, then spent several minutes decrying 2020 protests against racial injustice that turned violent.
"On Capitol Hill, there's no committee, there's no commission for any of these victims," he said. "There's no investigation at all into the 574 riots that your media mob described as mostly peaceful."
It's unclear where Hannity obtained the number of what he referred to as "riots," but, according to one report published in September 2020 looking at Black Lives Matter protests by the Armed Conflict Location & Event Data Project, more than 90% of demonstrations against police violence at the time were found to have been peaceful.
"All riots are obviously bad, all of them," Hannity said Tuesday. "On this program we strongly condemned the violence on Jan. 6, just like we condemned all the riots from 2020."
According to transcripts from the show provided by Fox News, Hannity did not mention the texts he privately sent Meadows during the segment.