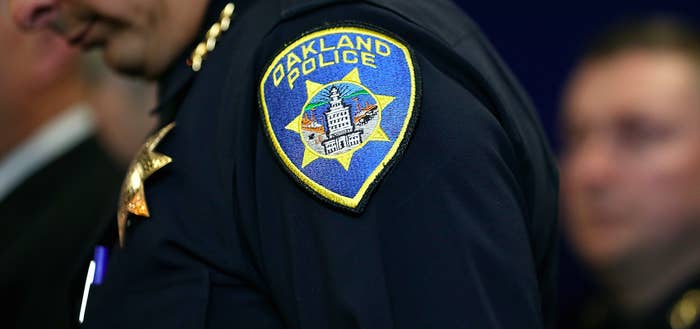 Four police officers in Oakland, California, have been fired in a sex scandal involving a teenage prostitute who claimed to have been involved with multiple officers in departments across the Bay Area, officials announced Wednesday.
The year-long internal investigation concluded the four officers were involved in attempted sexual assault, engaging in lewd conduct in public, assisting in the crime of prostitution, accessing the department's criminal database for personal gain, and not reporting allegations of a minor having sexual contact with a police officer, Oakland City Administrator Sabrina Landreth told reporters.
The allegations stem from a sex scandal involving a teenage prostitute who was allegedly involved with more than 30 uniformed officers across seven law enforcement agencies in the area.
In exchange for sex, the woman has alleged, the officers offered her money and tips on when and where police would be conducting sex stings so she could avoid arrest.
The woman, who is now 19, has said some of those sexual encounters with police officers occurred when she was a minor.
"I want to send a clear message to the victims of sexual abuse and sex exploitation: We see you, we hear you, and we are here to help you," Oakland Mayor Libby Schaaf said during a news conference. "And to those who exploit these victims and profit or take pleasure in their pain: We see you, too."
The allegations have sparked internal investigations in police departments, sheriff offices, and district attorney offices across the Bay Area, as well as a criminal probe by prosecutors.
The allegations imploded after one of the officers allegedly sexually involved with the woman while she was a minor committed suicide and left behind a note naming other officers engaged in the conduct.
Shortly after the allegations were made public, Oakland police, the Contra Costa County Sheriff's Department, and the Alameda County District Attorney's Office placed employees implicated in the scandal on administrative leave.
Facing increased scrutiny over the allegations, three Oakland police chiefs were fired or resigned within days.
On Wednesday, Landreth said a total of 12 officers have been recommended for disciplinary actions, including the four unidentified officers who were fired.
Seven officers were also recommended for suspensions, without pay, for failing to report violations of law, failing to report allegations of a police officer having sexual contact with a minor, accessing the department's criminal database for personal use, and bringing disrepute to the department.
One officer was referred to counseling and training, Landreth said.
The officers were not identified by city officials because California law prohibits public officials from identifying officers' personal or disciplinary records.
Schaaf said prosecutors are expected to release the results of their criminal probe into the case in the coming days.
Prosecutors will then decide whether to file criminal charges against any of the officers who have been linked in the case.
The now19-year-old woman reportedly traveled to Florida to undergo rehab. But while there, KRON 4 reported that she was arrested on suspicion of aggravated battery, and for allegedly soliciting the arresting deputies for sex.