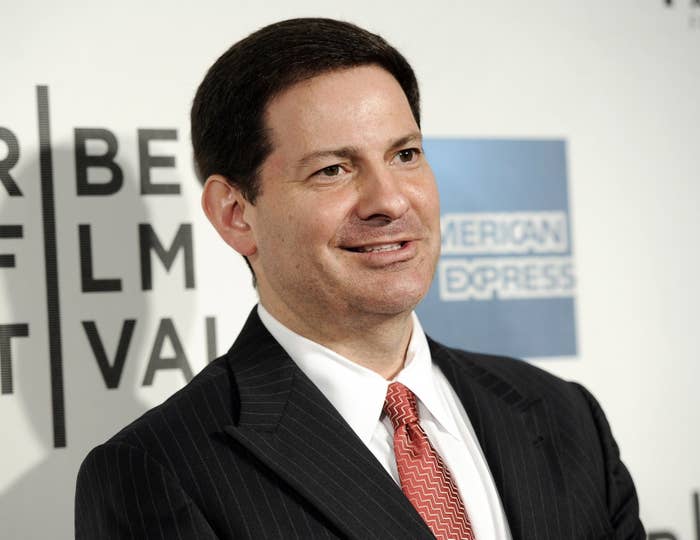 Four additional women are accusing political author and reporter Mark Halperin of sexual harassment during his time at ABC News, bringing the total to at least a dozen women.
CNN on Friday reported one woman accused Halperin of masturbating in front of her in his office, after she asked to meet with him for career advice. Another accused him of throwing her against the window of a restaurant and then tried to forcibly kiss her.
The new allegations come as multiple companies have distanced themselves from the veteran political journalist, including MSNBC, HBO, and Penguin Press, in light of the revelations.
Shortly after the new allegations were reported Friday, Halperin issued a statement apologizing for his behavior and claiming that his actions against women stopped around the time he left ABC News.
"The world is now publicly acknowledging what so many women have long know: Men harm women in the workplace. That new awareness is, of course, a positive development," his statement read. "For a long time at ABC News, I was part of the problem. I acknowledge that, and I deeply regret it."

Halperin said he has read and followed the allegations made against him in news reports, some of which were untrue, but did not specify which.
"I fully acknowledge and apologize for conduct that was often aggressive and crude," he wrote.
One of the women who spoke with CNN said she was in her early 20s when she reached out to Halperin for career advice in either 1997 or 1998. She met with him in his office late at night and believed he was masturbating while they spoke.
"I pretended like I didn't know what was going on and we talked a bit more and then he abruptly wrapped up the conversation," she told CNN.
The unidentified woman said she couldn't see Halperin from the waist down, but that she had no doubt about what was happening.
"There was an up and down motion," she said. "I don't know if he made any sound at the end or how it was clear to me that he climaxed."
Another woman told CNN Halperin told her to call him at the end of her White House internship if she wanted a job. She took him up on the offer and, after meeting for lunch, Halperin allegedly threw her against the window of a restaurant.
She said he tried to kiss her and she resisted. He later allegedly called to tell her, "You are never going to get a job. You're never going to be hired in politics or media."
A third woman said Halperin cornered her in a kitchen closet, then later forcibly kissed her in his office.
"I let him put his lips on mine," the woman wrote in a journal entry, according to CNN. "It was nothing — not a kiss, just lips on lips. And he smelled like makeup. I went home, wanting to cry and vomit."
Another woman said, while an intern at ABC News in 1995, Halperin offered to help her on an assignment at a museum in New York City, where they were forced to share a booth to view footage that was only meant to fit one person.
"And then I look over and he has a massive boner," she told CNN. "And at this point, I just flew up and got up. And he said, 'The night's not over! We need to end it with a margarita.'"
She declined.
After CNN first published reports of the allegations against Halperin, MSNBC pulled Halperin from the air "until the questions around his past conduct are fully understood."
HBO announced it was no longer working on a previous project tied to a book expected to be written by Halperin on the 2016 election. Penguin Press also announced it was cancelling its plans to publish the book.
In the Friday statement, Halperin said he realized he "had a problem" toward the end of his time at ABC News, adding that during that time he was not sued, did not have a human resources complaint against him, nor was confronted by colleagues.

"But I didn't need a call from HR to know that I was selfish, immature person, who was behaving in a manner that had to stop," it read. "I hope that not only will women going forward be more confident in speaking up, but also that we as an industry and society can create an atmosphere that no longer tolerates this kind of behavior."
He said he intended to spend time with his family and friends.