Former Sheriff David Clarke Told Sacha Baron Cohen It's Wrong To "Pick Sides" Between Fascists And Anti-Fascists
On the latest episode of Who Is America?, the former Milwaukee County sheriff explained how he would have dealt with anti-fascist protesters in 1930s Germany.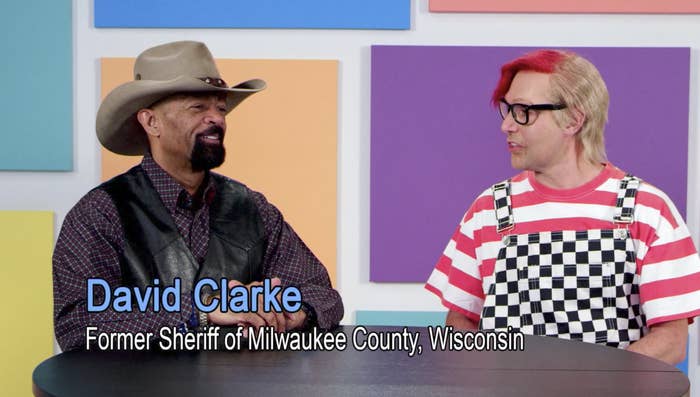 In the latest episode of Sacha Baron Cohen's Who Is America?, the comedian somehow coaxed former Milwaukee County sheriff David Clarke into explaining how he would have cracked down on anti-fascist demonstrators in 1930s Germany — basically suggesting he would have acted against those who spoke out against Nazis before the outbreak of World War II.
Clarke, a staunch Trump supporter known for his tough-on-crime, anti–Black Lives Matter positions, became Cohen's latest victim, telling the comedian — playing one of his characters — that he would have, in effect, shut down opponents of German Nazis in the 1930s.
"Well, you don't want to pick sides," Clarke explained on screen.
In the show, which premiered last month on Showtime, Cohen has acted as a variety of characters, appearing alongside conservative figures who have subsequently embarrassed themselves with compromising comments and behavior.
In one previous episode, a Republican politician exposed his butt and started yelling the n-word after he was convinced by one of Cohen's characters that it would deter a terrorist. In another, former Maricopa County sheriff Joe Arpaio said he would accept an "amazing blow job" from President Donald Trump.
On Sunday, Cohen's Finnish "unboxing" YouTube star OMGWhizzBoyOMG appeared with Clarke and asked the former sheriff what "antifa" is.
"Antifa is an anarchist group, alright," Clarke replied. "They promote chaos so they come out — again, this isn't protest. When you start trashing buildings, breaking into buildings..."
"Amazing!" Cohen interrupted, bringing out an unboxed toy.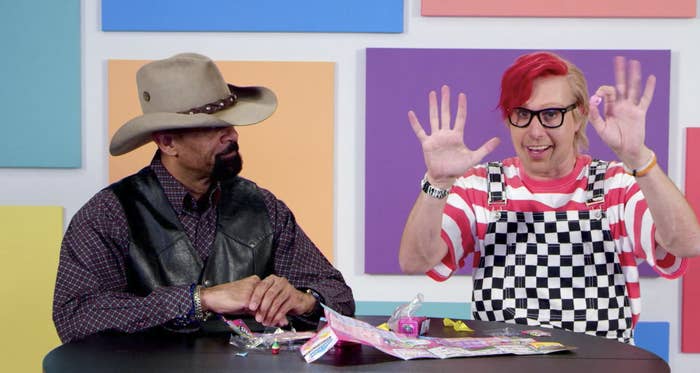 Clarke then continued, explaining antifa to a toy that looked like a donut.
"Maple donut, do not join antifa," he said.
Cohen continued to ask Clarke about anti-fascists.
"So if you were sheriff of Germany in the '30s and the anti-fascists were marching, antifa was marching, what would you have done to stop them?" he asked.
"Well, you have to act aggressively," Clarke responded. "You have to use force to disperse the crowd. You have to be willing to arrest people, take them to jail."
It is, of course, widely known that the fascist Nazi Party gave rise to Adolf Hitler, World War II, and the Holocaust, after coming to power in Germany in the 1930s.
"It's a shame there weren't brave sheriffs like you around Germany in the '30s because you could have protected the fascists and helped them speak their mind a bit clearer and then things would have been done a lot quicker," Cohen's character said.
"Well, you don't want to take sides," Clarke responds.
"Of course," Cohen said. "Particularly not in Germany in the '30s."
Responding to a request for comment from BuzzFeed News Monday, Clarke wrote in an email that he thinks "anybody who believes Antifa is anti-fascist is a fool." (Antifa is literally shorthand for anti-fascist.)
Clarke called the organization "the embodiment of fascism hiding behind a name to mask themselves literally and dupe the public into thinking they are a force for good," describing them as "anarchists who promote the overthrow of the US government." (Some past coverage of antifa by BuzzFeed News can be found here. The main uniting ideology of the group is that they fight fascism.)
Clarke described antifa in his statement as "hate mongers who show up masked and armed at other people's rallies with the goal of inciting confrontation not only with people protesting but with police." (Antifa often appear at rallies of white nationalists, such as in Charlottesville, to counterprotest and confront white supremacists.)
"Once they show up, and at the first sign of violence, they SHOULD be dispersed and yes those refusing to leave SHOULD be jailed," Clarke continued in the email. "All reasonable force should be used by police to keep the peace when Antifa is involved. They aren't protestors, they are insurgents. To insinuate that these goons calling themselves Antifa are in the same mold of people fighting fascism in the 30's is a joke. By the way, just what 'fascism' is Antifa trying to stop at Black Lives Matter gatherings? Please use the entire statement in your story so Clarke is not taken out of context." (Antifa members often attend Black Lives Matter gatherings in support of the organization, to protest police brutality.)
Clarke was not the only person duped during Sunday's show. In an earlier segment, Dan Roberts, gun rights advocate and founder of Youth Shooters of America, appeared on the show biting a strap-on penis worn by Cohen after he was convinced it was a defense against beheading.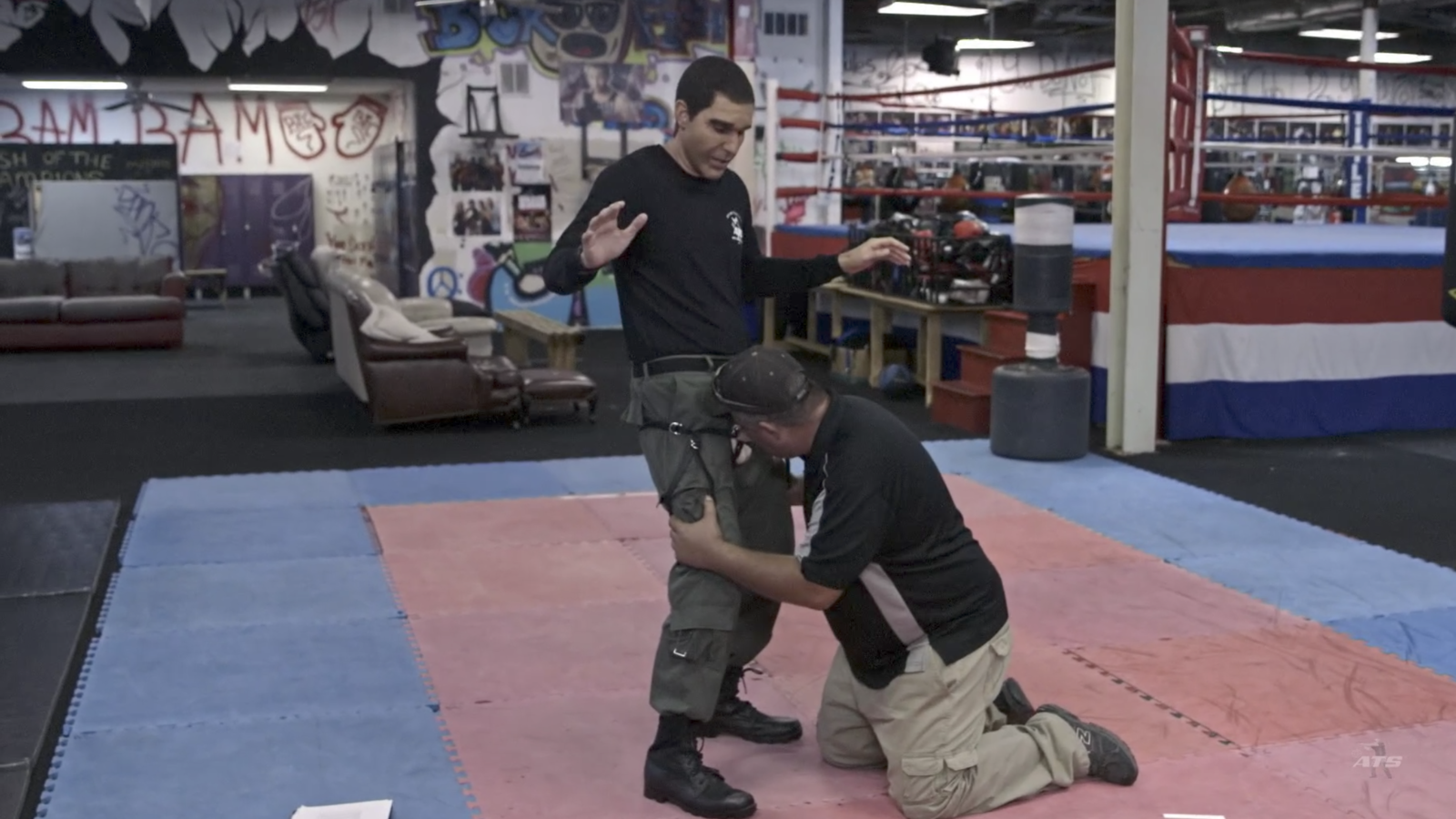 Gun rights proponents have been a frequent target of Cohen's in his show.
In one episode, several Republican lawmakers were tricked into supporting a plan to arm toddlers. In that same episode, the president of the Virginia Citizens Defense League also ended up making an instructional video teaching kids how to shoot using a "puppy pistol."
On Sunday, Cohen's character Col. Erran Morad, who strongly hints at being a former member of Israel's Mossad, told Roberts he could teach him how to fight back against an attempted beheading.
"Oh, I'm very interested," Roberts said, after Cohen's character claimed to have survived two beheadings. "I want to know how to do this."
In the next scene, Cohen appeared with a strap-on over his pants, asking Roberts if he wanted "someone removing his manhood."
He then explained the only defense when posed with such a threat is to bite the attacker's penis, urging him to "not let go until you are safe."
"One time, I had my attacker's [penis] in my mouth for four hours and 40 minutes," Cohen said. "By the end of the attack, I let him live."
Roberts listened attentively, responding only with a "wow."
Roberts told BuzzFeed News he was contacted in July by a production company asking him if he would appear in a "counter-terror" training production with three members of the Israeli Defense Forces.
"They offered to cover all expenses as well as reimburse me for my time," he said in the statement.
During Sunday's show, Roberts seemed to buy into the exercise and appeared in the next scene on his knees, while Cohen stood over him with the strap-on, holding what looked like a sword.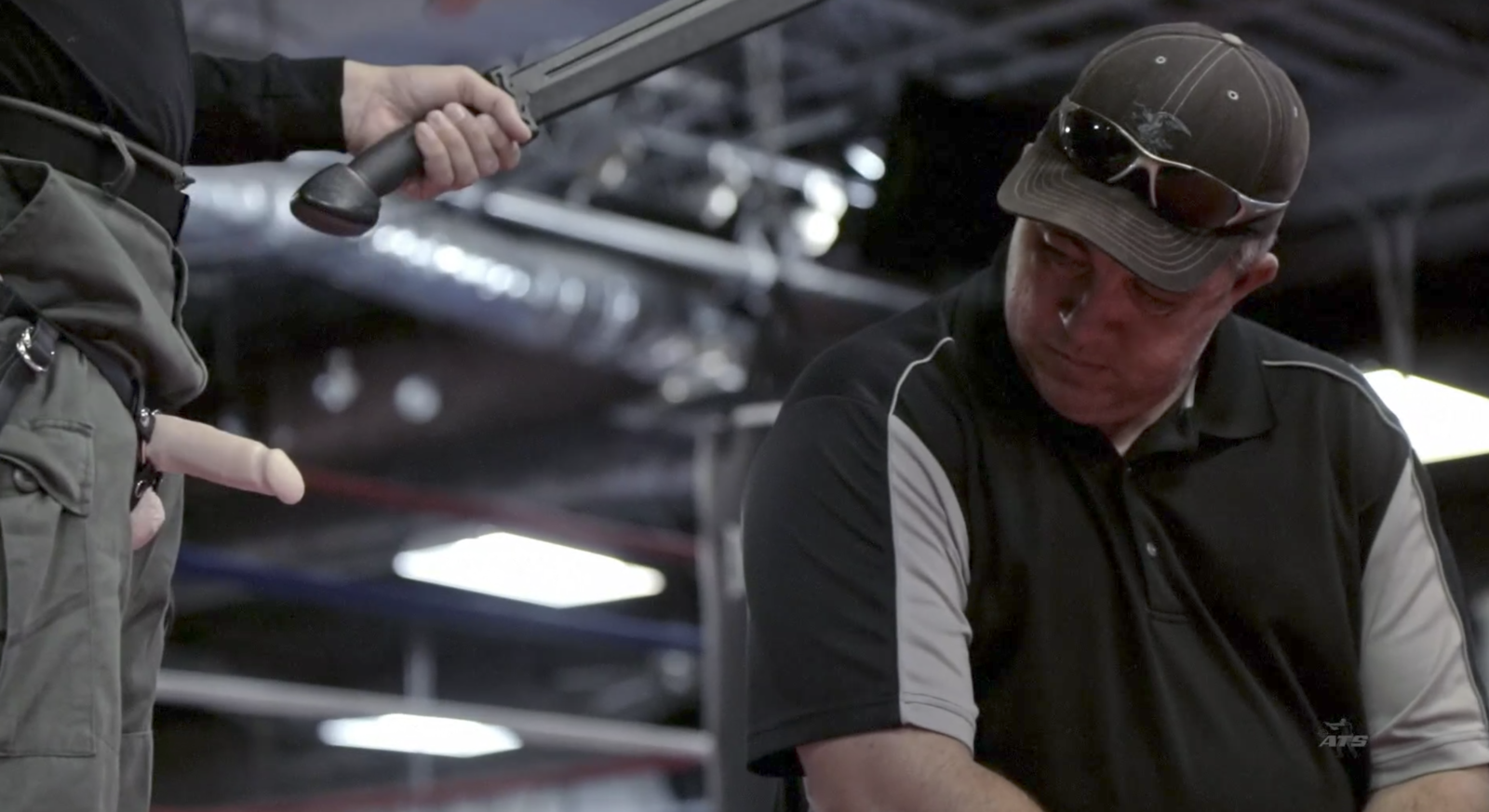 On Cohen's cue, Roberts attacked.
"You're in my mouth," Roberts said, biting down on the strap-on. "Drop your weapon. Stay cool."
He continued biting down while, in muffled screams, telling a make-believe crowd of terrorists to leave.
"Everybody drop your weapons," Cohen said.
"Don't follow us, or you're next," Roberts continued. "My mouth is big enough for two of these."
Roberts refused to comment Sunday on the circumstances and scenes in the video, saying only he was looking at "legal remedies" against Showtime, Cohen, and the production company.
"Obviously this entire thing was based on false pretenses," he said.