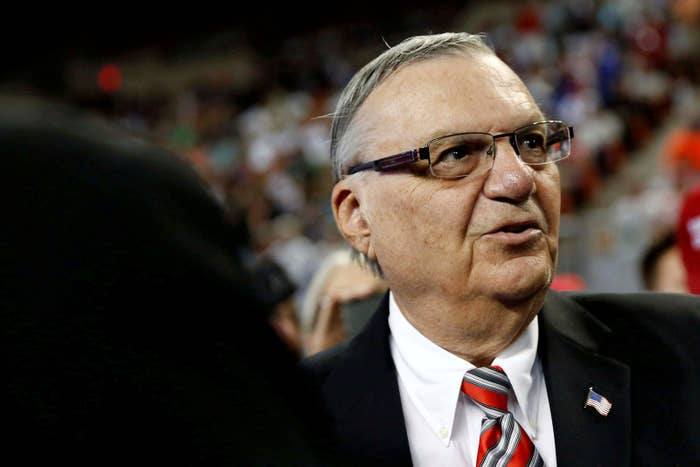 As he begins a second political life as a candidate for US Senate, Joe Arpaio — the former Arizona sheriff pardoned by President Trump after a criminal contempt conviction — is holding fast to his repeatedly debunked theories about Barack Obama's birth certificate.
Appearing on CNN Wednesday night, just one day after launching a campaign for Arizona's open Senate seat, Arpaio clung to the myth of "fake documents" surrounding the former president's birth. "We have the evidence," he told host Chris Cuomo. "No one will talk about it. Nobody will look at it."
A polarizing figure, Arpaio made national headlines as sheriff for his hardline immigration tactics, including workplace raids and allegations of racial profiling, and for starting Maricopa County's notorious "Tent City" jail, where inmates were forced to wear pink underwear and work on chain gangs.
Since 2012, he has also been one of the more vocal proponents of "birtherism," fueling false claims Obama had been born in Kenya, and even going so far as to send a team of sheriff's deputies to Hawaii to find the president's birth certificate.
Arpaio went on to become a fervent supporter of President Donald Trump's campaign, and Trump issued a pardon for the former sheriff after he was convicted of criminal contempt for ignoring a court order to stop a policing tactic to catch undocumented immigrants.
On Tuesday, Arpaio announced he was running for US Senate in Arizona to replace outgoing Sen. Jeff Flake. On Wednesday, he insisted — again — that Obama's birth certificate was fake.
Trump himself was an outspoken proponent of birther conspiracies until midway through his 2016 presidential campaign, when he publicly stated that he no longer doubted whether Obama was born in the US.

Asked Wednesday about Trump's change in position, Arpaio interjected to say that his political benefactor had only addressed the issue of where Obama was born, not the legitimacy of his birth certificate.
"He never said about a fake birth certificate," Arpaio said. "That's the only thing I was trying to prove."
Asked whether he regretted his embrace of "birtherism," or his use of controversial policing policies that led to his criminal conviction, Arpaio replied defiantly, "I have no regrets."