At least 17 people were killed Wednesday at a south Florida high school when a former student armed with a semi-automatic assault rifle stormed the campus and opened fire, authorities said. The suspected shooter was later taken into custody.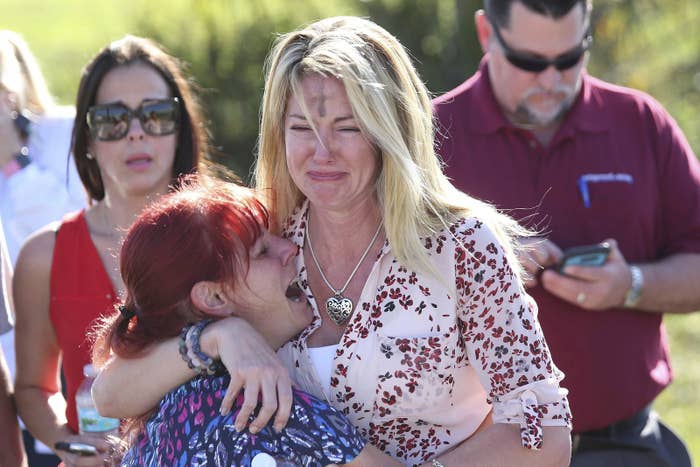 Authorities identified the suspect as 19-year-old Nikolas Cruz, who began shooting outside a school building, then walked inside while continuing to fire with an AR-15–style rifle. Broward County Sheriff Scott Israel said Cruz was carrying "countless" rifle magazines filled with ammo.
Twelve people were killed inside the school and two died outside, Broward County Sheriff Scott Israel said. Another victim was found dead in the street, he said, and two succumbed to their injuries at the hospital.
Another 14 people who sustained injuries in the shooting were being treated at hospitals, five of whom were listed in life-threatening condition as of Wednesday night.
Authorities said they would not be releasing the names of victims until all relatives had been notified, but Israel said a school football coach was among those killed in the shooting.
"This is just pure evil," Florida Gov. Rick Scott said at the press conference.
Authorities are trying to determine what sparked the deadly shooting. Israel said Cruz had been a former student at the high school but had been expelled over disciplinary issues.
"From what I understand there was a time when he did attend the school," he said, adding that he did not have more information about the circumstances surrounding Cruz's expulsion.
Jim Gard, a math teacher at the school, told the Miami Herald that Cruz was a student in his class last year, and that teachers had previously been warned he could pose a threat to the school.
"We were told last year that he wasn't allowed on campus with a backpack on him," Gard told the paper. "There were problems with him last year threatening students, and I guess he was asked to leave campus."
Law enforcement responded to the shooting shortly before 3 p.m. Wednesday, after reports of gunfire at Marjory Stoneman Douglas High School.
Officers arrived at the high school to find hundreds of students running from the building. Investigators later learned that the suspected shooter concealed himself in the panicked crowd, according to a statement from the sheriff's office.
Officers took Cruz into custody at around 4 p.m. He was treated at a nearby hospital for injuries and released to police. Aerial images showed him being escorted to the sheriff's office headquarters in a hospital gown.
According to the sheriff's office, Cruz was found in a nearby neighborhood in Coral Springs, Florida, and was hospitalized as a precaution because he was exhibiting "labored breathing."
The school is located in Parkland, Florida, a community located about 40 miles north of Miami. Some 3,100 students are enrolled at the high school.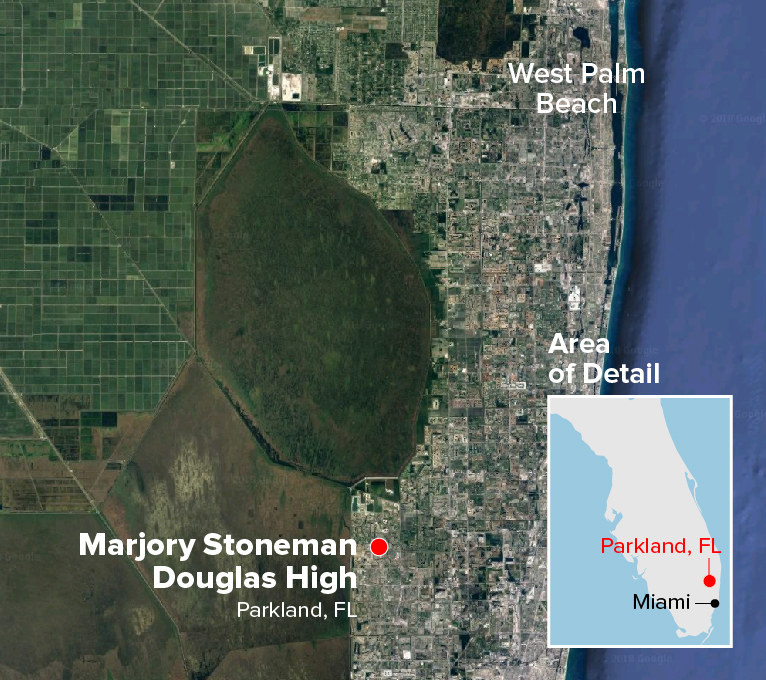 Melissa Falkowski, a teacher at the school, told CNN that in the moments before the shooting, a school fire alarm was triggered and students began to evacuate as if it were a drill.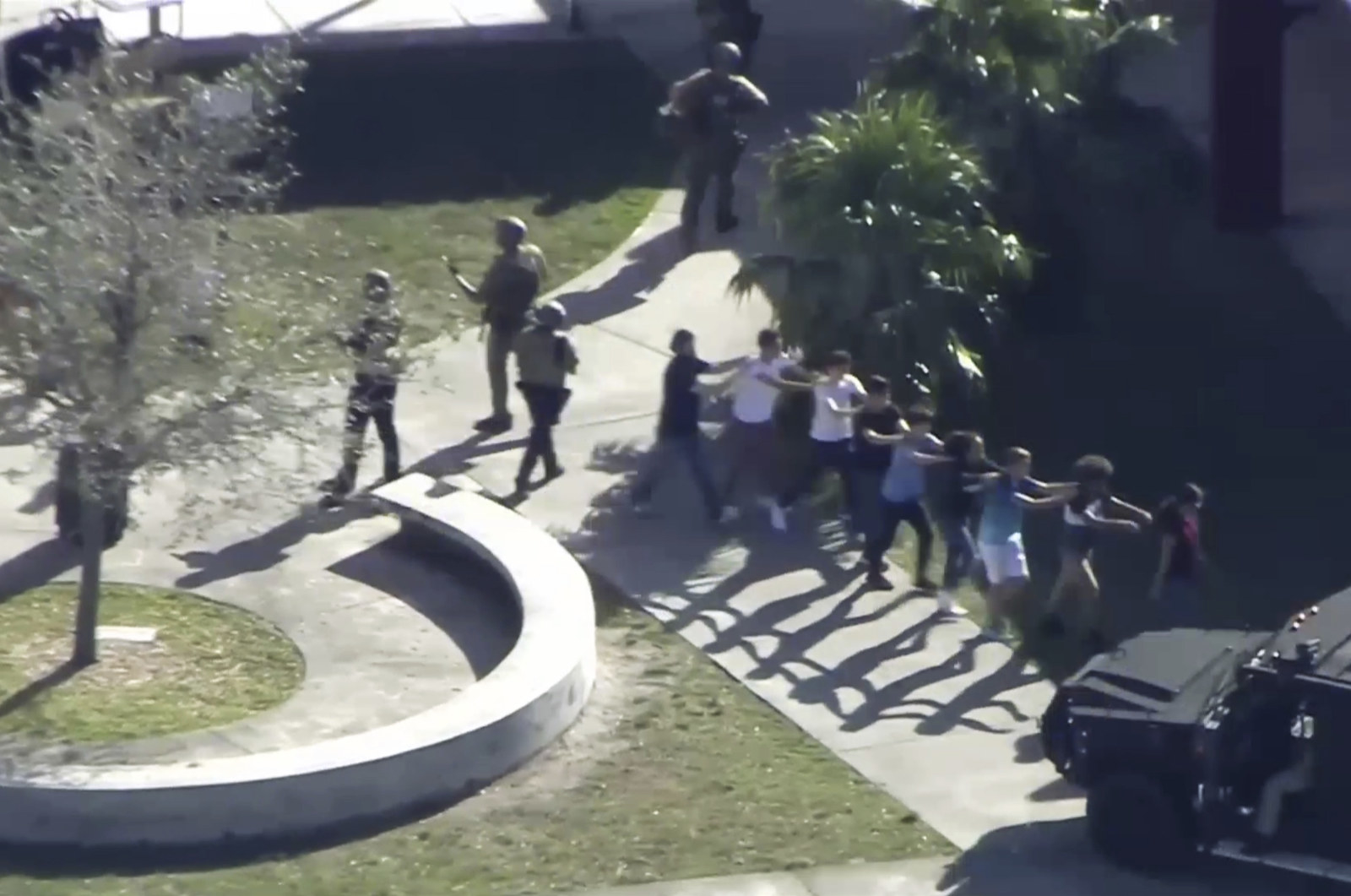 Falkowski said she and several students ran back inside and into a closet as shots began to ring out at the school. "I managed to put 19 kids in the closet with me," she told CNN. "We were in the closet for probably 40 minutes."
She added that the school had received training about a possible active shooter situation a few weeks ago, which might have helped save lives. "If we hadn't had that training, it could have been a lot worse," she said.
One student, who was not identified, told WSVN that he and others nearby initially thought the school was staging a drill, before gunshots rang out. "We heard pops," the student said, "and from the other side of the school, we see the whole school running out."
Masiel Baluja, another student at the school, told CNN she heard the fire alarm wail shortly before shots were fired. Baluja and other students were suspicious, however, because the school had recently held a fire drill.
"Apparently the shooter pulled the alarm so he could have kids in the hallway to shoot," Baluja said. Once she heard gunfire, she and other students made their way to the ground floor in an effort to get away from the campus.
"I had my backpack on my back, just in case I got shot," she told the network, at times audibly crying during the interview. "I knew it was a real shooting when I saw three helicopters."
The confusion continued even after the shooting stopped, Baluja said. And with students frantically trying to escape the campus, she was worried any of them could be a shooter.
"I didn't know if any of them were shooters or not, so I felt very uncomfortable," she said. "Anybody could be a shooter."
Teachers and students remained barricaded inside the school about an hour after the first shots were reported as officers set up a perimeter.
News helicopters caught images of authorities carrying someone out of one of the buildings, and taking the person away in what appeared to be a golf cart.
Lissette Rozenblat told CNN her daughter, a sophomore at the school who was on the third floor of one school's buildings, texted her to call 911. The girl told her mother she heard shots and could hear someone injured calling out for help.
Rozenblat's daughter later called her mother to say she had safely evacuated to a nearby Walmart.
Some students tweeted pictures while barricaded in classrooms inside the school.
Broward County Public School District tweeted that students were being led out of classrooms by law enforcement.
Broward County Schools Superintendent Robert Runcie told reporters the school had received no threats warning of the shooting.
"We didn't have any warnings — there weren't any phone calls or threats that were made," Runcie said.
He said the school, along with authorities, would be conducting an investigation in case that there were any warning signs that had been missed regarding the shooting.
"We got to recognize individuals that are in distress," he said.
Florida Attorney General Pam Bondi said her office would be sending victim advocates to the state to help families affected by the tragedy, and the office would also be paying for the funeral expenses of those killed in the shooting.
"We will pay for the funeral expenses of these poor victims and do everything we can to help their families," she said.
Some students took to social media after being let out of the school, describing the mayhem they experienced.
President Donald Trump tweeted his condolences minutes after the shooting, and said he had spoken to Florida Gov. Rick Scott to offer federal assistance.
Agents with the Bureau of Alcohol, Tobacco, Firearms and Explosives (ATF) were also responding to the scene Wednesday, and the FBI set up a tip line and website for people to submit information about the shooting.