A large alligator that was found carrying a human body in its jaws Tuesday was also found to have human flesh inside its stomach, Florida police officials said.
The 9-foot alligator was first spotted by a person near Lake Hunter in Lakeland, before it swam off into the lake with the body still in its mouth, according to a statement by the Lakeland Police Department.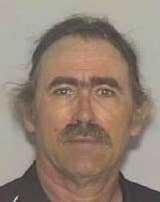 When officers arrived, the alligator was still holding the body in its mouth, Sgt. Gary Gross told WFLA. The animal later released the body and officers were able to retrieve it.
On Friday, Lakeland Police identified the victim as 72-year-old Richard Zachary Taylor.
Taylor, who was identified through fingerprints, has lived in the area for about 10 years but has no permanent address, police officials said.
It was not clear if Taylor died before he was attacked by the alligator, but Gross said the man appeared to have been dead and been in the water for more than a day.

Investigators are still trying to determine how Taylor died.
Police had to retrieve the body from the alligator before they were able to begin an investigation into the death, officials said.
After the alligator let go of the body, officers moved in near the water to retrieve it.
"The officers immediately got their firearms out in case the gator comes up," he told the station. "Once he left they didn't want him coming back and pull the body back out."
During the investigation, police also called Florida Fish and Wildlife personnel and contract trappers, hoping to catch and examine the alligator.
On Wednesday, police said a 9-foot alligator trapped in the lake was found to have human flesh in its stomach.
Police said they were called out to the lake last Saturday by a citizen who spotted a shirt and pants floating in the water, as well as a backpack near the area.
The caller also reported "an aggressive alligator by the boat ramp," but six officers who responded and checked the area were not able to locate an alligator or anyone in the water at the time, police said in a statement.
The following day, officers were again called to the lake after someone spotted "something large floating" in the lake and "an alligator circling it." Officers again responded to the lake and did not find the alligator or the object.
Officials said an autopsy is scheduled to determine a cause of death.