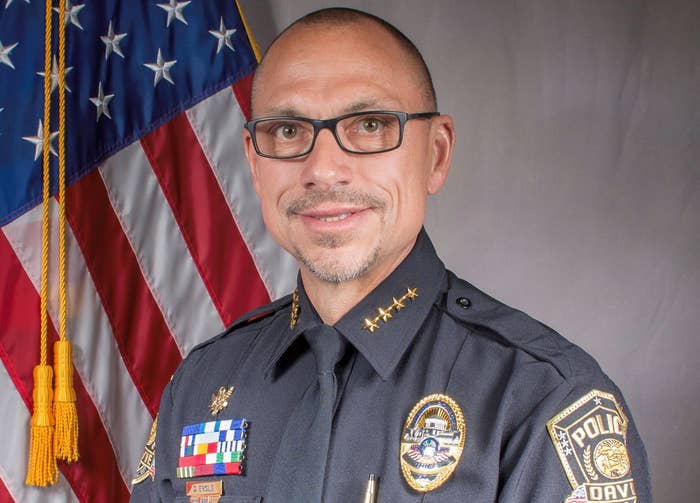 The journalists at BuzzFeed News are proud to bring you trustworthy and relevant reporting about the coronavirus. To help keep this news free, become a member and sign up for our newsletter, Outbreak Today.
A Florida police chief belittled and berated police officers when they asked about protections against the coronavirus, then said a deputy who contracted COVID-19 died because he was gay, according to a complaint.
The Davie Police Department's Chief Dale Engle was placed on administrative leave Saturday after the complaint was filed, city officials said, and an investigation has been launched into the alleged incident.
"The allegations will be investigated in accordance with the Town's Equal Employment Opportunity compliance policy by outside counsel," Richard J. Lemack, the Davie town administrator, said in a statement.
The complaint was filed by the Florida State Fraternal Order of Police, who told town officials that several police officers had complained about the chief's comments.
Engle did not respond to requests for comment from BuzzFeed News.
According to the complaint, officers on April 7 had asked about their risk of exposure to the coronavirus and about safety protocols to help keep them healthy. The officers' concerns came just four days after Broward County Sheriff Deputy Shannon Bennett died after contracting the virus, making him the first law enforcement officer to die of COVID-19 in the state.
Davie, a town of more than 100,000 residents, sits in Broward County.
"In response to our members' concerns, Davie Police Chief Dale Engle chose to instead retaliate against our members," wrote Mike Tucker, chief of staff for the Florida State Fraternal Order of Police. "Chief Engle then proceeded to berate these members about the issues they raised, yelling about their 'baseless concerns.'"
The complaint was first reported by the Miami Herald Saturday.
Engle allegedly ordered the officers, who were in the middle of a briefing, to line up in the parking lot of the police department for an inspection.
While the officers stood in formation, Engle allegedly said Bennett died because he was gay.
"Chief Engle allegedly yelled about a 'backstory' which proclaimed that Deputy Bennett contracted and died from the virus because he was a 'homosexual who attended homosexual events,'" the complaint said. "The reported inference was that it was because of this homosexual lifestyle that Deputy Bennett first contracted a serious underlying disease which aggravated the Covid-19 virus and lead to his death."
But Bennett did not have any underlying health conditions, his fiancé told TV station Local 10.
The couple was planning to get married in December.
"The Chief's alleged comments are completely false, homophobic, and slanderous," Jonathan Frey, Bennett's fiancé, said in a statement. "I look forward to the fair and impartial investigation initiated by the Town Manager, and I hope that appropriate action will be taken at its conclusion."
A veteran of 13 years with the Sheriff's Office, Bennett was described by Sheriff Gregory Tony as a "fine deputy, consummate professional" who worked to "bridge the gap between the LGBTQ community and law enforcement."

In their complaint, the Florida State Fraternal Order of Police added that it was proud to support law enforcement officers of all sexual orientations.
"If true, Chief Engle's actions were unacceptable and are not representative of the longstanding professionalism of the Davie Police Department," Tucker wrote. "His derogatory references to homosexuality and Deputy Bennett conflict with the inclusive values of the Town of Davie and the FOP who proudly support and embrace employees of all races, creeds, genders, religious beliefs and sexual orientations."