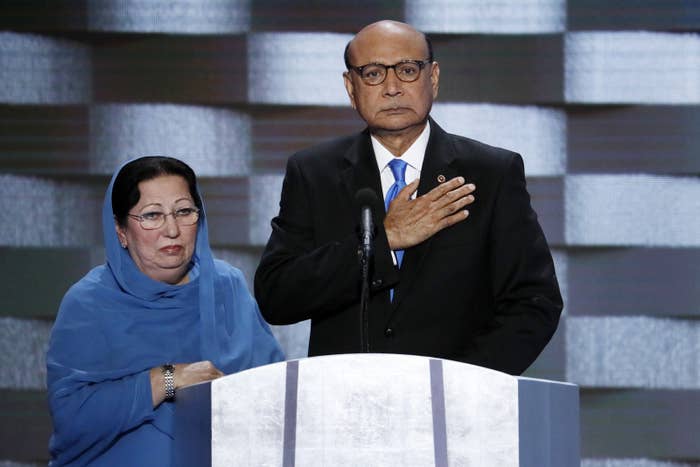 Khizr Khan, the father of a fallen Gold Star soldier who rebuked Donald Trump and challenged him to read the Constitution during the Democratic National Convention, is now helping raise money to defeat the Republican candidate.
"We simply cannot let Donald Trump win Virginia, the birthplace of our American democracy," Khan wrote in a letter distributed by the Democratic Party of Virginia Saturday. "I have lived in America for the past 36 years, and I know that Donald Trump's hate is not compatible with the values that drew me and other Americans to this great country."
Khan, the father of Muslim US Army Capt. Humayun S. M. Khan, spoke at the Democratic National Convention in July and challenged Trump to read the US Constitution while attacking the Republican candidate's proposals.
The image of Khan at the podium waving a pocket-sized Constitution with his wife standing next to him became one of the most memorable moments of the convention.
It dominated news cycles for days after Trump criticized Khan and incorrectly suggested that Khan's wife did not speak because she was not allowed to.
Khan continued to speak out against Trump's comments and urged Republican leaders to disown Trump. On Saturday, he asked voters to contribute to the Democratic Party of Virginia to defeat Trump.
"(Donald Trump's) surrogates have called me a 'con artist' and a 'snarling Muslim' -- which only confirms their campaign is one of fear mongering and hate," the letter, obtained by BuzzFeed News, read.
The letter included a link to the Democratic Party of Virginia website, where prospective voters were asked to "Stand with Khizr Khan" and contribute to the political party.
"The signers of the Constitution created a government that values inclusion, freedom, and respect," Khan wrote. "It is clear Donald Trump has no respect for these ideals, or for the Constitution itself."