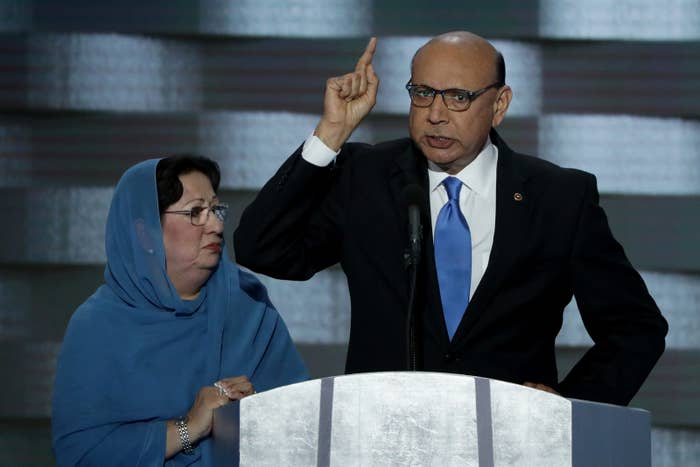 The father of a Muslim-American soldier killed in Iraq called on Republican leaders Tuesday to "disown" Donald Trump after the presidential candidate criticized him for his speech at the Democratic National Convention.
"I ask the leadership of the Republican Party, I ask them to disown this person," Khizr Khan told CNN in a televised interview. "This will make a burden in their conscience when it comes to their time to vote."
Khan has been in the spotlight of the presidential election since his comments at the DNC, where he criticized Trump's remarks about Muslims and spoke about the sacrifice made by his son, US Army Capt. Humayun Khan, when he was killed in Iraq in 2004.
The speech drew a rebuke from Trump who said he was "viciously attacked" by Khan, and when asked about his own sacrifices said, "I think I've made a lot of sacrifices. I work very, very hard."
On Tuesday, Khan again asked Republican leaders to disown the party's nominee for president, pointing to his comments disparaging Muslims, women and other minorities.
"Please," he said. "Show some decency."
Khan also responded to an event earlier in the day in Virginia, where Trump was gifted a Purple Heart by a soldier, saying the candidate should have returned the medal.
"He takes it in his pocket and says, 'Very easy, I always wanted one,'" Khan said. "He should have put that Purple Heart back. If he would have been sensible he would have known what it takes to earn that Purple Heart."
"You had the time. You did not serve," Khan said. "You should have pinned that back to that veteran's chest and should have hugged him and thanked him."
Trump said he was given the Purple Heart by a veteran who told him, "I have confidence in you."
"And I said, 'Man, that's like big stuff. I always wanted to get the Purple Heart. This was much easier,'" Trump said.

Trump's comments about the Khans, at one time suggesting that Khan's wife, Ghazala, was perhaps not allowed to speak at the convention, has drawn outrage and condemnation, including from some Republican leaders.
Khan also responded to allegations that he was linked to the Muslim Brotherhood or an adherent to Sharia Law, denying the claims.
In a written statement, Trump's campaign has called Khan's son a hero, but neither Trump nor his presidential campaign have apologized for his criticism of the family.
Khan told host Anderson Cooper he doesn't need an apology.
"My family doesn't need an apology," he said. "An apology is not what I'm looking for, it's the empathy in his thinking. The emptiness. The void. His thinking is completely void of empathy. His saying my son is a hero or not, that doesn't change anything."
Khan was also asked about a statement made by Trump spokeswoman Katrina Pierson, who suggested President Barack Obama and Hillary Clinton could be to blame for his son's death for changing the rules of engagement.
Cooper pointed out that Khan's son was killed in 2004, four years before President Obama took office.
"Do I need to say anything?" Khan asked rhetorically.