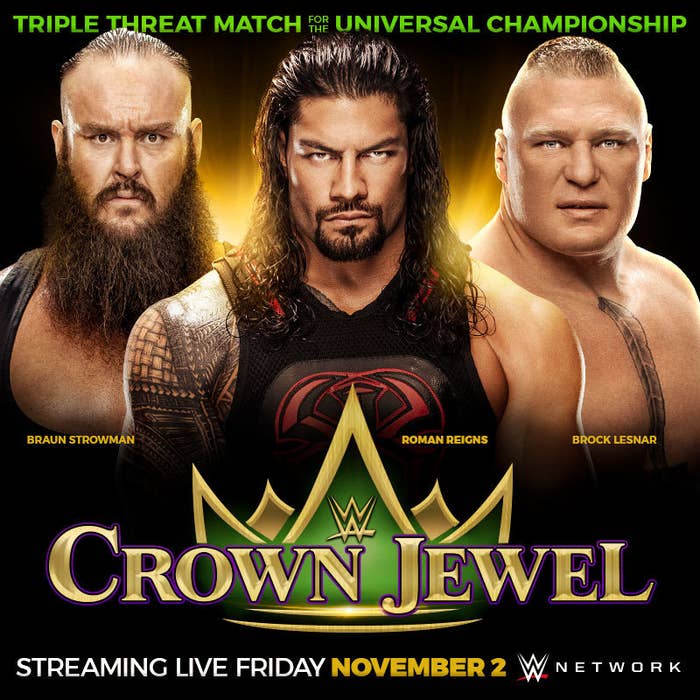 Fans and legislators are asking World Wrestling Entertainment to cancel a blockbuster pay-per-view show that is set to take place in Saudi Arabia, telling the popular wrestling company to rethink its decision in light of a missing journalist who is suspected of having been killed by Saudi officials.
Wrestling fans have reached out not just to the company but wrestlers themselves on social media, asking them to pull out of WWE's Crown Jewel event on Nov. 2.
Set in Riyadh, the event would be the second time this year that WWE has held an event in Saudi Arabia. The previous event, Greatest Royal Rumble, sold out in April, the company said.
WWE was already facing some pushback over the event's all-male cast, a decision believed to have been made due to Saudi Arabia's laws and cultural norms regarding women. But the government's suspected role in the disappearance of Washington Post columnist Jamal Khashoggi after he walked into the Saudi Consulate in Istanbul has increased the public pressure on the professional wrestling company.
Khashoggi was a vocal critic of the Saudi government and was living in the US since last year in what he had termed as a self-imposed exile.
On Twitter, fans have been using #CancelCrownJewel to draw attention to the event and urge WWE to cancel or reschedule the event outside of Saudi Arabia.
Another pay-per-view event is set for just days before the Saudi Arabia show with an all-women cast of wrestlers that WWE has promoted as a "first ever" and historic event, but fans and journalists who cover WWE have criticized the event as a "cover" for the expected criticism over its all-male roster in Crown Jewel.
But criticism started ramping up against the WWE after Khashoggi disappeared on Oct. 2.
Other companies and industry leaders, including Virgin Group's Richard Branson and Uber CEO Dara Khosrowshahi, have backed out of projects and deals in Saudi Arabia after the journalist's sudden disappearance.
Fans are pushing WWE to do the same, taking to social media to build up pressure.
US senators are also weighing in, and a handful have urged WWE to reconsider.
"I'd hope that they would be rethinking their relationship with the kingdom [of Saudi Arabia] especially with respect to events coming up in the next weeks," Sen. Chris Murphy, who sits on the Senate Foreign Relations Committee, told the Independent Journal Review. "This is a brazen assault on the freedom of the press and a slap in the face to the United States if this murder occurred as it seems it did."
Senators Chris Coons and Lindsey Graham also weighed in, saying that WWE should reconsider its relationship with the Saudi government.
"There should be a pause," Graham told IJR.
Saudi officials have denied any role in Khashoggi's disappearance.

Sen. Bob Menendez said WWE should give additional thought to the decision, especially considering that its former CEO, Linda McMahon, serves as administrator of the White House's Small Business Administration.
Despite public pressure, the WWE and its CEO, Vince McMahon — Linda McMahon's husband — have said little about the controversy.
On Tuesday, the company announced longtime wrestling legend Shawn Michaels would be coming out of eight years of retirement to wrestle alongside Triple H.
WWE did not answer questions from BuzzFeed News about whether it was considering canceling or relocating Crown Jewel, saying only it was "monitoring the situation."