San Francisco Police Identify Officers Involved In Fatal Shooting Caught On Video
Police allege Mario Woods moved toward officers in a threatening matter with a knife before they opened fire, an incident captured on video and circulated online.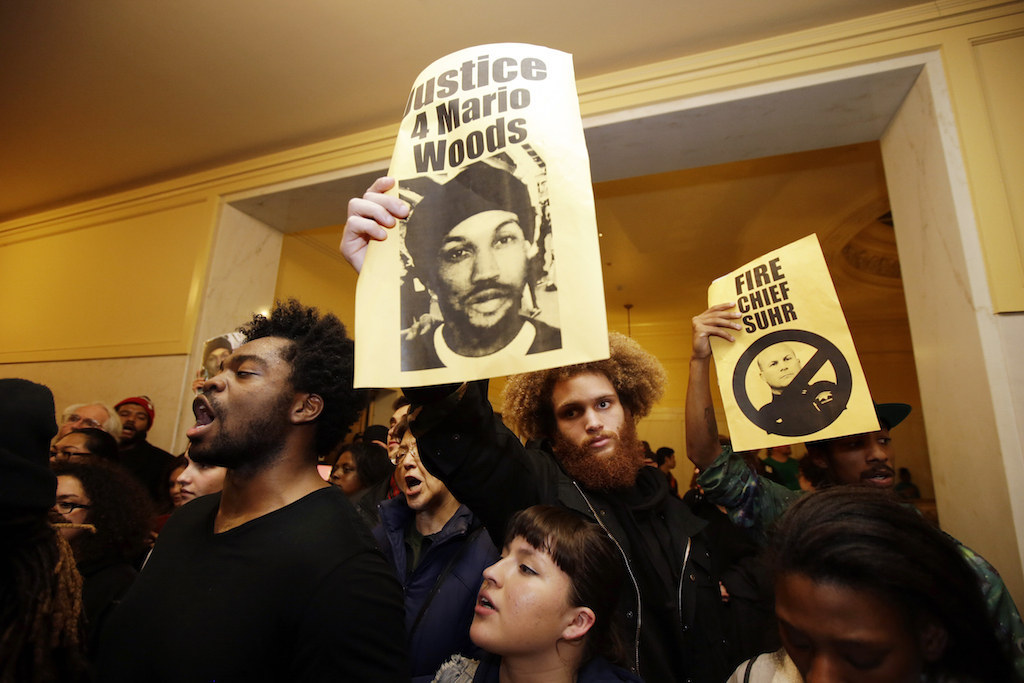 Relatives of a San Francisco man shot by police officers last week filed a federal lawsuit against the department, alleging Mario Woods posed no threat when he was shot repeatedly by five officers.
San Francisco Police allege Woods, 26, was armed with a kitchen knife and made a threatening motion toward officers before being shot on Dec. 2. But an attorney representing Woods' family said video captured by witnesses of the shooting contradicts the officers' account of what happened.
"That video clearly demonstrates that Mr. Woods' hand was down by his side at the time that officers shot him," Jonn Burris, who filed the civil rights lawsuit Friday afternoon, told BuzzFeed News. "The police position was bogus."
Friday night, San Francisco Police identified the five officers who shot Woods as Winson Seto, Antonio Santos, Charles August, Nicholas Cuevas, and Scott Phillips.
All five remain in administrative leave while the shooting is being investigated.
The shooting has caused an uproar in San Francisco and sparked calls from members of the community for the resignation of Chief Gregory P. Suhr.
"The chief's credibility is being called into question," Burris said.
The San Francisco Police Department held a town hall meeting two days after the shooting to discuss the use of force against Woods, and released frames of the videos shot by witnesses, alleging it showed Woods stretching out his arm before being shot.
But Woods' family and their attorney, Burris, disagree with the assessment, insisting the video shows the first shot was fired before Woods extended his arm.
The cell phone videos, recorded by witnesses, showed several officers surrounding Woods with their guns drawn. Passengers in a bus can be heard yelling, "Just drop it!" At one point, an officer shifts position into Woods' path as he continues to walk down the sidewalk.
According to a police statement, Woods was armed with a kitchen knife and officers fired a "bean bag" gun, but the "less than lethal rounds had no apparent effect on the suspect."
Police said they also used a higher-powered "less than lethal" gun against woods, which "struck the suspect and caused him to drop to one knee, but did not cause him to drop the knife."
According to the statement, Woods then moved toward an officer when shots were fired.
Police have not said how many shots were fired, but Burris said an examination of Woods' body shows he had 20 wounds in his body.
Whether they were all entry wounds from the shots, or if any were exit wounds, was unclear, he said. One of the wounds was to the back of the head.
Burris said Woods lived in the neighborhood and was "having some mental problems," but police did not have to use lethal force.
"If he was carrying, he certainly wasn't displaying it, so the knife was not used in a threatening matter," he said.
Burris said he also has concerns and doubts about why officers were in the area or tried to stop Woods in the first place.
According to a statement released by the San Francisco Police Department, officers responded to the area after a stabbing victim had been dropped off at a nearby hospital.
Police said Woods' matched the description of the suspect in the stabbing and approached him, ordering him to drop the knife repeatedly, but Woods would not comply.
But Burris said he has not been given any information regarding the previous stabbing.
Police had a right to stop Woods if he was a suspect, he said, but the video shows officers' lives were not being threatened when they opened fire.
On Friday, students from several high schools walked out and marched toward City Hall in protest against police violence.
Burris said he supports calls for San Francisco Police Chief Gregory P. Suhr to step down.
"You can't trust his word," Burr told BuzzFeed News. "That's how I feel about it."