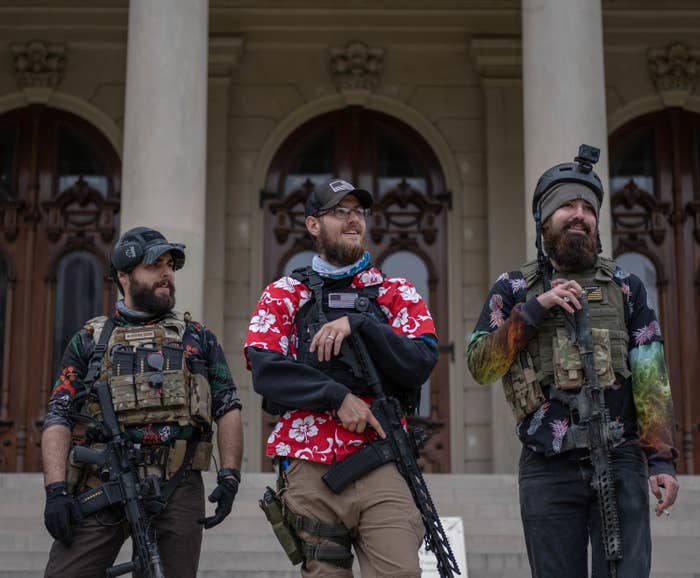 Despite efforts by Facebook to ban right-wing militant organizations, a new report published Monday has found that some of those groups continue to organize and run pages on the social network. Facebook also continues to profit from ads placed by extremists despite an announcement earlier this year that said it would ban all ads that "praise, support or represent militarized social movements."
The report from the Transparency Tech Project (TTP), a nonprofit watchdog organization, discovered, for example, that the American Patriot Council, a right-wing group that advocated for the criminal prosecution of Michigan's governor because of her implementation of stay-at-home orders during the early days of the coronavirus pandemic, ran an ad earlier this month that encouraged militants to attend Oct. 24 rallies in Michigan and New York.
"We The People gather across America in a show of solidarity and demand emancipation from the bondage of tyranny," read the ad, which cost less than $100 and had the potential to reach between 500,000 and 1 million people, according to Facebook's own metrics. "(Lawful carry & Militia strongly encouraged.)"
Facebook announced in August that it was banning right-wing militant, anarchist, and QAnon groups from its platform. But TTP found 45 pages and eight groups associated with right-wing extremist organizations two months later. Researchers at TTP also found that Facebook had accepted a handful of ads over the last two years that were used by extremists to bolster their ranks and summon people to armed rallies.
"Facebook has been directly profiting from this kind of paid messaging on its platform," the report said. "The disturbing findings show that Facebook is routinely behind the curve in cracking down on domestic extremists on its platform."
According to TTP, 13 of the pages and groups it found have "militia" in their name, while six pages and one group were created after the company's August ban of "militarized social movements."
More than 12 hours after TTP published its findings, Facebook spokesperson Sarah Pollack said that the company had already "removed thousands of Pages and Groups representing Militarized Social Movements and have been prioritizing those that are active on our platform today."
"Most of the Pages and Groups raised in this report haven't been active since before we launched this policy in August," she said in a statement. "Regardless, most violate our policies and have since been removed."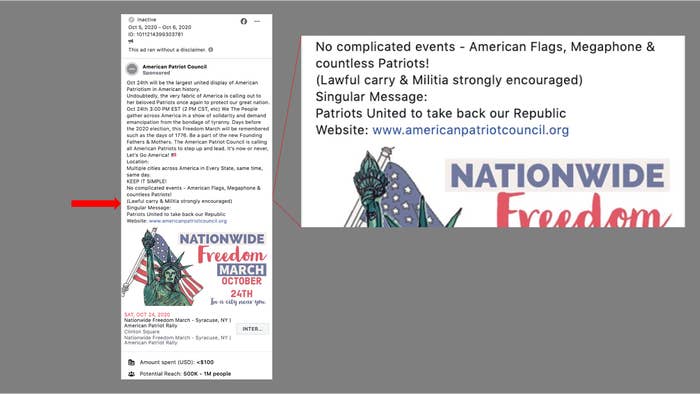 The TTP investigation comes less than two weeks after federal and state prosecutors in Michigan revealed they had charged 14 people in a bizarre plot to kidnap and possibly kill Michigan Gov. Gretchen Whitmer. Those individuals allegedly conspired using Facebook.

In the Michigan plot, Facebook said it reached out to law enforcement six months before the 14 men were arrested, and that a Facebook group tied to those individuals had been banned in June. Still, a day after authorities announced the Whitmer plot, BuzzFeed News reported that Facebook continued to host multiple pages run by Michigan militant organizations, while the social network's recommendation tools continued to direct users to follow pages espousing extremist messages.
Facebook has made numerous efforts this year to counteract the use of its platform by violent extremists. The company said it had deleted more than 6,500 pages and groups "tied to more than 300 Militarized Social Movements" as of Oct. 6. But it did not completely eradicate the problem. Some groups, as TTP found, escaped the ban. Others simply reappeared with new pages under slightly altered names.
TTP also identified other organizations that have kept a presence on Facebook, including some associated with the Three Percenters, whose members have been involved in armed confrontations with federal agents in Nevada in 2014 and Oregon in 2016.
One group, Virginia Militia, paid for 61 advertisements before it was removed from the social network, including an ad in February calling for a "Muster Call."
"Are you going to give up your rights or fight?" the ad read.
In June, BuzzFeed News found Facebook had been profiting from "boogaloo" ads that promoted extremist organizations that wanted to "fight the state." Radicals linked to the "boogaloo movement" — a catchphrase for anti-government extremists who have advocated for another Civil War in the US — have been linked to violence this year including the alleged killing of a federal officer.
The report also found that some users had issued direct threats against public officials in private Facebook groups without action from the company. In one group titled "Pro-Police, Pro-Military, Pro-Trump," a post suggested that Minnesota Rep. Ilhan Omar should be sent to Guantánamo Bay, prompting others to respond with "Just shoot the bitch" and "She needs a drone strike." The post remained active as of Oct. 13.
In another group called "Trump's Army" with nearly 100,000 members, one individual wrote of people demonstrating against the police killing of Breonna Taylor, "All Trump supporters should shoot them and kill them."
It's unclear what impact Facebook's ban will have on militarized groups who have been using the social network for years as part of their recruitment and organizing.
The head of the national Three Percenters' group called Facebook's ban a "purge of conservative organizations." But when the group itself was banned, leaders of the organization simply directed its members to a private forum on its own website.