Experts Caution Against Linking Higher Crime Rates To So-Called "Ferguson Effect"
Major law enforcement officials have expressed concern that greater public scrutiny of police tactics could be causing officers back off in the field.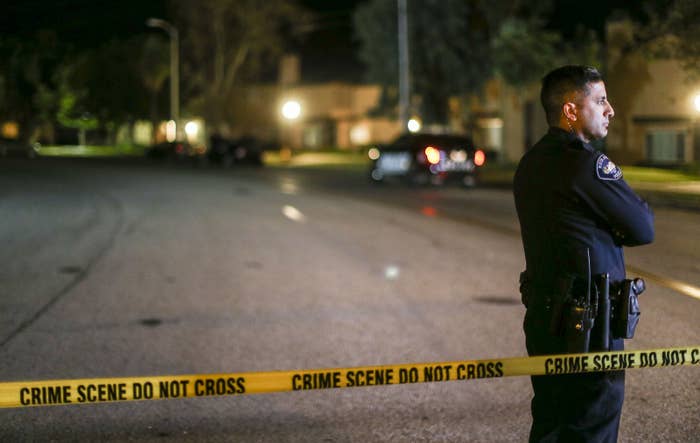 Violent crime increased slightly across the U.S. during the first half of last year, but experts are cautioning against linking the rise to the effects of police tactics coming under greater scrutiny.
Overall, violent crimes such as murder, rape, robbery and assault rose 1.7% during the first half of 2015, according to crime statistics released Tuesday by the FBI. The most noticeable spike was an increase of 6.2% in murders from January to June 2015.

Major law enforcement officials have expressed concern that higher public scrutiny of police tactics could be causing a so-called "Ferguson Effect," in which officers are more hands off on the street, allowing more room for violent crime to occur.
But experts warn against reading too much into the higher numbers, noting that the national crime rate is statistically still on par with last year.
"In our opinion, that is more or less like 2014," Inimai Chettiar, director of the justice program at the Brennan Center for Justice told BuzzFeed News. "It's very normal to have fluctuations from year to year. It shows a stable crime rate."
Arguments over the merits of a Ferguson Effect arose in 2014 in the wake of violent protests in Ferguson, Missouri, the shooting of Michael Brown, and again after demonstrators railed against the death of Freddie Gray in Baltimore.
In October, FBI Director James Comey said the prevalence of videos and high-profile incidents of police brutality could be having a chilling effect on cops, prompting them to be less aggressive, proactive, and effective amid concerns about public reaction to their decisions.
The following month, Drug Enforcement Administration Administrator Chuck Rosenberg echoed those concerns.
But crime experts say there is no actual evidence that the Ferguson Effect is actually impacting law enforcement, or has had an impact on crime rates.
"The knee-jerk reaction is to link the two together," Charis E. Kubrin, a professor at the University of California, Irvine's Department of Criminology, told BuzzFeed News. "It's a persuasive argument. It sounds good, but I haven't seen any evidence of this."
Crime has been on a downward trend for about 20 years in most U.S. cities, but a sudden spike in the number of murders in several major metropolitan areas last year raised concerns that the trend was about to buckle.
A study by the Brennan Center for Justice, for example, found that the nation's 30 biggest cities saw the number of homicides increase last year.
However, the center found that nearly half of that increase was due to an alarmingly high number of killings in Washington D.C. and Baltimore.
"The increase in murders was very localized to a number of cities," Chettiar said. "There is a problem with murder in those cities, and it should be addressed, but because it was localized, it shouldn't be seen as a trend."
The study also found that five cities with high homicide rates — Baltimore, Detroit, Milwaukee, New Orleans and St. Louis — were also reeling from failing economies.
Kubrin, who has written about the Ferguson Effect, said she is concerned about how quickly the theory has taken hold given how little evidence there is.
Though it could be impacting law enforcement, she said the number of high-profile police killings and videos depicting use of force could be sparking a crisis of trust between the community and law enforcement.
"People don't have trust in the criminal justice system and that the police is going to act in accordance with the justice system," she said. "They don't believe the police is going to protect them, if their contact with the police could lead to bodily harm or death."
That, in turn, could lead to people not cooperating with police, or reporting crimes, pushing crime rates up, she said.
Still, she and other criminologists cautioned against making judgements on year-to-year crime statistics, noting they could be statistical anomalies or not indicative of the long-term trends.

Though violent crime rose 1.7% during the first half of last year, for example, violent crime decreased 4.6% during the first half of 2014, and was down 5.4% during the first half of 2013.
And although the number of homicides increased 6.2% from January to June 2015, it fell during the same time period by 6% in 2014 and 6.9% in 2013.
For the last 20 years, violent crime has been on a consistent downward trend, according to FBI statistics. And crime trends reported by local law enforcement show that since 1995, all violent crimes have gone down significantly.
The national violent crime rate in 1995 was 684 incidents reported per 100,000 people. By 2014, that rate dropped to 365.
Still, crime rates remain under close watch by law enforcement, academics, and journalists as tactics by police departments come under scrutiny.
A spokesman for the Department of Justice told BuzzFeed News crime rates remain "historically low," but it is still working on measures to address violent crime in some of the most affected communities.
"Earlier this fall, the Attorney General convened mayors and law enforcement leaders to ensure we are supporting state and local efforts," Patrick Rodenbush of the Department of Justice told BuzzFeed News in a statement.
The White House is also working on actions to reduce gun violence, and the Department of Justice is planning training sessions with federal law enforcement agencies and U.S. Attorney offices on strategies to reduce violent crime.