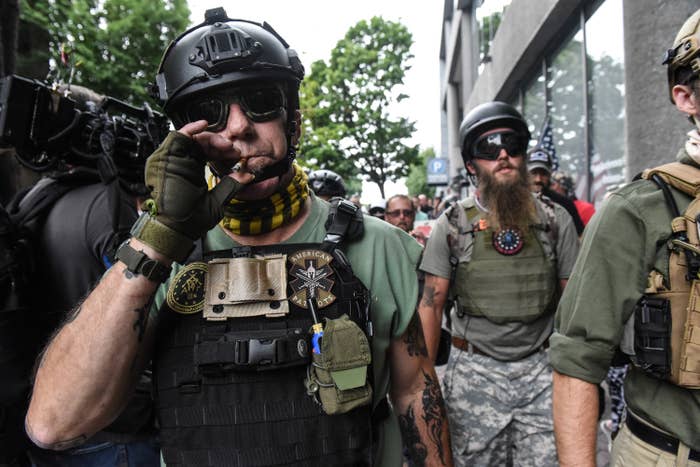 BuzzFeed News has journalists around the US bringing you trustworthy stories on the 2020 Elections. To help keep this news free, become a member.
When Josh Ellis heard President Donald Trump during the first debate urge his supporters to watch the polls carefully on Election Day, he heard the commander in chief issuing a call to duty to his loosely organized — and often armed — online forum.
"We're taking that very much as an order," said Ellis, who founded MyMilitia.com, a forum where people can find self-described militant organizations in their area. He said he has instructed members of his forum to head to the polls and watch for problems — though it's unclear how, exactly, they plan to determine that. (The president's own commission on the issue found no evidence of widespread voter fraud, but that hasn't stopped Trump from falsely saying fake ballots will be cast in 2020.)
As for his own plans, Ellis said: "I'll probably just get in my car and go" where there is unrest. In recent months, he's headed to hot spots like Louisville, Kentucky, to livestream protests on his YouTube channel.
As the country approaches the end of one of the bitterest elections in modern memory — rampant with dangerous and false conspiracy theories, administration officials ignoring science during a pandemic, and social media stoking political divisions — everyone from the analysts at the Department of Homeland Security to local police chiefs have raised fears about the unrest, and even violence, that could be unleashed on America's streets in the aftermath.
BuzzFeed News talked to self-described leaders of six militant and "prepper" groups across the country about what their plans are for Election Day and beyond. Five of the six said they had formed their groups recently, in the face of what they viewed as constitutional violations as state and local officials closed down local businesses and schools and instituted mask requirements to stop the spread of COVID-19.
Some said they and members of their groups planned to heed the president's call to action on Election Day, despite worries by some state officials that the presence of military-clad men could intimidate voters. Others said they worried their presence would impede voters from practicing their civic right to vote and would stay home.
Trump stoked those fears when he called on supporters to head out to polling places to watch out for voter fraud; his campaign called volunteers an "Army for Trump."
All this has experts on extremists deeply worried.
"Whether they are normally in the fringes or die-hard extremists, they see this election as a call to arms," said Brian Levin, director of the Center for the Study of Hate and Extremism at California State University, San Bernardino.
Matt Marshall, founder of Washington State Three Percenters, has encouraged members of his group to act as poll watchers on Tuesday — but only if they are appointed by a political party and approved by county, precinct, or state officials, and dress in their everyday clothes, not the body-armor camouflage fatigues some members wear during their training sessions.
"I don't see anything positive coming out by sending Threepers to the streets," he said. Instead, he said, he's urged his members who want to get involved in local politics to run for public office, as he has done. He's currently a school board member in Eatonville School District and running for a seat in the Washington legislature.
Other leaders see it another way, and are instructing their followers to head out to polls on Tuesday and look out for any fraudulent activity, though again, it's unclear how they're defining this and what precisely they plan to look for.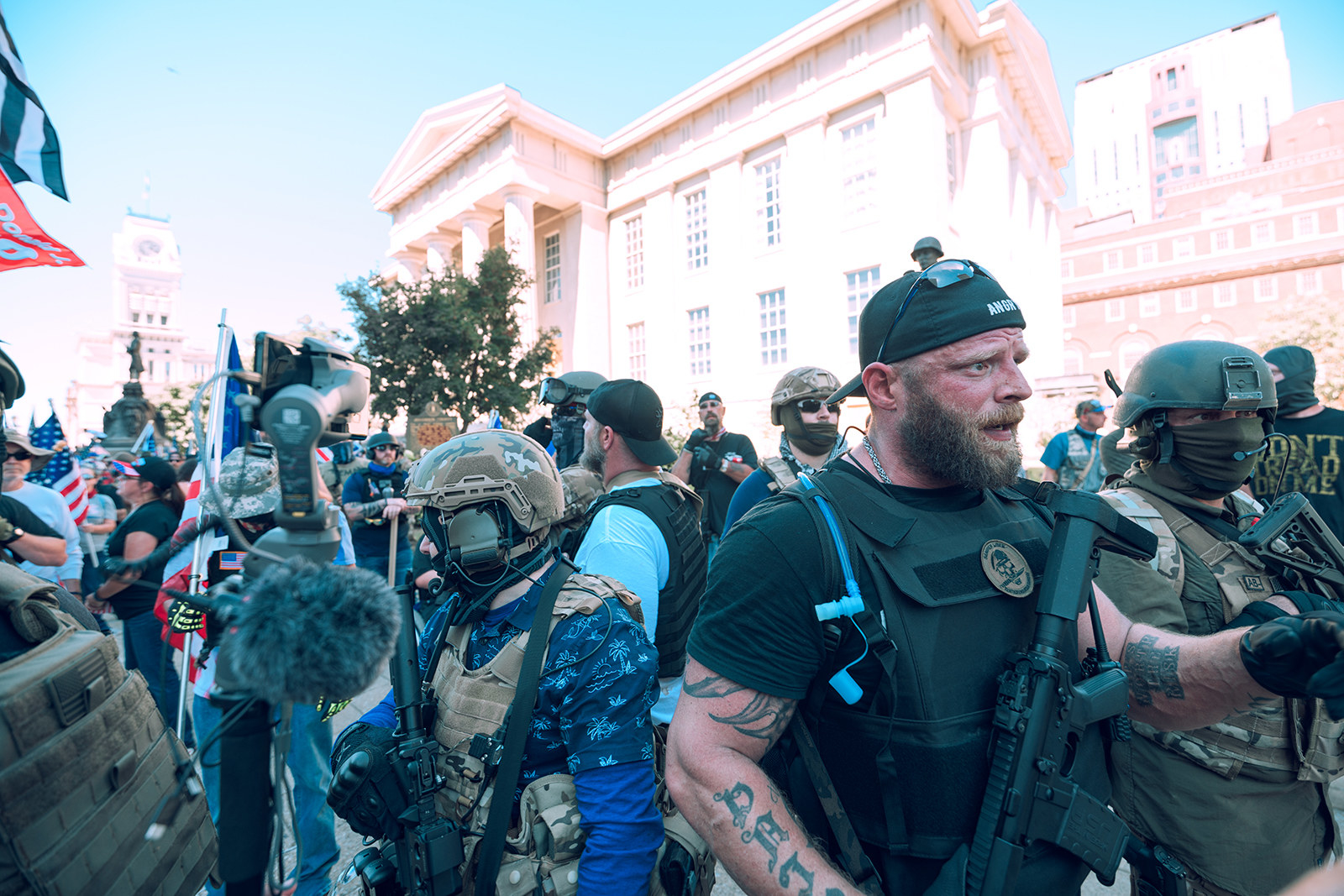 Dylan Stevens, known online as the "Angry Viking," developed a following as a YouTube personality over the last several months with what he calls his "rants" on Facebook Live. He's lately decided to form a militant organization and has vetted 500 people from across the country for what he said will be "a defensive organization."
He doesn't plan to head out to the polls himself, he said, but he has been telling his new members who live in areas where, he claimed, there could be possible antifa activity to keep an eye on the polls. (The right is quick to call any left-leaning activists and protesters "antifa" — essentially short for anti-fascist — as a way to paint them as violent anarchists and undermine their message. Antifa has no national leadership organization. Someone calling himself an antifa supporter shot and killed a pro-Trump activist in Portland.)
"You have to be unseen. You gotta be unheard," Stevens said, meaning his members should dress in plain clothes, not militarized outfits. "And if you see anything on either side, right or not, you have to report it to police."
Increasingly, experts say, some — but not all — leaders of militant groups say they see themselves as protectors of Trump from critics and protesters.
"They see Trump as this strong leader who represents their voice, and their grievances," explained Cassie Miller, a researcher for the Southern Poverty Law Center. "They want him to essentially crack down on the left and the people that they consider their political adversaries, so they see themselves and Trump on the same side in terms of who their enemies are."
Recent violent actions by men associated with militant groups — such as the teenager charged with killing two protesters in Kenosha, Wisconsin; an alleged plot to kidnap and kill the governor of Michigan; and a network of "boogaloo boys" accused of killing a federal police officer and plotting to supply weapons to Hamas — has also increased worries about what paramilitary groups will do on, and after, Election Day.
In October, the Department of Homeland Security warned about the possibility of violence during the election, warning that homegrown extremists could also mobilize fast during, or after, the election itself.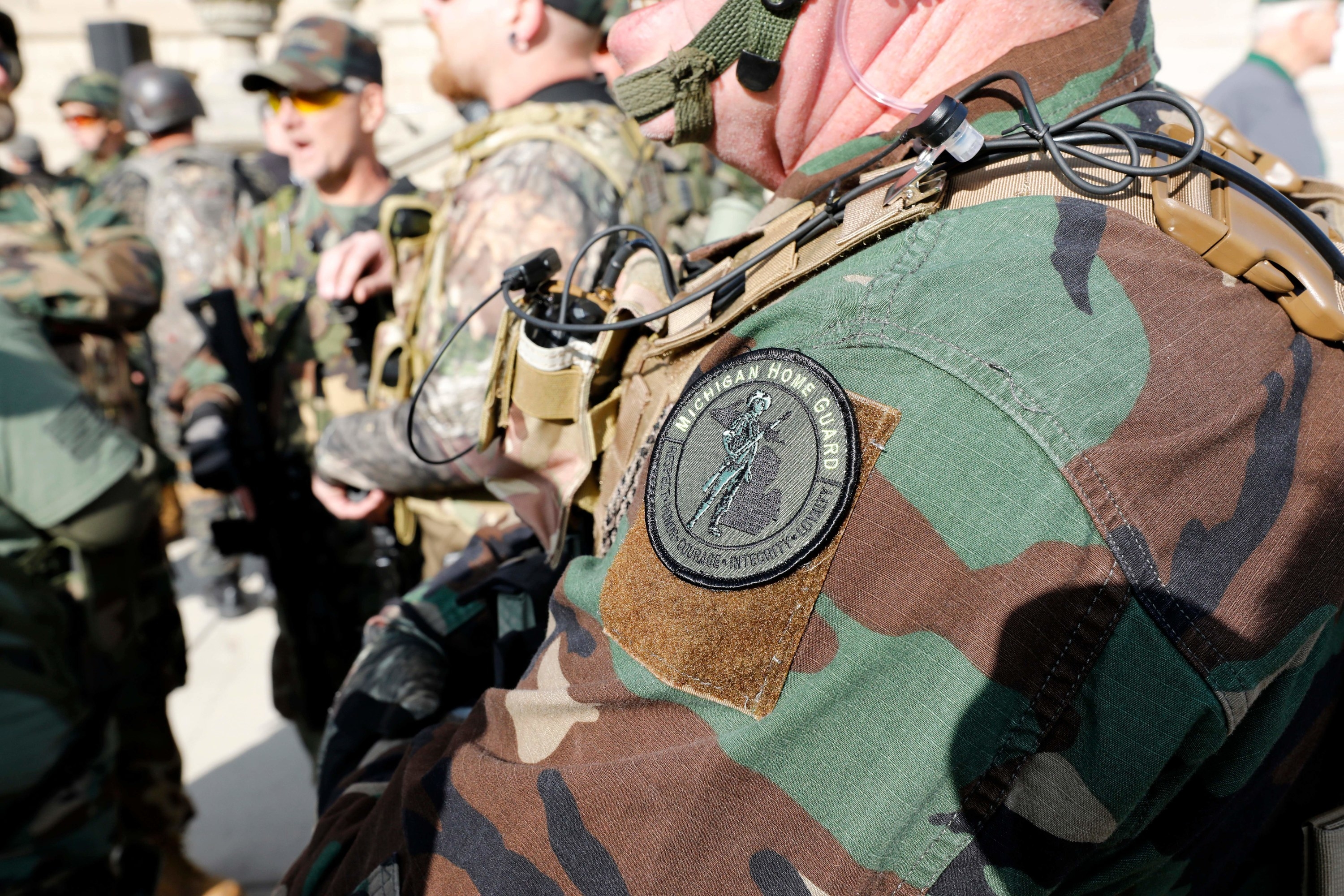 But Adam Peisker, the second in command for Michigan Home Guard, told BuzzFeed News members of his group won't be heading out to the polls, even though leaders of other organizations have tried to recruit groups in Michigan to do so.
"They took it as, 'Trump said do it, so I'm doing it,'" Peisker said. "Yes, Trump said go do it, but realistically it's just a burden on the people going out to vote."
Peisker said he thinks the general public would be upset and intimidated at the sight of armed men at the polls.
"You're just going to intimidate people and that's not OK, and not what we want to do," he said. "We want people to go to the polling place, cast their ballots, feel safe."
Peisker sees the role of self-described militias, like his, as defensive groups to protect their families and communities during natural emergencies or civil unrest. Because of that defensive posture, he said, members of the Michigan Home Guard would also be unlikely to move into the streets to quell protests should they erupt after the election.
It would take something akin to civil war to prompt such a move to the streets, he said, and at that point, he added, they wouldn't wait for a directive from anyone to head out.
"We wouldn't need the president to say that," he said. "You would have every biker, every militia out there."
Jeff Cole, founder of the Civilian Defense Force, said he was "trying to get people organized. We're trying to get people trained. We're trying to be prepared in case violence reaches our streets."
"I fear that there is going to be a lot of unrest," he added.
A rabbit farmer in rural Pennsylvania, Cole said he started his group, which has organized mostly online, this summer after seeing scenes of chaos that emerged from some of the protests throughout the country. He never expected to be the leader of an armed group, he said, but is worried that his local police force won't be enough to protect his own area if the protests come to him.
It's a sentiment echoed by Mike Glover, founder of the American Contingency in Utah.
Glover owns a survivalist company and posts "prepper" videos on YouTube, instructional videos on how to survive during an emergency and live outdoors. He began to feel that police weren't responding to calls about burglaries during the height of the protests in Seattle and Portland.
He's refused to associate with paramilitary groups, like Three Percenters, and instead has instructed members to stay home, rather than going out to poll sites or responding to areas of civil unrest.
"My fear is that in the election cycle, either the right or the left is going to use it as a justification to go to war," he said. "Where we should be is at home, taking care of our families and defending our families."
If you have a news tip, we'd like to hear from you. Reach out to us via one of our tip line channels.
Despite the argument from paramilitary leaders that their organizations are there for self-defense, the sentiment doesn't allay the worries of extremist experts.
Levin, director for the Center for the Study of Hate and Extremism at California State University, San Bernardino, points out some militant groups have argued heading out to confront Black Lives Matter protesters, or people they perceive to be antifa, was a defensive act. Others have argued that Kyle Rittenhouse, the 17-year-old who self-identified as a militia member and allegedly shot three people, killing two, in Kenosha, exemplifies the "defensive" measures of militia groups.
Indeed, that is how many said they feel. "Kyle symbolizes the fact that we are under attack, and doing nothing more than trying to live peaceful lives, and trying to make sure our businesses aren't burned," Cole said. "If anything, he represents someone who got caught up in that and had to stand his ground, and did. So if there's any rallying around him, it's because he represents the cause and effect of — leave us alone and this won't happen."
Despite the rhetoric from some groups, some self-described militia leaders also suspect a lot of the online chatter urging members to head into the streets will not translate to action.
"A lot of Threeper groups say these things on Facebook but they don't do anything," Marshall said. "They don't have anyone on the ground."
But as many militant groups increasingly view themselves as defenders of the president, Levin said, what they view as necessary to "defend" themselves, their communities, or their ideals seems to have shifted.
Some, Levin worried, "see this election as a call to arms" and may now be "seeking to foment civil disorder rather than just prepare for one." ●