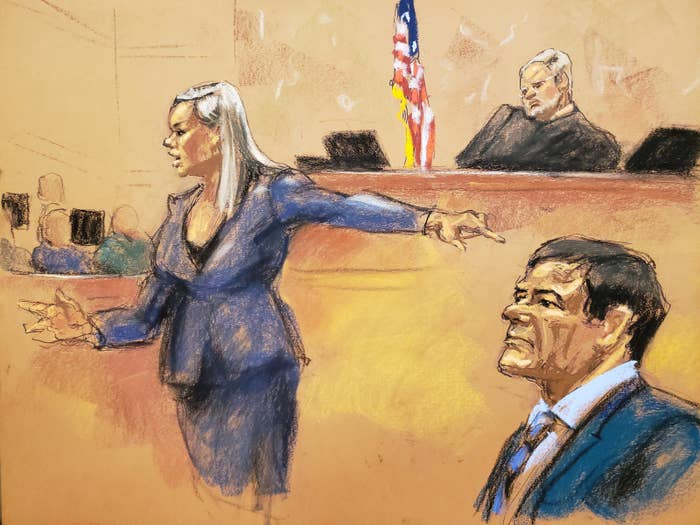 Joaquín "El Chapo" Guzmán, the drug kingpin who violently rose to lead the infamous Sinaloa Cartel and at one point was named by the US as the "world's most powerful drug trafficker," was convicted Tuesday in a federal court in Brooklyn.
After deliberating for about six days, the jury found Guzmán guilty on all counts. The jury of eight women and four men heard 200 hours of testimony during the monthslong trial.
Guzmán, whose nickname means "Shorty," was found guilty of 10 charges, including conspiracy to launder proceeds from narcotic proceeds and engaging in a criminal enterprise. He now faces life in prison.

"Guzman Loera's bloody reign atop the Sinaloa Cartel has come to an end, and the myth that he could not be brought to justice has been laid to rest," U.S. Attorney Richard P. Donoghue said in a statement. "Today, Guzman Loera has been held accountable for the tons of illegal narcotics he trafficked for more than two decades, the murders he ordered and committed, and the billions of dollars he reaped while causing incalculable pain and suffering to those devastated by his drugs."

Not only was Guzmán suspected of trafficking cocaine into the US in the tons, but stories of his violent exploits, and his ability to twice escape from high-security prisons in Mexico, launched his notoriety from infamy to Hollywoodesque celebrity.

His monthslong trial in New York offered a glimpse into the narco's life as the head of one of Mexico's most violent cartels, including allegations of bribing Mexican presidents, naked escapes, violent murders, diamond-encrusted pistols, and high-tech surveillance.
"Joaquin Guzman Loera has been a DEA target from his early days as a transporter, to his role as distributor, and finally head of the most feared cartel in the world - the Sinaloa Cartel," said Ray Donovan, the Drug Enforcement Administration Special Agent in Charge of the New York Division and head of the 22-agency team that pursued Guzmán. "Chapo's escapes only made us more determined to bring him to the United States to face multiple charges on multiple indictments. And Today's conviction brings justice to not only New Yorkers who lived in a city the Sinaloa Cartel used as a drug distribution hub, but it brings justice to victims of overdose deaths nationwide."
Guzmán evaded authorities in Mexico for years as head of the Sinaloa Cartel, even managing to escape high-security prisons in 2001 and 2015 to the embarrassment of the Mexican government.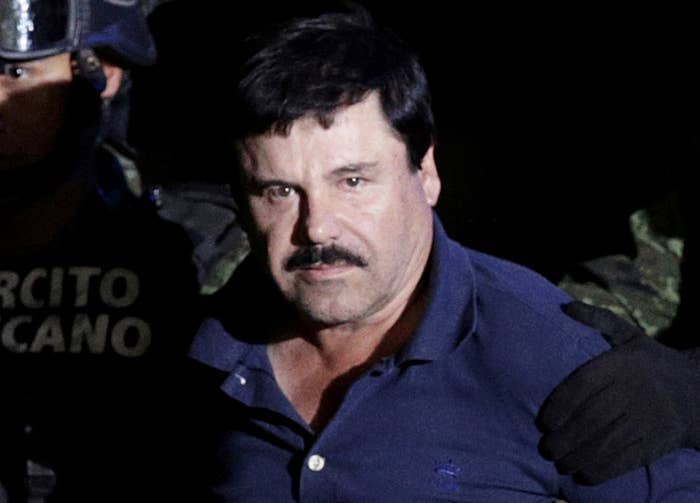 During the trial, Guzmán's former bodyguard, Isaías Valdez Ríos, described how even as head of the cartel, Guzmán was still willing to get his hands dirty.
When a member of a rival cartel was taken to Guzmán in 2006 or 2007, Ríos said "El Chapo" was displeased that he had already been tortured. After keeping the prisoner for several days, Guzmán ordered men to dig a grave, the Guardian reported. Guzmán shot the prisoner, and then told his men to bury him even though he was still breathing.
In another time, Valdez testified that his former boss helped torture two members of the rival Los Zetas Cartel for three hours, then ordered the men thrown into a flaming pit because he didn't "want any bones to remain."
In the end, it seemed it was Guzmán's own paranoia and his insistence to keep an eye on those closest to him that helped bring about his downfall when an undercover agent recruited the Sinaloa Cartel's top IT man, Cristian Rodriguez, to flip against the cartel.
Testifying in court, Rodriguez recounted who he was asked by Guzmán to install "spyware" on the phones used by Guzmán's wife and girlfriend, a feature that allowed the drug lord to check their calls, emails, texts, location, and even turn on the microphone at his whim.
In 2011, however, Rodriguez began cooperating with the FBI, giving officials access to Guzmán's server and creating software that recorded Guzmán's phone calls for the FBI.
The messages, several of them read in open court, offered an unfiltered look at Guzmán communicating with his wife and girlfriend.
In one, he told his wife he needed clothes, shampoo, and black dye for his mustache.
In another, he recounted his narrow escape from authorities.
"I saw them pounding on the door next door, but was able to jump out," Guzmán wrote his wife in 2012 in one text, according to government translations.
One of Guzmán's girlfriends, Lucero Guadalupe Sánchez López, testified about another narrow escape in 2014 where, warned by his secretary, Guzmán popped open an escape lid on a bathtub and ran away from Mexican marines naked.
The cartel's knack for escape was a constant issue arising in court, at one point even generating laughs in the courtroom.
In early January, according to reporters, the lights briefly went out in the courtroom just before the start of the trial. When the lights came back on, someone in the room shouted "He's gone!" though Guzmán remained in his seat.
Other revelations in court were much more serious and caused a stir across the southern border.
Alex Cifuentes, a convicted trafficker who described himself as Guzmán's "right-hand man, his left-hand man," testified that Guzmán once paid a $100 million bribe to former Mexican president Enrique Peña Nieto, hoping that it would help the head of the Sinaloa Cartel come out of hiding.
Cifuentes had allegedly told authorities of another bribe to former president Felipe Calderón in 2008 by the rival cartel headed by the Beltrán Leyva brothers, but testified he did not remember it court.
Mexican President Andres Manuel López Obrador was also tainted in the court allegations of bribery and corruption. In an unsealed filing, federal prosecutors mentioned a bribe alleged by another member of the Sinaloa Cartel, Ismael "El Mayo" Zambada, that had been paid to someone in Obrador's failed 2006 presidential campaign.
All three former and current presidents have denied the allegations.
Guzmán faces a possible life sentence.