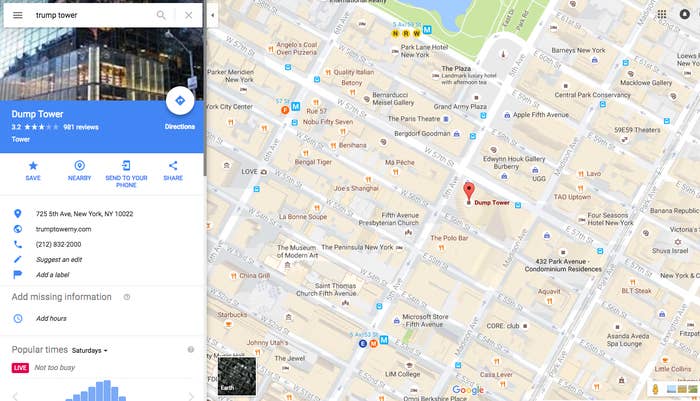 Trump Tower, the New York home of President-elect Donald Trump and headquarters for his campaign and transition team, has been showing up as "Dump Tower" in Google Maps.
The high-rise along New York's 5th Avenue has been a hot spot for tourists during the campaign and has become a sort of fortress after Trump won the election, with the Secret Service moving in to secure the area for the future 45th President.
But the building was still susceptible online.
The virtual vandalism was caught by people on social media Saturday afternoon, generating a wide net of reactions from supporters and opponents online.
It wasn't the first time that a location on Google Maps has become vulnerable to some sort of malicious online defacement.
In May 2015, users on Google Maps would be directed to the White House if they searched for "N***a House."
Earlier that year, Google had announced that it would no longer allow public edits to maps after a series of "Incidents," but described the White House issue as some sort of "vandalism."
It was unclear how the change to Trump Tower was made.
By 5:40 p.m. PST, Trump Tower turned up by its correct name when searching for it on Google Maps.
However, the location was still labeled as "Dump Tower" in a search of the area.
Contacted by BuzzFeed News, a Google spokesperson said, "Some inappropriate names were surfacing in Google Maps that should not be, and we apologize for any offense this may have caused. Our teams immediately took action and have fixed the issue."