Driver's Body Is Flung Onto Overhead Freeway Sign In Deadly High-Speed Crash
Authorities reported getting a call of an erratic driver in the Los Angeles area minutes before witnesses saw his body get flung onto the 20-foot-high sign.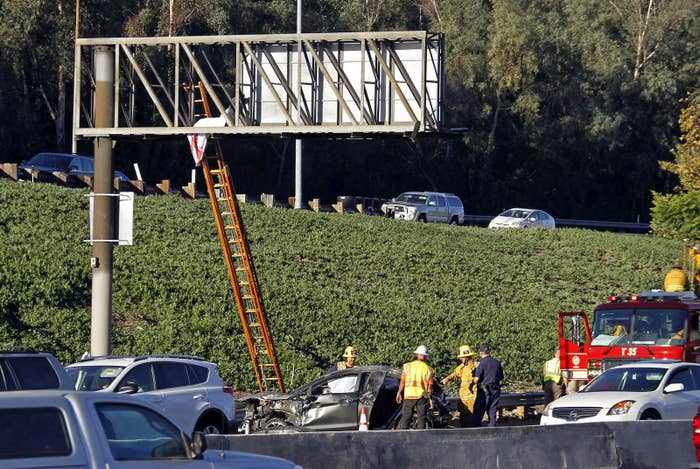 A rollover crash on a Los Angeles freeway Friday ejected the driver from his car, leaving his body a traffic sign more than 20 feet above ground. The driver, identified as 20-year-old Richard Pananian of Burbank, was pronounced dead at the scene. He is not believed to have been wearing a seatbelt.
Emergency officials who responded to the fatal crash had to block two lanes along Interstate 5 for three hours so firefighters could climb up to the sign and remove the body.
The gruesome crash happened Friday morning, shortly after someone reported a vehicle driving erratically and at a high rate of speed in the area, California Highway Patrol Officer Chad Guin told BuzzFeed News.
Witnesses saw Pananian passing vehicles on the right lane, but at some point hit the back of a truck, causing him to lose control of his 2004 Ford Fiesta, Guin said.
"The Ford Fiesta veered to the right, out of control and overturned several times," Guin said.
As the car continued to rollover into an embankment, other drivers reported seeing Pananian's body being thrown from the car and into the sign.
CHP officers used a ladder to cover the body with a sheet on the sign, before firefighters were able to remove it, the Associated Press reported.
The car came to a stop below the sign.
Guin told BuzzFeed News crash victims are sometimes thrown from vehicles due to the force of the collision or the car rolling over.
None of the officers in his office, however, can remember an instance where a victim was thrown into an overhead freeway sign.