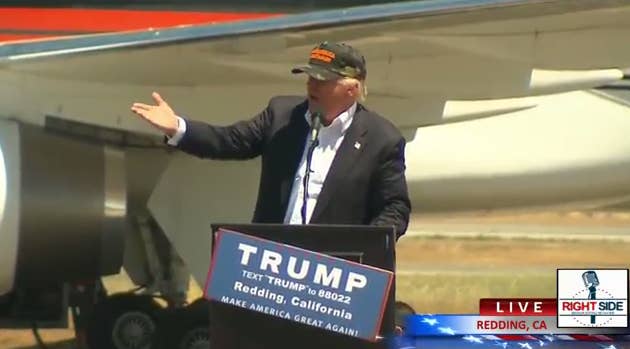 Donald Trump was speaking to a crowd of supporters Friday in Redding, California, when he decided to point one of them out.
"Oh, look at my African-American over here," Trump yelled out in the middle of the rally. "Look at him. Are you the greatest? You know what I'm talking about?"
The presumptive Republican nominee for president then continued to tell a story about how another black supporter assaulted a protester at one of his rallies in March.
The comment seemed to go unnoticed by his supporters gathered in the hot sun at Redding airport, but it was quickly picked up on Twitter by people noticing his use of "my African-American," which stoked a sense of ownership over a black supporter.
A Trump spokeswoman told CNN there was "no ill will intended" by the remark, and that any "charges of racism" were "ridiculous."
The man Trump was referring to, Gregory Cheadle, said after the rally he wasn't offended by the remarks.
"To give the black folk the time of the day, I was happy," Cheadle told The Record Searchlight after the rally, noting he got two autographs from the presidential candidate after the speech.

"I was at the point he was about to leave and I called out, 'Uncle Donald, Uncle Donald," Cheadle told the paper. "He recognized me as the guy he called out."

Cheadle, a Republican from Happy Valley, California, and running for the 1st Congressional District, said he was happy to have been acknowledged in a mostly white audience.
Cheadle also told CBS News that despite the online uproar about the comment, he didn't sense any racism on the comment, though he could understand why it could be interpreted so.
"I never, ever sensed any racism on his part," he said. 'Looking at it now, I can see on a script - in a transcript, or even somebody watching the clip - I can see how they would jump to the conclusion that it was racist. But I never felt anything at all."
He told the network he felt people were sometimes, "super-sensitive."
"We're so ready to pull that racist trigger and sometimes unnecessarily so," he said.
Trump, who has repeatedly referred to minorities as "the blacks" and "the Hispanics," has often come under fire for using racially tinged language.
Just this week, a prominent attorneys' group criticized the Republican candidate for attacking the heritage of a federal judge in California, who is presiding over a Trump University lawsuit.
In an interview Friday with CNN, Trump ramped up his attack on the judge's ethnic background, saying "He's a Mexican" and "that's why he's doing it."
Watch Trump's comment from the Friday rally here: