Donald Trump Kicks Jorge Ramos Out Of Press Conference: "Go Back To Univision"
The Spanish-language news anchor began asking questions at the beginning of a press conference Tuesday when Trump had him physically escorted out.
Donald Trump kicked Univision's Jorge Ramos out of a press conference Tuesday when the journalist asked the presidential candidate about his comments on immigration.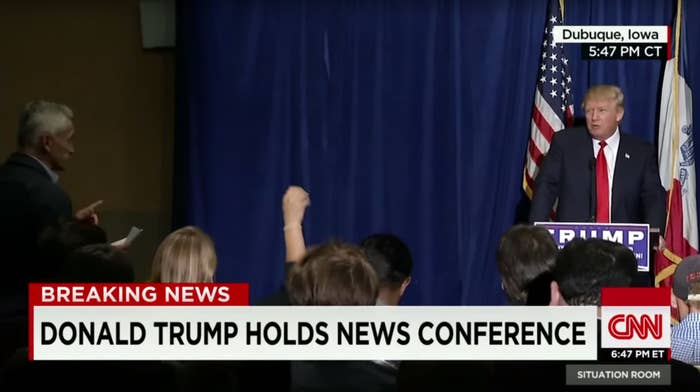 Ramos, who may be the best-known journalist in Spanish-language news media, stood up and began questioning the candidate about his immigration proposals, including claims that he would deport all undocumented immigrants in the country, build a wall across the U.S.–Mexico border that Mexico would pay for, and possibly challenge birthright citizenship.
"You cannot deport 11 million people," Ramos was heard saying as Trump told him to sit down.
"No, I will not sit down," Ramos said. "I have a right to ask a question."
Ramos continued asking questions when Trump told him to "go back to Univision."
Trump then looked to his left and said "go ahead" before a security guard walked toward the anchor and physically escorted him out.
Ramos, who has anchored Univision's leading newscast and Fusion's America With Jorge Ramos and hosts a Meet the Press–style political show on Univision called Al Punto, was then removed from the press conference.
On Wednesday, Univision President and CEO Randy Falco called Trump's actions "beneath contempt."
"Jorge Ramos is the most professional, dedicated and respected journalists I hve seen or worked with in my 40 years in media," the statement read. "Mr. Trump demonstrated complete disregard for him and for the countless Hispanics whom Jorge seeks to represent through press questions that are at the heart of the First Amendment."
Univision CEO Isaac Lee, in a statement after the clash, invited Trump to an interview with Ramos.
"We'd love for Mr. Trump to sit down for an in-depth interview with Jorge to talk about the specifics of his proposals," Lee said.
An Univision representative also told BuzzFeed News Ramos has asked Trump for interviews in the past. He said he did not know what the response has been from Trump's campaign, but Ramos has not interviewed Trump.
A Trump campaign representative did not immediately respond to a request for comment from BuzzFeed News.
Reporters asked Trump during the press conference why Ramos was booted.
"I don't believe I know much about him except he started screaming and, I didn't escort him out, you'll have to talk to security," Trump said. "He just stands up and and starts screaming, so, maybe he's at fault, too."
Tuesday's press conference was just one of the latest clashes between Trump and Spanish-language news stations since he announced his candidacy.
In June, Trump filed a $500 million lawsuit against Univision after the network dropped its plans to broadcast the Miss USA pageant, which is co-owned by Trump. The decision came shortly after Trump made comments that Mexico was sending rapists and other criminals to the United States.
Then, in July, Trump also interrupted Telemundo anchor Jose Diaz-Balart during a press conference at the border, telling him, "You're finished."
Diaz-Balart was asking Trump about his comments calling people that cross the border "rapists and murderers" when Trump cut him short and said it was "a typical case of the press with misinterpretation."
The National Association of Hispanic Journalists condemned Trump's actions in a statement.
"Ramos was simply trying to hold a candidate for president accountable for statements he made about a very important topic to the American people," the statement from NAHJ president Mekahlo Medina read.
After Ramos was kicked out Tuesday, he returned to the Iowa press conference five minutes later and was able to question the presidential candidate.
"You know how many Latinos, you know how many Hispanics are working for me?" Trump asked Ramos. "They love me."
The two went back and forth for a few minutes, with Ramos often disputing Trump's comments.
"Let me tell you, we're going to do it in a very humane fashion," Trump said about deporting undocumented immigrants. "Believe me, I have a bigger heart than you do."
Despite kicking Ramos out, Trump ended the back-and-forth by telling the anchor, "You and I, we'll talk."