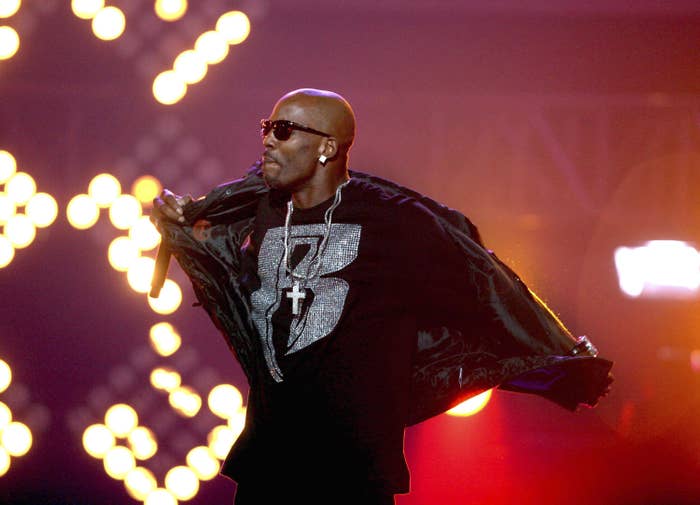 Rappers, actors, and sports stars are among those honoring DMX after the rapper's death was announced Friday.
DMX, whose given name was Earl Simmons, burst onto the scene in the late '90s with his debut album It's Dark and Hell Is Hot, which featured the hits "Ruff Ryders' Anthem" and "Get at Me Dog."
DMX was hospitalized last week after a heart attack. He was reported to be in critical condition for days. On Friday, news of his death quickly spread and drew tributes from celebrities like Wesley Snipes, Ice Cube, Chance the Rapper, and LeBron James, who recognized the rapper's rugged, hardcore music style.
Actors Halle Berry and Viola Davis both offered prayers and love to his family.
James referred to DMX as a legend.

But DMX's death was probably most felt among rappers, artists, and musicians, many of whom spoke about his impact on hip-hop.
"Very Very Very few will EVER do it like you homie," Ice-T said. "Tooooo Fn young to go."
Ice Cube also praised DMX, tweeting a cartoon of DMX in full samurai armor.
"Sending warrior prayers to the homie DMX," he wrote.
"Even though you had battles you TOUCHED so many through your MUSIC and when you would PRAY so many people FELT THAT," Missy Elliott wrote. "This is heavy for the HipHop family but your LEGACY LIVES ON."
More contemporary artists also honored the 50-year-old rapper, including Chance the Rapper, Aminé, and Russ, who called DMX one of his "favorite rappers ever."
"The impact will never be forgotten," he wrote.