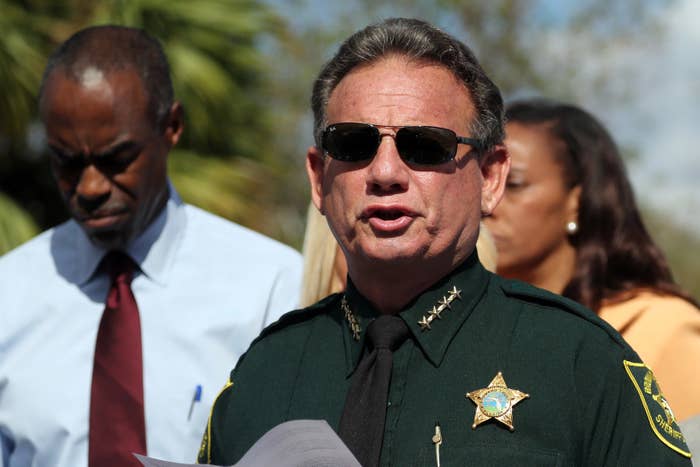 Broward County sheriff's officials said in a statement late Saturday that they responded only to 23 calls involving suspected Florida school shooter Nikolas Cruz or his family over the years, but records obtained by BuzzFeed News show at least 45 responses since 2008.
The number of calls made over the years involving Cruz or his family, according to the call records, are nearly twice the number publicly disclosed by the department.
On Saturday night, the Broward County Sheriff's Office released a statement pushing back on reports that they had been called more than the 23 incidents released by the department.
"Since 2008, BSO responded to 23 incidents where previous contact was made with the killer or his family," the sheriff's office said in its statement. "STOP REPORTING 39; IT'S SIMPLY NOT TRUE."
The Broward County Sheriff's Office did not respond to BuzzFeed News' questions about the additional calls, or how it determined to include the 23 calls that were disclosed to the public, but not the others.

The statement Saturday was released in conjunction with a letter that was sent by Broward County Sheriff Scott Israel to Florida Gov. Rick Scott, rebutting claims made by Bill Hager, a Florida legislator who called for the sheriff's removal.
"Mr. Hager's claim of '39 visits by' BSO deputies is simply fiction," Israel wrote in his letter to Scott.
The increased pressure against Israel's department comes amid an internal investigation into how deputies responded to two calls, one in 2016 and another in 2017, where the caller reported Cruz was collecting weapons and could potentially become a school shooter.
Dispatch records obtained by BuzzFeed News show that, since 2008, there were 22 calls to send deputies to Cruz's home that have not been publicly disclosed by the department.

Like many of the calls revealed by the Broward County Sheriff's Office, several of them involved domestic disturbance issues involving Cruz, his brother Zachary, and their adoptive mother.
Most of the calls involved their adoptive parents reporting that Zachary had not come home after curfew, or that he'd left the house without telling them or despite their objections. Others appear to be calls from neighbors, including one who reported the two brothers were throwing water balloons.
Others are unclear who is being referring to, though the call was made by a parent at the same home, reporting that their 12-year-old son was throwing things and cursing at a computer.
BuzzFeed News obtained the records from the sheriff's office after a request for information about all calls that were made to the Cruz's home.
The call records reviewed by BuzzFeed News show that the calls were made between Nov. 12, 2011, and Nov. 30, 2016. Most of them make no mention of Cruz, but some of the 23 calls that have been disclosed by the department also make no mention of the suspected shooter.
Brianna Sacks contributed additional reporting to this story.
CORRECTION
Nikolas Cruz's name was misspelled in an earlier version of this post.