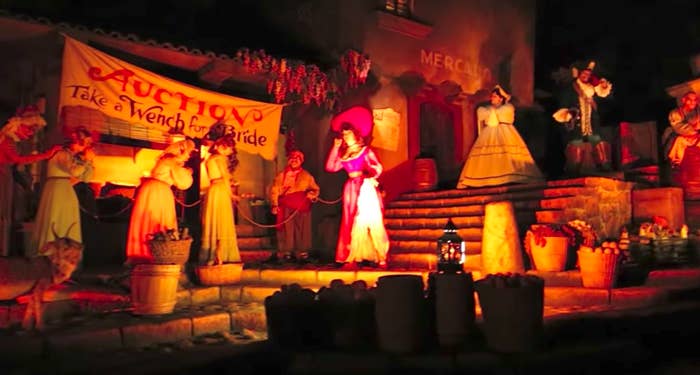 Disneyland is making changes to its popular Pirates of the Caribbean ride, doing away with a portion of the attraction in which pirates are seen selling women in an auction.
No longer will the bound female figures stand behind a sign that reads, "Auction Take a Wench for a Bride." Instead, the women will be carrying jewels, art work, and furniture next to a sign that instructs them to "Surrender yer Loot," according to artist renderings Disneyland Resort shared with BuzzFeed News.
"We believe the time is right to turn the page to a new story in this scene, consistent with the humorous, adventurous spirit of the attraction," Suzi Brown, a spokesperson for Disneyland Resort, told BuzzFeed News. "From introducing characters from the film saga, to the technology and story enhancements, changes to our attractions are done in the spirit of moving forward what Walt Disney inspired."
It's not the first time Disneyland has made small but significant changes to the popular Pirates of the Caribbean attraction, which provided the inspiration for the Disney film series starring Johnny Depp.
In addition to adding characters and features that align with the movies, the park has made tweaks to the female characters featured in the ride that adjust some of the subtle themes of sex and rape originally depicted in the attraction, specifically in a scene in which drunken pirates are seen taking over and laying waste to an unknown town.
One scene of pirates chasing women on a balcony was changed several years ago to show the women carrying food while running, to make it look as if the pirates are chasing alcohol and grub rather than the women themselves.
This year's change will do away with a scene that originally depicted women — or "wenches" — being auctioned to the highest bidder.

One of the original "wenches" — a tall redhead leading the rope-bound women —will also be turned into a pirate herself, holding a rifle while the town folk surrender their valuables.

"Our team thought long and hard about how to best update this scene," Kathy Mangum, Atlantic region executive for Walt Disney Imagineering said in a statement. "Given the redhead has long been a fan favorite, we wanted to keep her as a pivotal part of the story, so we made her a plundering pirate!"
The updated ride is scheduled to be unveiled July 24.