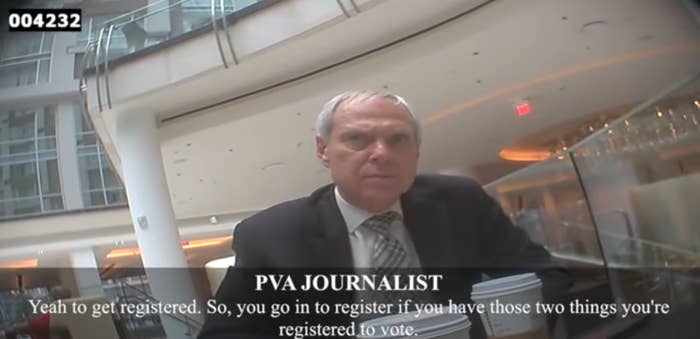 One Democratic official resigned and another was fired Tuesday after undercover videos released by a conservative activist suggested Democrats hired agitators to incite violence at Donald Trump rallies.
The videos released this week show Democratic strategists discussing sending agitators with a script to Trump rallies, a claim that the Democratic National Committee has denied and one party official told BuzzFeed News was nothing more than "bluster and boasting" from a subcontractor.
"I mean honestly, it is not hard to get some of these assholes to pop off," Scott Foval, the national field director of Americans United for Change, a subcontractor hired by the Democratic National Committee, says in the recording. "You can message to draw them [Trump supporters] out and draw them to punch you."
The videos were secretly recorded by Project Veritas, a group formed by conservative activist James O'Keefe, who has been known to employ similar tactics and heavily edit footage of undercover recordings before releasing them publicly.
Robert Creamer, who heads the consulting firm Mobilize and was hired by the DNC, was also recorded in the undercover video, explaining he was in charge of organizing counter-protests and events at Trump rally locations.
Creamer is also married to Democratic Illinois Rep. Jan. Schakowsky.
Creamer said Tuesday he would "step aside" from his work in the presidential race, DNC officials told BuzzFeed News. The firm will also not be doing any more work for the political party.
"We have accepted the decision by Mobilize, an organization we contracted with in June 2016 and run by Bob Creamer, to step aside," said Donna Brazile, the interim DNC chair, in a statement.
A DNC official told BuzzFeed News the party has not employed the tactics described in the videos, and pointed out that the committee contracted with Mobilize in June.

"The practices described in the video by this temporary regional sub-contractor do not in any way comport with our long standing policies on organizing events, and those statements and sentiments do not represent the values that the Committee holds dear," Brazile said.
Democracy Partners, a progressive consulting group, that Creamer was working with as well, released a statement Tuesday criticizing the tactics employed by Project Veritas, saying that its subcontractors were "goaded into statements that do not reflect our values."
Creamer told CNN that Foval, who was heard in the recording discussing sending scripted protesters to incite violence at Trump rallies, was fired.
Several violent incidents involving protesters and Trump supporters had already occurred before then.

In a statement, Democracy Partners stated a woman used fake identification to be hired and work within the organization to record the edited videos.
"The alt-right takeover of the Republican Party has poisoned our country and all Americans deserve better," the statement read. "Our firm will not be silenced from advocating for peace, justice and social change."
The DNC also criticized the source of the videos.
"James O'Keefe, is a convicted criminal with a history of doctoring video to advance his ideological agenda," Brazile said in a statement. "We are in the process of conducting an internal investigation to determine whether he and his cohorts committed any illegal activities in this well-funded operation."