Decapitated Animals Keep Showing Up In Sacramento And No One Knows Why
Mutilated chickens, cows, rabbits and lambs have been found throughout the California capital city in the last three months. Investigators don't know if they're looking at a spurt of animal sacrifices, or a copy-cat seeking attention.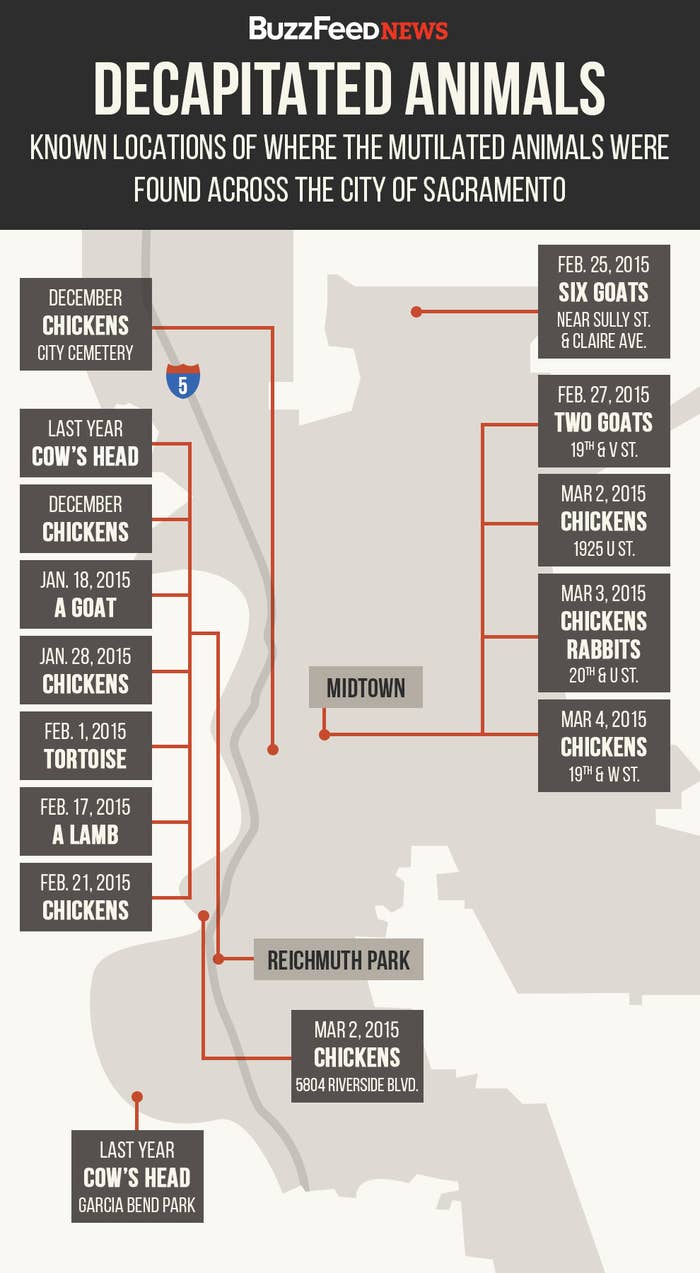 Nearly a dozen decapitated and mutilated animals have been found discarded in community parks across the city of Sacramento this year in a gruesome mystery that's left the city unnerved.
With no hint of where the decapitated animals are coming from, city officials say there's no telling when they'll stop either.
Beginning late last year with the grisly discovery of a cow's head in Reichmuth Park, another cow's head was located just days later a few miles away at Garcia Bend Park.
Headless chickens were then spotted in Old City Cemetery. Maintenance workers who found them were baffled, but discarded the animals and continued their work, Gina Knepp, head of the city's Animal Care Services told BuzzFeed News.
But more decapitated animals would be found, and the gruesome discoveries would come more often, unnerving residents, stumping officials and raising speculation of who is behind it.
"Even if it's an animal sacrifice as a religious practice, though it may be legal, it's still required that it's done in a humane way," Knepp said.
"We're hoping we don't get anything today," Knepp said after animals were found on three consecutive days this week. "I can't keep up with my workload."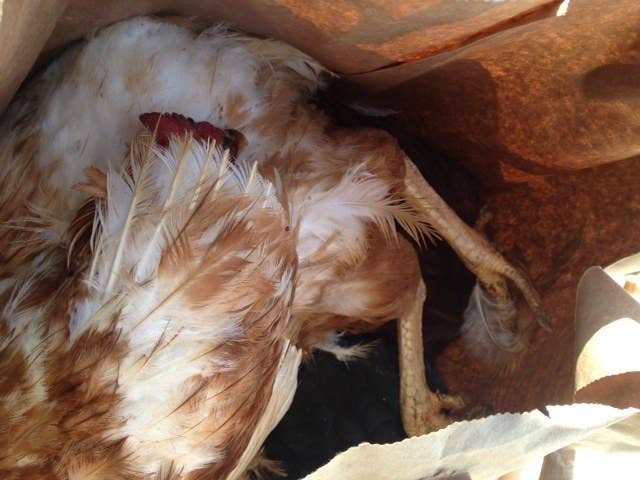 Soon, the animals began to garner the attention of local newscasts and speculation of what might be behind it all.
"At this point we're expecting someone will give us some sort of tip that leads to an arrest or an explanation at least," Knepp said. "It could be Afro-Caribbean religious practices, or it could be someone is just insane."
Though Santeria, the practice of animal sacrifice, is not known to be prevalent in the city or Northern California, Knepp said officials are considering it as a possibility.
On March 2, several decapitated chickens were found with bloodied dollar bills and cornmeal cake. The following day, a decapitated rabbit and chickens were found with tea lights.
The feet of the chickens were sliced off, and stuffed in the birds' chest cavity.
With the number of incidents increasing, and details of the finds fueling bewilderment, much of the speculation has centered around possible animal sacrifices.
Miguel De La Torre, a professor of theology, social ethics and latino studies at Iliff School of Theology in Denver, said the incidents don't appear like known religious practices.
"All too often, when an animal is found like this there is an immediate jumping of conclusion that its an Afro-Caribbean religion like Santeria," he said. "It could be a multitude of things."
Still, certain aspects of the discoveries in Sacramento seem familiar to De La Torre, who authored the book Santeria: The Beliefs and Rituals of a Growing Religion in America.
On Tuesday, Sam Stanton, a reporter for the Sacramento Bee working on the story found a bag of chickens near railroad tracks – their feet cut and shoved into the chest cavities, Knepp said.
Leaving sacrificial offerings next to railroad tracks is common in Santeria practices, particularly for offerings made to Ogun, the god of war and metals, De La Torre said.
"The offering are made by the railroad track, and machinery and metal, hence trains," he said. "An animal offering is the most powerful offering because it's the spilling of blood."
But aspects of the killings seem incongruent with genuine Santeria practices, and sound amateurish, De La Torre said.
In Santeria, he said, the animals are often consumed after the sacrifice – unless they're made to get rid of a curse or illness.
Still, animal sacrifices are important in the religion, and killing the animal is done in a clean, swift and humane way, he said.
"What's important in the sacrifice is the spilling of the blood, but not to the point of cruelty," he said. "The animal is sacrificed in a humane way. You don't want the animal to suffer needlessly."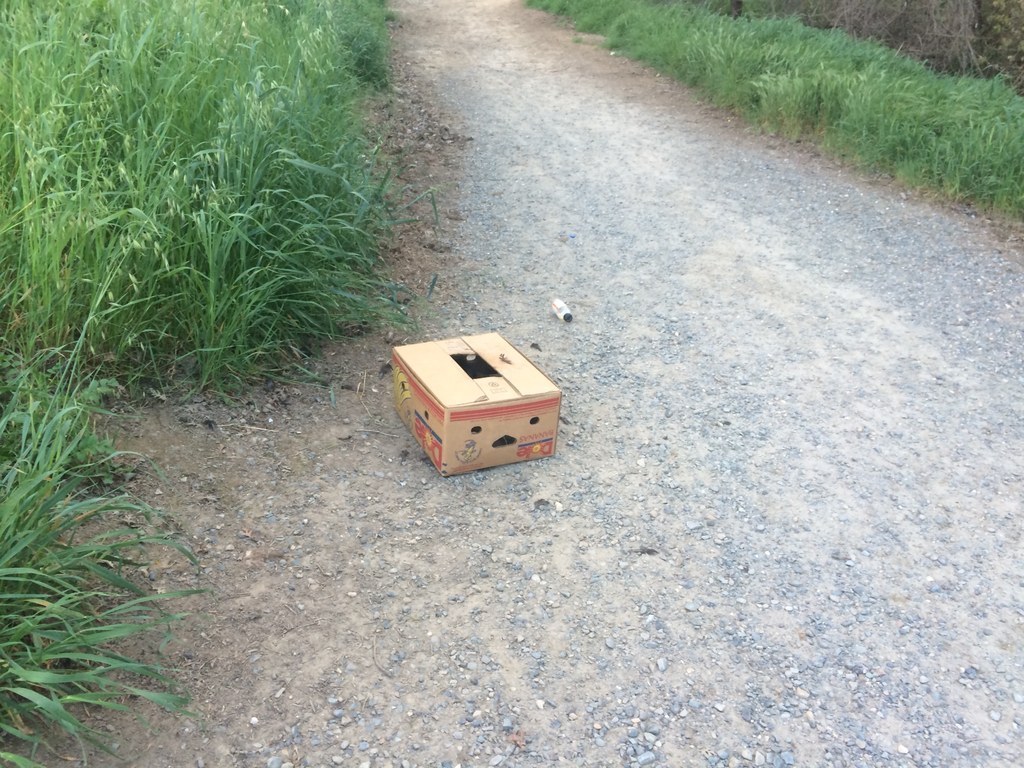 Sacramento Animal Care services, which is investigating the killings, have found that the beheadings appear to have been sloppy and crude – possibly with a saw.
"It's not like they've been professionally butchered," Knepp said.
Someone practicing Santeria, De La Torre said, would be familiar on how to make the sacrificial cut and would likely use a sharpened ceremonial knife.
Other details have left investigators stumped.
The parks where the animals were found are spacious, including basketball courts, a skate park and playground. Still, no witnesses have come forward.
On Thursday, the Humane Society of the United States offered a reward of $5,000 for information leading to the arrest and conviction of whoever is responsible for killing the animals.
A city with nearly a half-million residents, Sacramento is a good distance from the nearest farm, Knepp said.
The parks are surrounded by one-story homes with backyards that sometimes include a pool. Still, no one in the city, nor in the nearest agricultural area, has reported stolen or missing animals, she said.
The level of attention has also raised worries of copy-cats, but officials said they need tips to find out what's going on.
"There's a risk of that all the time," Knepp said, "but there's no other way to get out to the community to get attention."