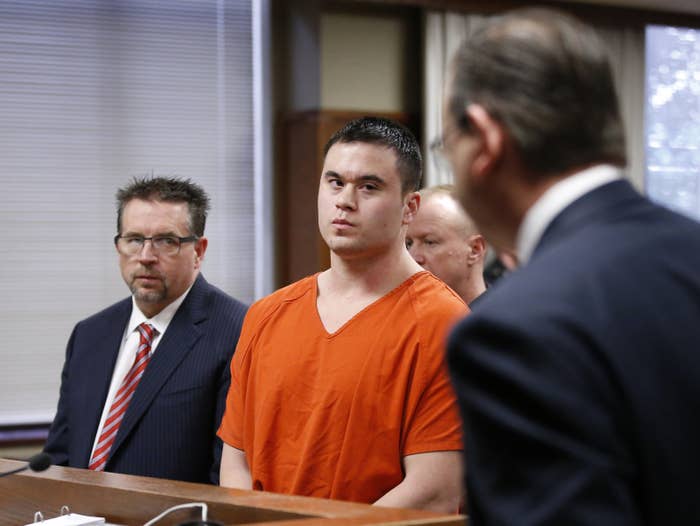 Daniel Holtzclaw, the former Oklahoma City police officer accused of sexually assaulting more than a dozen black women while on patrol, says he is innocent and that all of the women who accused him in court were lying.
Holtzclaw, 29, was convicted last year of raping and assaulting eight women and sentenced to 263 years in prison. The former officer didn't testify during his trial, where 13 women detailed how the three-year veteran sexually assaulted them, but spoke out in a 20/20 interview that aired Friday night.
"I have never sexually assaulted anyone," Holtzclaw told ABC reporter Juju Chang in a phone interview.
Prosecutors argued Holtzclaw preyed on his victims who had a criminal history or warrants on their records, banking on the assumption they would not report the incidents to authorities or that they would not be believed if they did.
The assaults occurred in his patrol car, on the side of the road and at their homes.
The detective on the case, Kim Davis, said Holtzclaw followed the same pattern in his stops, targeting women in poor neighborhoods with criminal records, until one grandmother without a criminal history reported the incident to police.
In December, a jury found Holtzclaw guilty of 18 of the 36 charges he faced, including stalking, indecent exposure, and forcible oral sodomy and rape.
But in the interview Friday, Holtzclaw criticized the work of detectives on the case, saying the officers "handed them [the victims] a lottery ticket," by approaching women and asking if they had been sexually assaulted by a cop.
"Now they're going to be billionaires," he said.
Holtzclaw defended the traffic stops he made on the women — often after his shift had ended and shutting down the GPS system on his patrol car — calling it "good police work."
The former officer's family, including his father Eric Holtzclaw, also defended him in the hour-long special.
"He's just like you and me," his father said. "He's just a man, and he's not the villain that they portray him as."

Daniel Holtzclaw's girlfriend, who was not named in the report, also told 20/20 she believes he is innocent.
"Why these people?" she said. "He could have found people on the northside (of town)."
Still, she said she did wonder why Holtzclaw had befriended on Facebook women he had pulled over on duty.
The former officer also suggested the police department and prosecutors pushed for his conviction out of public pressure.

"If they didn't convict me, there would be the next Ferguson in Oklahoma," he said.
Holtzclaw said he is planning to appeal his conviction.