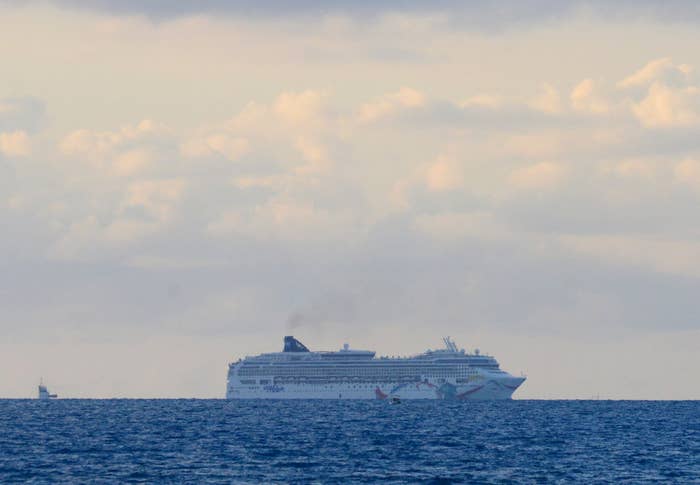 A Norwegian Cruise Line ship that ran aground near Bermuda was headed back to Boston after an inspection revealed no damage to the vessel, officials said.
Passengers on board Norwegian Dawn Tuesday tweeted pictures of the ship stalled in the water, and said crew members told them they would not be moving "for a while."
By Tuesday evening, passengers were told by the captain of the ship they would remain in the area at least overnight after the cruise ship ran aground.
"They told us the earliest possible time we could move is tomorrow morning," Rachel Hansen, a passenger on board the ship, told BuzzFeed News.
In a statement, Norwegian Cruise Line originally said the ship temporarily lost power when it departed from King's Wharf in Bermuda. By Tuesday night, officials released a second statement blaming a malfunction in the steering system that caused the ship to go off course and hit the sea bed.
By Wednesday afternoon local time, the cruise line released a statement saying dive teams found the ship to be structurally sound and that it would be headed back to Boston.
The steering malfunction, officials said, "was identified and corrected."
Hansen said the ship shuddered for about 15 seconds Tuesday shortly after it had left the port about 5 p.m., when it hit the channel bed.
"You could feel that the ship stopped," Hansen said. "It wasn't enough to make people fall over, but it was definitely noticeable."
Steve Pegg, duty officer for Bermuda's Department of Marine & Port Services, told BuzzFeed News that the ship was "stable and secure," but that since it had run aground, a full inspection was needed.
The ship has more than 3,700 people on board, including 2,675 passengers.
No injuries have been reported, Pegg said.
According to Norwegian Cruise Line, the ship was built in 2002 and has a capacity of more than 2,300 guests and a crew of more than 1,000.
It took off from Boston Friday afternoon, and it was expected to return by Friday morning.
Despite running aground, Norwegian Cruise Line said the ship had full power and services on board.
Officials said the ship is expected to arrive in Boston Friday as scheduled despite the ordeal.