National Guard Activated In Milwaukee After Riots Follow Police Shooting
Police said a man was armed with a handgun when he was shot by an officer during a foot pursuit. A crowd later gathered, igniting fires and injuring an officer.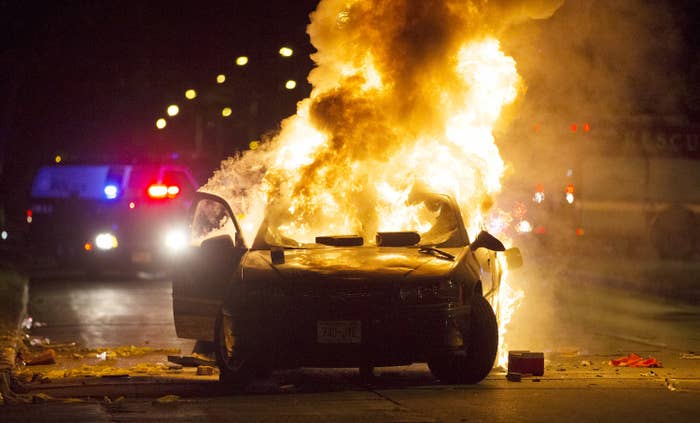 A large crowd turned violent Saturday night in Milwaukee, setting fires, damaging police cars, and injuring four officers after police shot and killed an armed man, officials said.

The fires ignited included a gas station that burned during the disturbance, but firefighters were unable to immediately respond because gunshots were fired nearby, police said on Twitter.

Seventeen people were arrested in connection with the disturbance, Police Chief Edward A. Flynn told reporters, for offenses including disorderly conduct and burglary.
Wisconsin Governor Scott Walker activated the National Guard on Sunday per a request from Milwaukee County Sheriff David A. Clarke.

"I join Milwaukee's leaders and citizens in calling for continued peace and prayer," Walker said in a statement.

The activation occurred after six businesses were set on fire overnight by a crowd that officials said grew to hundreds in the hours after the shooting.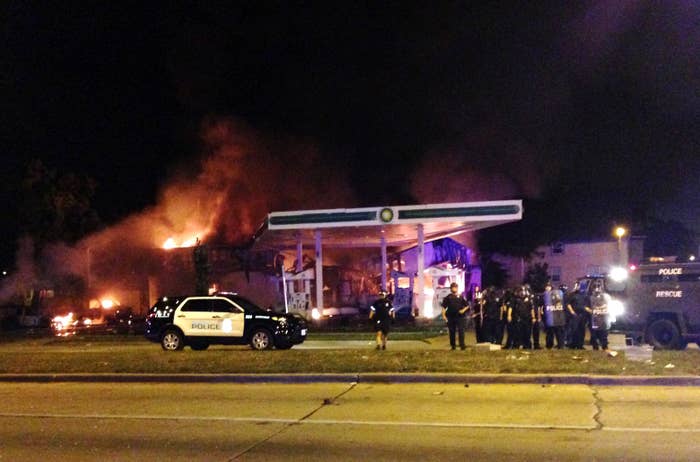 Speaking to reporters after midnight, Mayor Tom Barrett urged calm across the city, and for parents to reach out to their children to get home and off the city streets.

"If you love your son, if you love your daughter, call them, text them, pull them by the ear and get them home," Barrett said.
Despite the violence, Barrett said no curfew would be placed throughout the city.
By about 2:20 a.m., the crowds had dissipated and police began to reduce deployments in the area.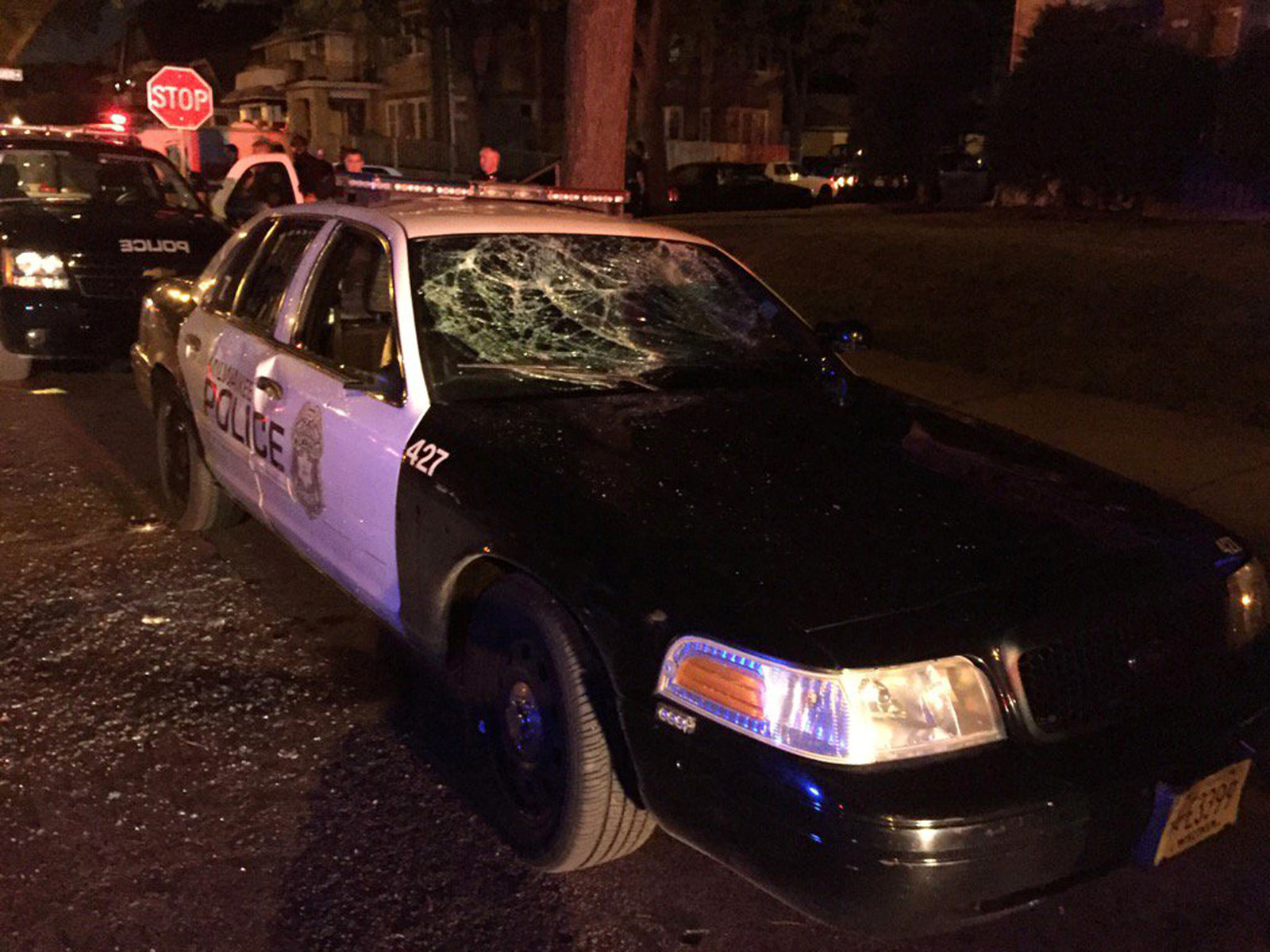 Officials said the crowd grew in the hours after the police shooting Saturday afternoon, apparently with the help of social media. Estimates of the crowd varied from 200 to 800 people, with some eventually turning violent, setting fire to police cars and nearby businesses, including an auto parts store and beauty shop.
Video from the scene showed crowds trying to tip over a vehicle.
The Journal Sentinel reported at least one of its reporters was chased by members of the crowd, thrown to the ground and punched.

The crowd gathered after police shot and killed an armed man earlier in the day who ran from a car on the city's North Side, Milwaukee Police said in a statement.
Two officers stopped two men in a car at about 3:30 p.m., but both men fled, according to police. One of the officers shot and killed one of the suspects, who police said was armed with a handgun.
Barrett said police recovered from the scene a handgun loaded with 23 rounds. The gun, Barrett said, was found to have been stolen.
"There were 23 rounds in that gun," Barrett said. "Twenty-three rounds that the officer was staring at."
Officials have not stated whether the suspect pointed or fired the gun at officers.
The suspect was shot twice, the mayor said, including in the chest and arm.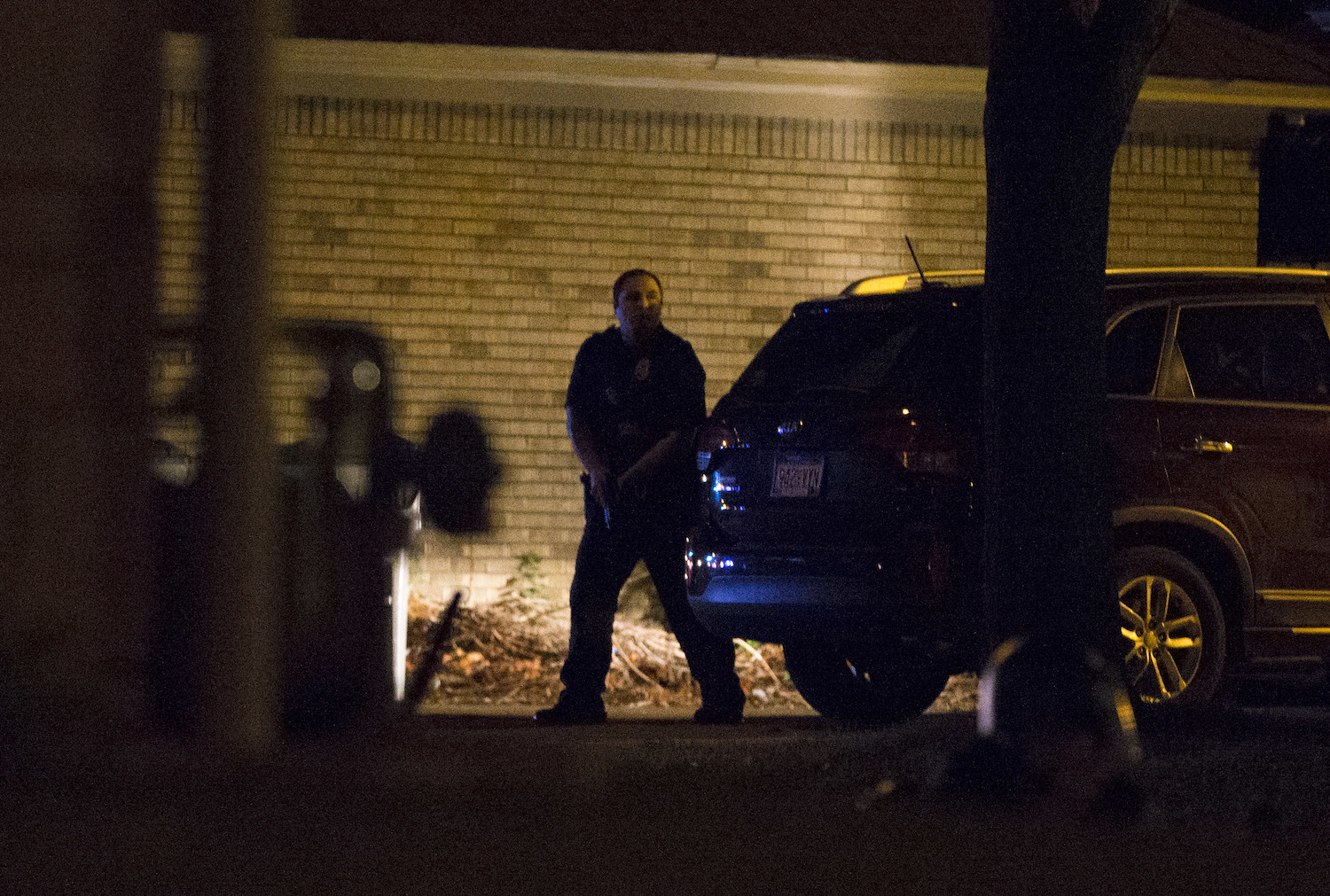 The suspect, identified only as a 23-year-old local man "with a lengthy arrest record," died at the scene, according to police.
The name of the officer who shot the suspect was not released, but he was identified as a 24-year-old, six-year veteran of the department.
Barrett said the officer was wearing a body camera at the time of the shooting, and the camera appeared to be in working order.
The officer was placed on administrative leave pending an investigation.
"Later in the evening, as we now know, things got out of hand," Barrett said.
Shortly after the shooting, police reported that a crowd of people smashed the windows of an unoccupied patrol car and set fire to a second.
One officer was taken to a nearby hospital to be treated after he was injured by a brick that was thrown through the window of a patrol car, police said.
Three people were inside the gas station when it was set ablaze, but they were able to get out uninjured, officials said.
Other vehicles also appeared to have been set ablaze.
Videos from the area showed what appeared to be a chaotic scene, with several people walking on a smoke-filled street with people throwing objects at a car.
Barrett said police showed "an amazing amount of restraint," but more officers were expected to be deployed to the area to restore calm to the neighborhood.
Another video captured by the Journal Sentinel recorded the sound of what appeared to be gunfire as a car burned in the background.
Several voices could be heard in the background as multiple shots were fired.
Milwaukee Police said they were asking the crowd to disperse peacefully while rocks were being thrown at officers. Several people on scene reported seeing officers in riot gear.
After 12:30 a.m., Barrett said the city appeared to be returning to normal, but that a heavy police presence would remain the area of the disturbances.
"Our city is in turmoil and we all have to work together to restore a sense of calm," Ashanti Hamilton, Milwaukee Common Council president, said during the press conference.
Hamilton said city officials would be working with the police department to ensure a transparent investigation and that information is released to the public regarding the police shooting. However, he urged residents to bring the city back to calm.
"Please allow the process to work," Hamilton said. "Allow the investigation to work, and the information will be shared with the public."

In a statement released with his order activating the National Guard, Gov. Walker said that it was important for people to know that Wisconsin is the first state to "have a law requiring an independent investigation anytime there is a shooting by a law enforcement officer that leads to a death."

Walker added that he would not comment on the specifics of the case because it is under investigation, but that he hopes "people will give law enforcement the respect they deserve for working so hard to keep us safe."
It's not the first time national attention has been focused on Milwaukee's police department because of an officer-involved shooting; In April 2014, Dontre Hamilton, a mentally ill man, was shot 14 times after he struggled with police, allegedly stealing one officer's baton.