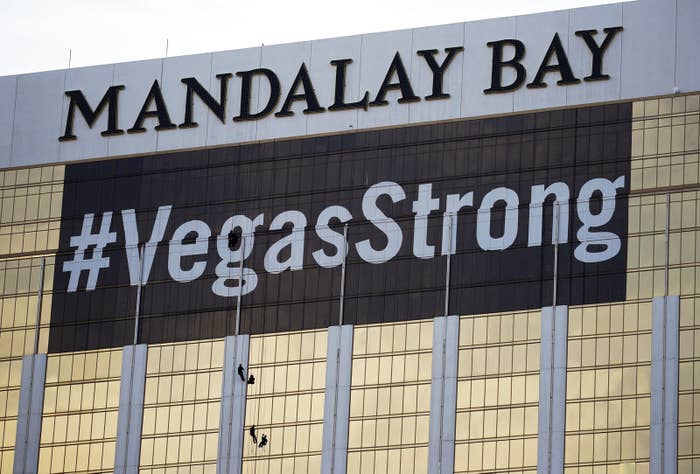 A second person of interest in the deadly Las Vegas shooting that left 58 people dead was identified in unsealed documents Tuesday, revealing investigators were looking to talk to a man just days after the attack.
The previously unidentified man appeared to be an engineer who also sold and manufactured ammunition from his Arizona home.
Las Vegas Sheriff Joe Lombardo had recently said the gunman, Stephen Paddock, acted alone in the Oct. 1 attack. His girlfriend Marilou Danley, who had been previously identified as a person of interest, is not expected to face charges in the investigation.
But court documents released Tuesday revealed officials considered a second man as a person of interest in their investigation. Though his name had been ordered redacted from the records released by a Clark County district court, the Las Vegas Review Journal obtained an unredacted version of the documents that identified the man as Douglas Haig.
"Until the investigation can rule otherwise, Marilou Danley and Douglas Haig have become persons of interest who may have conspired with Stephen Paddock to commit Murder with a Deadly Weapon," the document states.
The Las Vegas Metropolitan Police Department referred all questions about the unsealed search warrant and any persons of interest to the FBI. An FBI spokesperson referred all questions to the US Attorney's Office, which declined to comment.
Haig's name appears to have been included in a search warrant affidavit filed by a Las Vegas police officer just days after the shooting, seeking information for a number of phone records, including subscriber information, calls, text messages, data searches, and cell tower information.
Haig's connections to Paddock or Danley are not outlined in the records, but he told the Associated Press from his home in Mesa, Arizona: "I am the guy who sold ammunition to Stephen Paddock." He did not respond to calls from BuzzFeed News seeking comment.
According to public records, Haig, 55, is an executive at Specialized Military Ammunition in Arizona, a company operated out of his home. A LinkedIn profile for Douglas Haig lists him as the owner of the company.
The company's website notes it sells specialized ammunition, including tracers and incendiary ammunition. Tracer ammunition burns a trail marking its path, and is usually intended to help shooters to make corrections in long-range shooting. Incendiary ammunition can be used to ignite flammable material.

Officials said Paddock fired at fuel tanks located at McCarran International Airport from his suite in the Mandalay Bay, the same location where he took aim at a crowd of concert attendees and killed 58 people.
A notice on Specialized Military Ammunition's website Tuesday noted that the business was "closed indefinitely." There was no answer at a phone number listed for the Arizona company.
"Check back to see if / when we are up and running again," the site read. The website also noted that all sales for ammunition needed to be done over the phone.
In interviews with Newsweek in October, Haig said he spoke with agents from the Bureau of Alcohol, Tobacco, and Firearms shortly after the shooting.
"They asked me a bunch of questions," he told the news outlet. "After about 20 minutes they left. Haven't heard from them since." He added that he had no link to Paddock.
On Tuesday, Haig referred Newsweek to his attorney.
According to Haig's LinkedIn profile, he also works as a senior engineer at Honeywell Aerospace, researching and developing tests and repairs for turbine engines. A spokesperson for Honeywell Aerospace confirmed to BuzzFeed News Haig is employed by the company in Phoenix.
Haig told the AP he planned to have a press conference later this week to answer questions about his name being included in the Las Vegas shooting search warrants.
On Jan. 20, Lombardo told reporters that the "FBI has an ongoing case against an individual of federal interest," but declined to identify the person or say what their suspected connection was to the shooting. Lombardo also stressed that "there is only one person responsible and that was Stephen Paddock."
Las Vegas Mass Shooter Acted Alone, But His Motive Remains A Mystery, Sheriff Says
None