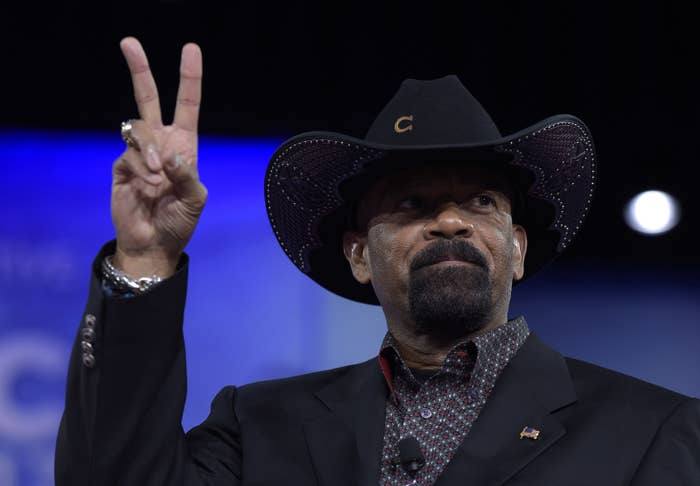 Controversial Milwaukee County Sheriff David Clarke has withdrawn his acceptance of a job as an assistant secretary for the US Department of Homeland Security, a representative for the sheriff told BuzzFeed News.
However, neither the White House nor the Department of Homeland Security has ever publicly confirmed Clarke was offered the job.

"He just feels like looking for a role that's a little more aggressive to communicate President Trump's agenda," Craig Peterson, a spokesman for Clarke told BuzzFeed News.

In a statement released by Clarke, the sheriff is said to have notified Homeland Security Secretary John Kelly Friday that he would not be taking the position.

"Sheriff Clarke is 100% committed to the success of President Trump, and believes his skills could be better utilized to promote the President's agenda in a more aggressive role," the statement read. "Sheriff Clarke told Secretary Kelly he is very appreciative of the tremendous opportunity the Secretary was offering, and expressed his support for the Secretary and the agency."
Clarke, a firebrand conservative who has been a staunch supporter of President Donald Trump, announced in a local radio interview on May 17 that he had accepted an offer from the administration to work as assistant secretary in Homeland Security's Office of Public Engagement.
But the White House and the Department of Homeland Security refused to say whether Clarke had actually been picked for the position. After repeated questions from reporters, Homeland Security eventually issued this statement about it:
On Saturday, a spokesman for Homeland Security told BuzzFeed News Clarke was no longer in the running for a position in the agency, but did not answer questions about whether the sheriff was ever offered a position.
"Sheriff Clarke is no longer being considered for a position within DHS," the spokesman said. "We wish him well.
Clarke, who has served as sheriff of Milwaukee County since 2002, has been the subject of a series of controversies, including over comments he made about Black Lives Matter protests in which he referred to the demonstrators as "primitive" and "subhuman." During the presidential campaign, he called on Trump supporters to riot with "pitchforks and torches" because of the media coverage the Republican campaign was receiving.
Last month, Clarke was accused of plagiarism, following a CNN report that claimed Clarke failed to properly attribute sources at least 47 times in his 2013 master's thesis on homeland security.
Clarke has been fighting a series of scandals at home as well, including questions about conditions at the Milwaukee County Jail following the death of a mentally ill man who was allegedly deprived of water in his cell. Clarke's office is also facing a federal lawsuit over a newborn who died after its mother gave birth in a Milwaukee County jail cell.

In an interview with BuzzFeed News Saturday, Peterson said Clarke planned to remain in his position as sheriff "for the foreseeable future."
If he does, the sheriff faces some competition. Former Milwaukee Police Captain and Major League Baseball official Earnell Lucas has already registered to challenge Clarke in the 2018 election, during the Democratic primary. Although Clarke expresses conservative viewpoints, frequently railing against liberals, and was a prominent speaker at the Republican National Convention last year, he continues to run as a democrat in Milwaukee County sheriff's races.
And Clarke faces an uphill battle if he plans to stay in his current job. According to a recent survey from Public Policy Polling, only 31% of voters in Milwaukee County approve of the job the sheriff is doing, and 65% believe he is having a negative impact on the county's image. Among Democratic voters, 82% said they would support another candidate in a primary.
Peterson told BuzzFeed News Clarke is also considering a career move into the private sector, depending on what "fits his skill set." That was part of the discussion Clarke had with Trump Tuesday when the two met during the president's trip to Wisconsin, Peterson said.
The White House referred questions about Clarke's appointment to the Department of Homeland Security.