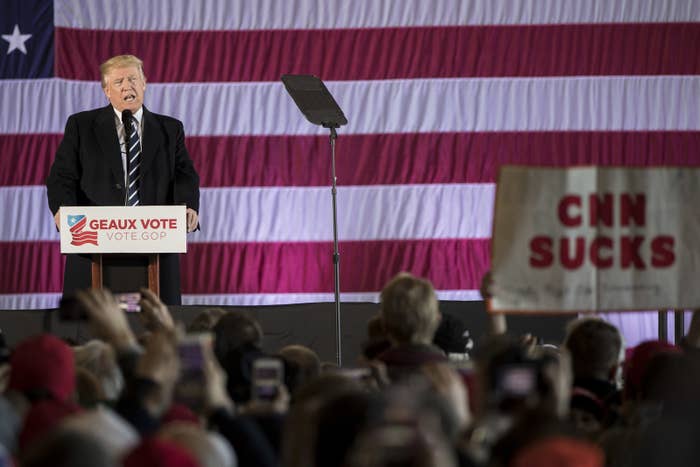 CNN's President Jeff Zucker called out President Donald Trump on Wednesday for his antagonizing rhetoric against the press, just hours after a pipe bomb was delivered to CNN's New York headquarters.
Multiple explosive devices addressed to prominent members of the Democratic party, including former president Barack Obama and Hillary Clinton, were intercepted Wednesday. One of those devices, intended for former CIA director John Brennan, was also delivered to CNN's offices, forcing an evacuation of the New York building while its anchors were on the air.
Zucker, who has been a target of Trump's criticism, pointed to the White House's constant attacks on the press, saying the president and his press secretary, Sarah Huckabee Sanders, "should understand their words matter."
"There is a total and complete lack of understanding at the White House about the seriousness of their continued attacks on the media," Zucker said in a statement. "The President, and especially the White House Press Secretary, should understand their words matter. Thus far, they have shown no comprehension of that."
Zucker's statement came after the president condemned the attacks, saying, "We're extremely angry, upset, unhappy about what we witnessed this morning, and we will get to the bottom of it."
Trump called on the country to "unify," adding that "threats of political violence of any kind have no place in the United States."
His denunciation of the bombing attempts comes after years of attacking the press, pegging major media outlets as "fake news" and, in particular, going after CNN's coverage of his administration.
The president has continuously lobbied attacks against the media since his 2016 presidential campaign and, during his campaign rallies across the country, ritualistically points out members of the press as the crowd cheers him on.
CNN has been one of the president's most frequent targets.
On Wednesday, the White House issued a statement condemning the attempted attacks on prominent Democrats, but did not mention CNN. Sanders later issued a tweet adding, "These despicable acts certainly includes threats made to CNN."
Hours after Zucker released his statement, Sanders responded on Twitter, saying the news media executive had decided to "attack and divide" instead of heeding Trump's call to unite.
During a rally in Wisconsin, Trump again called for the country to unite, but also seemed to blame the media for Wednesday's events.
"The media also has a responsibility to set a civil tone and to stop the endless hostility and constant negative and oftentimes false attacks and stories," Trump said.
At a press conference, New York Gov. Andrew Cuomo asked public officials not to encourage hatred or attacks against the news media in what seemed like a veiled reference to President Trump.

"What is not good is overheated rhetoric, extremism that pushes people to violence," Cuomo said. "And at the end of the day, we may have political differences, but this is one country."