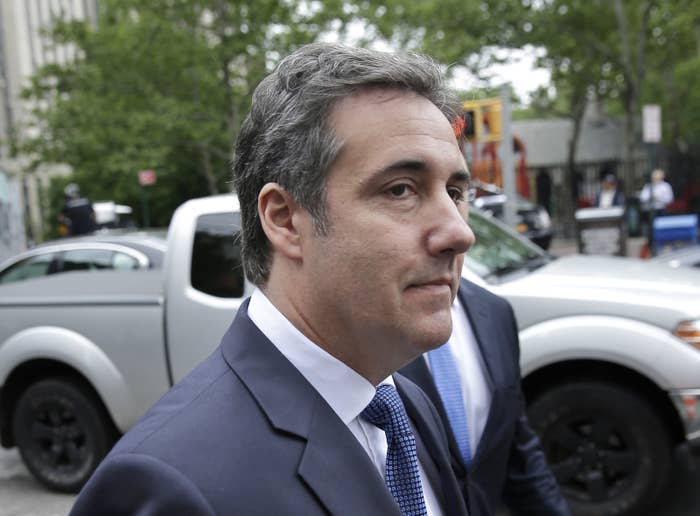 Donald Trump can be heard on a recording discussing how to pay for the rights to former Playboy model's Karen McDougal's story about an affair with him, according to audio obtained by CNN.
The recording — the existence of which was first reported by the New York Times — appears to show that the then-candidate was aware of attorney Michael Cohen's proposal to silence McDougal by securing the rights to her story about the affair, which she claimed took place a decade earlier.
"I spoke to Alan about it, when it comes time to the financing," Cohen can be heard telling Trump in the recording.
"Listen, what financing?" Trump asks.
"We'll have to pay," Cohen responds.
Trump is then heard saying, in part, "pay with cash."
"No, no, no, no," Cohen says. "I got it."
The tape, which was secretly recorded by Cohen in the weeks before the 2016 election, is one of 12 audio files that the FBI seized from Trump's longtime lawyer and fixer. It was provided to CNN by Cohen's attorney, Lanny Davis.

The recorded conversation took place a few weeks after the parent company of the National Enquirer reached a $150,000 deal to buy McDougal's story about the 2006 affair. The company — run by David Pecker, a longtime friend of Trump and Cohen — never published the former Playboy model's story, in a practice known as "catch and kill."
Earlier in the recording, Cohen can be heard telling Trump he needed to set up a "company" in order to "transfer all of that info regarding our friend David" — a possible reference to Pecker.

Trump has previously denied having any affair with McDougal, and his campaign has said it had "no knowledge" of the deal American Media made to buy her story before the 2016 election.

Davis said Tuesday that he was releasing the recording in part to defend Cohen from what he characterized as defamatory remarks made by Trump's personal attorney, Rudy Giuliani.
"Now, don't believe me, I'm a Democrat, I'm a lawyer representing a client," Davis said in an interview with CNN host Chris Cuomo. "Listen to the tape. Donald Trump is not shocked money is being paid about someone named Karen McDougal."

Trump responded in a tweet Wednesday morning asking, "What kind of a lawyer would tape a client?"
Giuliani has previously acknowledged the existence of the recording but has argued that the content is exculpatory to Trump, saying that the then-candidate is heard urging Cohen to use a "check" for any payment. However, the recording provided to CNN Tuesday raises questions about that claim.

After CNN broadcast the audio, Giuliani appeared on Fox News' The Ingraham Angle, where he attacked Cohen for surreptitiously making the recording and maintained that it showed Trump wanted to keep a record of the payment.
"There's no way the president is going to be talking about setting up a corporation and then using cash, unless you're a complete idiot, and the president is not an idiot," Giuliani said.
The president's lawyer claimed that Trump said, "don't pay cash" in the recording, just before Cohen can be heard saying, "no, no, no, no."
"The point is the president wanted the transaction to be memorialized," Giuliani said. "There's no indication of any crime being committed on this tape."
Asked whether the tape contradicted earlier statements from Trump and Giuliani claiming that the president had no knowledge of the payment to McDougal, Giuliani said the audio showed Trump was unaware of the payment, pointing to a line in which the then-candidate asks, "What financing?"
Giuliani said the recorded conversation, which took place in September 2016, is when Trump first learned about the payment to McDougal.
"The president did not know about this before this conversation, at least with regarding the transaction that we're talking about," he told Fox News host Laura Ingraham. "I mean, he may or may not have known about McDougal's claims, but he didn't about this transaction. This is the conversation in which they talk about how they're going to buy the rights."

BuzzFeed News has contacted Giuliani for further comment.