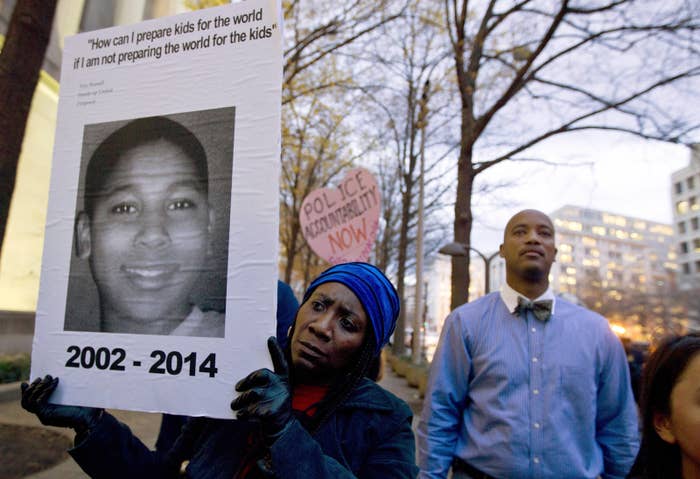 The Cleveland police officers involved in the fatal shooting of 12-year-old Tamir Rice while he was playing with a pellet gun in a park, setting off nationwide protests, face administrative charges that they violated department policy, officials announced Friday.
The three officers were cleared of criminal wrongdoing in the fatal shooting, but could face internal discipline for alleged administrative violations, such as lying on a report of the fatal shooting, violating department tactics in responding to the park where Tamir was shot, and lying in employment applications.
Hearings must still be held to determine whether the alleged violations, which range from "application process, all the way to use-of-force violations," officials told reporters.
A grand jury in 2015 declined to file charges against Officer Timothy Loehmann, who opened fire on the 12-year-old. His partner, Frank Garmback, and a third officer who arrived on the scene, William Cunningham, also face disciplinary hearings this month.

In April, the city settled a federal lawsuit brought by Tamir's family for $6 million.
The case unfolded in 2014, when a caller told 911 dispatchers that a male was pointing a gun at people that was "probably fake." The handgun replica turned out to be a pellet gun.
Garmback, who was driving the patrol car that day, is accused of not following department tactics in approaching Tamir, according to letters sent to the officers reviewed by BuzzFeed News.
In a video of the shooting, the patrol car is seen stopping just feet from a gazebo that Tamir was playing in. His partner, Loehmann, fired his gun as soon as he opened the door.
Garmback is accused of also failing to report to dispatch the time he arrived.
Loehmann's disciplinary hearing will center on his job application for the department, not on the 2014 shooting, according to the charging letter.
Loehmann allegedly lied in his application for department, after he failed to state he could have been fired by the Independence Police Department, but was instead allowed to resign.
The officer had failed to state in his application that the Independence Police Department had found him to be "emotional immature" and had an "inability to emotionally function."
He also failed to list other police departments he had applied for at the time.
Cunningham, who arrived after the shooting, will face a disciplinary hearing as well for lying in a report he submitted for the shooting, and for working a secondary job on the day of the shooting without approval.
The three officers could face discipline that could range from verbal reprimands to termination.