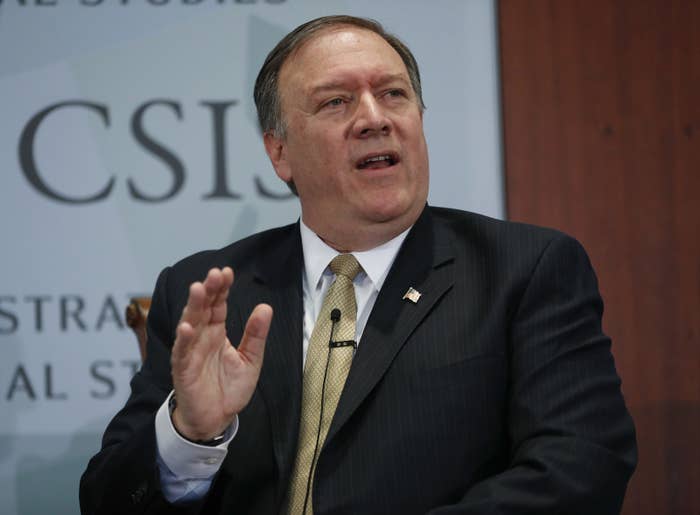 CIA Director Mike Pompeo joined his predecessor Thursday in withdrawing from their commitments to Harvard University, citing the school's decision to make Chelsea Manning — the former military intelligence analyst convicted of espionage — a visiting fellow.

Pompeo's decision was outlined in a fiery letter that was released by the CIA Thursday, the same day he was scheduled to appear at the John F. Kennedy, Jr. Forum.
"Ms. Manning betrayed her country and was found guilty of 17 serious crimes for leaking classified information to Wikileaks," Pompeo wrote in the letter. "Indeed, Ms. Manning stands against everything the brave men and women I serve alongside stand for."
Hours after Pompeo's announcement, in a statement released after midnight, Harvard Kennedy School's Dean Douglas Elmendorf decided to withdraw the school's invitation to Manning for her to serve as a visiting fellow. Manning would still be invited to speak at the school's forum.
Michael Morell, who twice served as the CIA's acting director, also resigned as a non-resident senior fellow at the Belfer Center over Manning's appointment on Wednesday.
"Unfortunately, I cannot be part of an organization — The Kennedy School — that honors a convicted felon and leaker of classified information, Ms. Chelsea Manning, by inviting her to be a visiting fellow at the Kennedy School's Institute of Politics," Morell wrote in a letter Thursday to Douglas W. Elmendorf, dean of the John F. Kennedy School of Government at Harvard. "It is my right, indeed my duty, to argue that the school's decision is wholly inappropriate and to protest it by resigning from the Kennedy School — in order to make a fundamental point that leaking classified information is disgraceful and damaging to our nation."
Manning was convicted in 2013 of the Espionage Act for leaking hundreds of thousands of unclassified military documents.
Intelligence officials have argued that the leak was detrimental and dangerous to US operations. A secret report compiled by the Department of Defense that looked at the effects of the release, however, determined it did not cause any real harm.
President Obama commuted Manning's 35-year prison sentence.
Manning was named a visiting fellow by Harvard Wednesday, citing her former work as a security expert and her commentary on social and technological topics. The university also cited her advocacy for transgender and queer rights. As a visiting fellow, she was invited for a day to speak with students and take questions during a forum at the school.
"I now think that designating Chelsea Manning as a Visiting Fellow was a mistake, for which I accept responsibility," Elmendorf, dean of Harvard's Kennedy School said in a statement released early Friday morning. "We did not intend to honor her in any way or to endorse any of her words or deeds, as we do not honor or endorse any Fellow."
In the statement, Elmendorf said the school sometimes invites speakers and lecturers, "even if their actions or words are abhorrent to some members of our community."
The statement was a sharp contrast to the initial announcement that Manning would serve as a visiting fellow at the university, noting her appointment in the title of the announcement as the university's first transgender fellow.
"I see more clearly now that many people view a Visiting Fellow title as an honorific, so we should weigh that consideration when offering invitations," Elmendorf said in the statement.
In their letters, Morell and Pompeo said their decisions had nothing to do with her identity as a transgender person, but instead her conviction. "I apologize to her and to the many concerned people from whom I have heard today for not recognizing upfront the full implications of our original invitation."
For her part, Manning responded to Morell's resignation in a tweet Thursday afternoon.
Minutes after the announcement, Manning responded to the decision saying she was "honored" to be the first disinvited trans woman visiting fellow at the school.