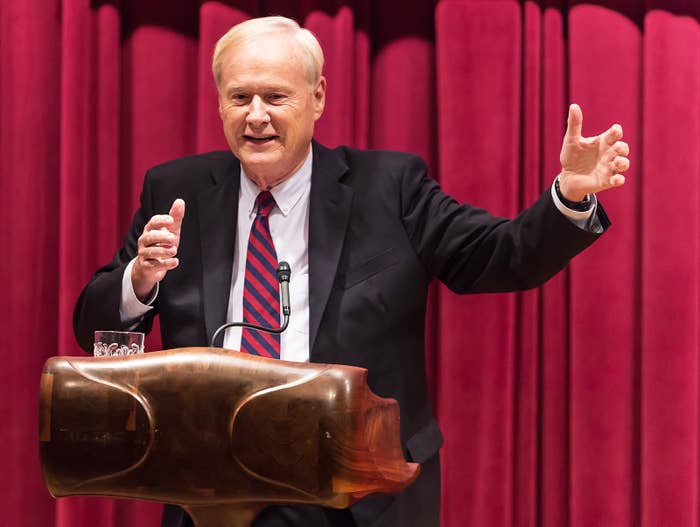 Before interviewing then-presidential candidate Hillary Clinton at an Iowa fire station in January 2016, MSNBC Hardball host Chris Matthews turned to staffers and asked if he could "have some of the queen's waters? Precious waters?"
Then, in a video obtained by the Cut, joked, "Where's that Bill Cosby pill I brought with me?"
Amused by his own remark, the host then laughs in front of onlooking staffers.
Matthews' comment was in reference to allegations made by dozens of women against Bill Cosby, who said they were drugged and raped by the comedian, and is the latest in a series of allegations and questionable behavior surrounding the political commentator.
A spokeswoman for MSNBC referred BuzzFeed News to a statement Matthews made to the Cut.
"This was a terrible comment I made in poor taste during the height of the Bill Cosby headlines," Matthews said. "I realize that's no excuse. I deeply regret it and I'm sorry."
The network did not respond to questions asking if disciplinary action would be taken against the host.

Last month, the Daily Caller reported MSNBC paid $40,000 in 1999 to a producer on Matthews' show to settle sexual harassment allegations against him.

MSNBC confirmed the settlement to the publication and said Matthews received a reprimand.
In May 2016, Matthews was caught on a live microphone making comments about Melania Trump during then-presidential candidate Donald Trump's primary victory speech in Indiana.
"Did you see her walk? Runway walk?" Matthews could be heard saying. "My God, is that good."