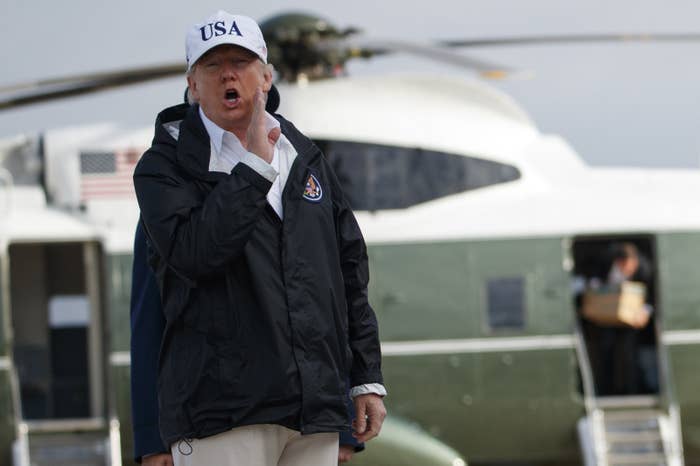 President Trump blamed bad cell phone service for waiting until Thursday to call Mexico President Enrique Peña Nieto after a massive earthquake struck the region nearly a week ago, killing 90 people.
However, just hours after the magnitude-8.2 earthquake devastated Mexico's southern states on Sept. 8, many national leaders from across the Americas reached out either via phone call or social media to offer condolences and assistance.
There were plenty of other suggestions that Peña Nieto was not struggling with cell reception while visiting the hardest hit areas of the earthquake earlier this week.
Peña Nieto, or someone on his staff, was also able to send tweets from the most damage-stricken states showing him meeting with local leaders and victims.
The day after the quake, Peña Nieto also traveled to the Juchitán de Zaragoza, Oaxaca, which suffered the heaviest death toll and damage, and was able to Facebook Live his address to survivors.
Other local leaders, including Chiapas Gov. Manuel Velasco, repeatedly used Facebook Live as they toured the affected areas in Mexico's southern region.
Peña Nieto would also presumably be traveling with a communications system allowing him to be reached by top aides and other world leaders.

Asked about Trump's comment on Twitter, a press secretary for Peña Nieto told BuzzFeed News: "We don't know how reception was."

However, cell reception seemed to be strong enough on Monday, when Peña Nieto traveled to Tonalá, Chiapas, to meet with victims there and again used Facebook Live. That same day, Peña Nieto's government announced that it was rescinding it offer of assistance to the US after Hurricane Harvey because of its own natural disasters, including Hurricane Katia, which struck Mexico on the Gulf coast.
And despite reports that people in Mexico's capital felt the strong earthquake, there were no reports that cell phone service was affected in that area.

From the rural town of Santa Maria Xadania, Oaxaca, a community with little more than 7,000 residents, Peña Nieto on Wednesday was able to use Facebook Live again.

Besides reaching out to Mexico's president by phone, other world leaders — including from Canada, Guatemala, Honduras, Panama, and Colombia — also used Trump's favorite social media app, Twitter, to express their condolences to Mexico.

Trump, on the other hand, tweeted more than 30 times over the past week before mentioning the Mexico earthquake.
According to a readout released by Mexico of the call between the US president and Peña Nieto on Thursday, Trump expressed his condolences and solidarity with Mexicans. For his part, Peña Nieto also expressed solidarity with the US for the damage and deaths caused by Hurricane Irma.
Peña Nieto then turned the conversation toward Deferred Action for Childhood Arrivals, or DACA, and urged Trump to seek a permanent solution for the roughly 800,000 people who have temporary protection from deportation under the Obama-era program.
Trump last week announced that he was phasing out the program over the coming months, leaving Congress with the task to legislate a solution for what to do with DACA recipients, who were brought to the US as undocumented children.
Trump, according to the readout, told Peña Nieto he was optimistic Congress could reach a deal.
Karla Zabludovsky contributed reporting.