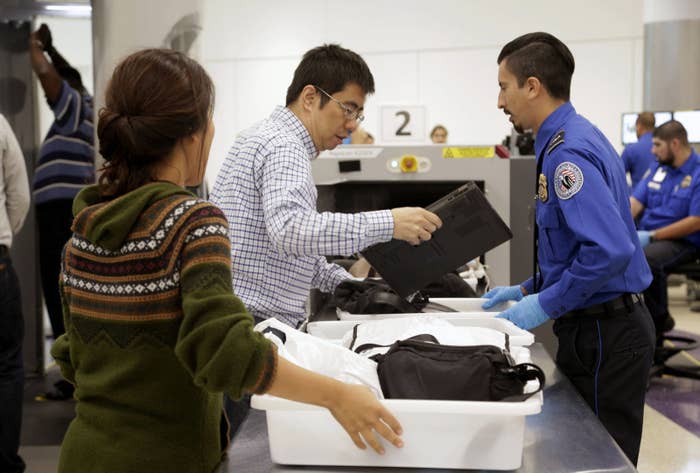 The US ban on bringing laptops and tablets as carry-ons during non-stop flights from the Middle East and North Africa has been lifted.
The four-month ban affected only US-bound non-stop flights from Middle Eastern and North African countries beginning in May, with officials citing intelligence that terrorists were looking to hide explosives in consumer electronics in order to get them onto commercial flights.
The ban affected airports in Egypt, Turkey, Saudi Arabia, Kuwait, Morocco, Qatar, Jordan, and the United Arab Emirates. Experts, however, suspected the new security measure could be extended to other regions.
On Friday, however, the TSA announced that the ban on large carry-on electronics was no longer in effect after airports and airlines implemented enhanced security measures.
"There are currently no airlines under restriction for large personal electronics devices," the TSA announced in a statement. "Airlines worldwide have implemented additional security measures that ultimately make the global aviation community more secure."
The UK also introduced a laptop ban in March on in-bound flights from Turkey, Lebanon, Jordan, Egypt, Tunisia, and Saudia Arabia. As of Friday afternoon, that ban remained in place, Wired magazine reported.
The US laptop and tablet ban was first announced in March by the Department of Homeland Security, which said it was based on "evaluated intelligence" and terrorist efforts around "smuggling explosive devices in various consumer items."
The TSA did not go into detail about what new enhanced security measures have been put in place, but said it would include enhanced passenger screening and "heightened screening of personal electronic devices."
More preclearance locations and canine screening are also expected to be implemented, according to the TSA.
At a Center for a New American Security conference in June, Homeland Security Secretary John Kelly said airlines and airports would be required to adopt more sophisticated passenger-vetting procedures, and include better use of explosive-detection dogs and technology.
Those who did not adopt the new requirements, Kelly said, "could be subject to other restrictions."
CORRECTION
A previous version of this post misstated the name of the Center for a New American Security, per an erroneous statement on a government website.