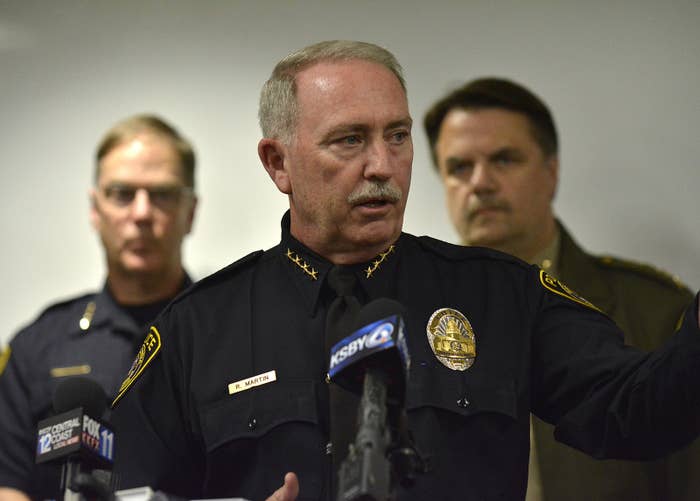 A California police department lied and issued a fake press release about the arrest of two men, a ruse that the police chief for the Santa Maria Police said was done to save the lives of the two men.
"We used the news media," Santa Maria Police Chief Ralph Martin told the Santa Maria Times "Don't plan to do it again, however, if the circumstances came up and there was something similar, I would definitely do it again."
The fake news alert has been criticized by some local media outlets, which said they were concerned with the department's tactics. But Santa Maria Police officials defended their decision, saying it saved the two men who were being targeted by hit men from a violent gang that was under investigation by their detectives.
The press release was sent out to local outlets in February via Nixle — a service used by many police departments. It was also sent out in a tweet that included the two men police said were arrested on suspicion of identity theft.
The fake press release was discovered by the Santa Mara Sun.

In reality, investigators looking into the MS-13 gang learned that the two men were going to be targeted by hit men from the gang and took them into protective custody, the Santa Maria News reported.
"We had a moral and legal obligation to go in and save those people before they got shot and killed," Martin told the paper.
Martin defended the decision to the paper, saying the men's families may have been targeted if police had not stepped in with some sort of ruse.
While rare, it is not the first time law enforcement officials have deceived news media in an investigation. Martin told the Santa Maria News the tactic has been used by the United States Marshals Service.
When the investigation was over, however, police never cleared the false information that was distributed. The tweet and the Nixle alert sent out for the fake arrests were still available months later.
The move has been criticized by some local outlets for deceit. One station that ran the story, KSBY, said in a written statement that it was "deeply troubled" by the tactics.
"While we strongly support the police department's effort to protect citizens in harm's way, we are concerned this type of deception can erode the basic trust of our residents and viewers."
Martin said the decision was not illegal nor improper.
Police officials were not immediately available to comment on the incident when contacted by BuzzFeed News.
"I think the public understands," Martin told the paper. "That false, ruse press release worked brilliantly in our favor."