Two men were arrested Wednesday on suspicion of sparking a massive California wildfire that destroyed hundreds of homes and threatened Lake Tahoe.
But an attorney for the father and son told BuzzFeed News the two men are not only innocent, but they were among the first to report the flames to authorities. David Scott Smith, 66, and Travis Shane Smith, 32, were currently in custody in El Dorado County Jail, their attorney Mark J. Reichel said.
The two are accused of reckless arson, but Reichel said they actually tried to warn people in the area about the flames as the fire began to spread rapidly. The El Dorado County District Attorney's office charged the pair on Thursday with three counts of recklessly causing a fire and two weapons charges, all felonies, according to court documents provided to BuzzFeed News.
Savannah Broddrick, an assistant for the district attorney, declined to comment on Reichel's statements, telling BuzzFeed News Wednesday night that the office was not responding to questions on how the fire started. The cause of the fire is still under investigation, a spokesperson for the US Forest Service's El Dorado National Forest unit told BuzzFeed News.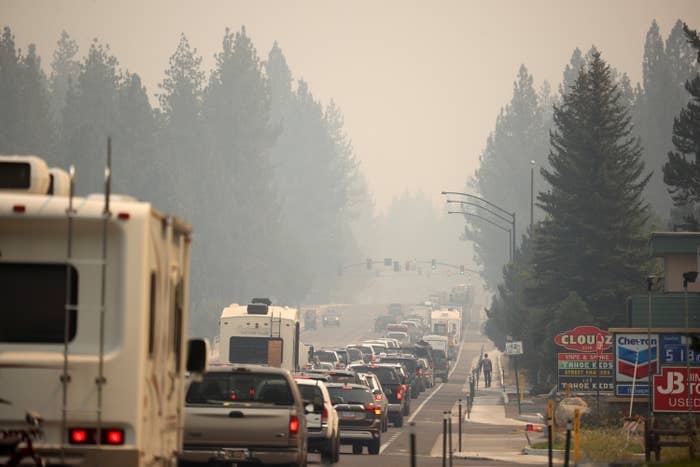 The Caldor fire burned a total of 221,835 acres and destroyed more than 1,000 structures, including hundreds of homes as it burned for 67 days. The small community of Grizzly Flats was decimated, and the fire tore through the forest above the idyllic Tahoe Basin. For days, it threatened to decimate South Lake Tahoe, causing thousands of people to evacuate. It was the second blaze on record to cross the Sierra Nevada mountains.
Reichel said that the two men are not accused of starting the fire intentionally but of somehow sparking the first flames accidentally, a claim they denied.
"We dispute that [my clients] even were the persons that started the fire," Reichel said.
David and Travis Smith were riding a dune buggy when they first spotted the fire, the attorney said. The pair then called 911 to report the flames.
"Even when the calls dropped, [they] kept calling back and giving the location fo the fire," Reichel said.
The two also tried to warn other campers in the area to get out.
The two men are currently being held in lieu of $1 million each.