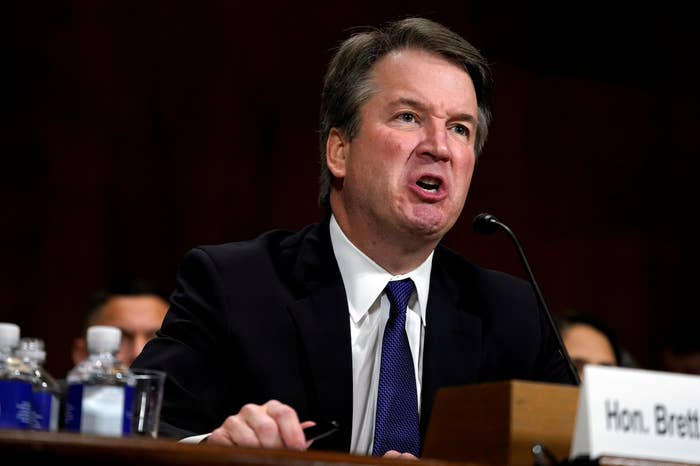 Brett Kavanaugh took his bid to sit on the Supreme Court to the editorial pages of the Wall Street Journal Thursday, where the controversial nominee acknowledged that he said "a few things I should not have said" during his Senate hearing last week.
"I was very emotional last Thursday, more so than I have ever been," Kavanaugh wrote in the editorial published Thursday. "I might have been too emotional at times. I know that my tone was sharp, and I said a few things I should not have said."
Kavanaugh angrily denied Christine Blasey Ford's allegation that he sexually assaulted her while the two were in high school in the 1980s, calling it a "well-funded effort to destroy my good name." He also called the confirmation process a disgrace.
At times, he also fired back at Democratic senators during the tense hearing, who questioned him on the allegations and his drinking habits.
In the editorial, Kavanaugh did not apologize, nor was he specific about what statements he "should not have said" during the hearing, but called his testimony "forceful and passionate."
"That is because I forcefully and passionately denied the allegation against me," he wrote. "At times, my testimony—both in my opening statement and in response to questions—reflected my overwhelming frustration at being wrongly accused, without corroboration, of horrible conduct completely contrary to my record and character."
Ford is one of three women who has publicly accused Kavanaugh of sexual misconduct, prompting the Senate Judiciary Committee last week to request an FBI investigation. The findings of that report were turned over to senators on Thursday.
But Kavanaugh's decision to address the process in an editorial in the Wall Street Journal was a highly unusual move as the White House, Democrats, and Republicans have publicly clashed over his nomination.
Federal judges, particularly those nominated to sit on the Supreme Court, have normally stayed away from public light and discourse, rather than risk being tainted in a partisan light.
Instead, Kavanaugh appeared to make a public appeal in the Journal, not just defending his record on the bench but his comments during what has been a contentious process.
"My statement and answers also reflected my deep distress at the unfairness of how this allegation has been handled," he wrote. "Going forward, you can count on me to be the same kind of judge and person I have been for my entire 28-year legal career: hardworking, even-keeled, open-minded, independent and dedicated to the Constitution and the public good."
It's just the latest unusual development in what has been a confirmation process defined by its contention and straying from convention.
After allegations against him were made public, Kavanaugh and his wife appeared in an interview on Fox News to dispute them.
And even minutes after Kavanaugh's editorial was published in the Wall Street Journal, a trio referring to themselves as his "drinking buddies" also weighed in on the editorial pages of the Washington Post, alleging the nominee had not been truthful.
"We each asserted that Brett lied to the Senate by stating, under oath, that he never drank to the point of forgetting what he was doing," Charles Ludington, Lynne Brookes, and Elizabeth Swisher wrote in the op-ed. "No one should be able to lie their way onto the Supreme Court. Honesty is the glue that holds together a society of laws."
An initial cloture vote, ending the debate for Kavanaugh's nomination, is expected to take place Friday. If it moves forward, a final vote on his nomination could take place Saturday.