Bounty Hunters Mistakenly Surround Police Chief's Home After Getting Facebook Tip
An unconfirmed tip posted on Facebook led bounty hunters to the home of the police chief in Phoenix and he wasn't happy.
Bounty hunters in Phoenix thought a tip they got on Facebook would lead them to a fugitive they were after. Instead, they found themselves screaming and banging on the door of the local police chief's home.
Nearly a dozen bounty hunters descended on the home of Phoenix Police Chief Joseph Yahner Tuesday night, shining bright lights through his windows and ordering him to open the door, police said.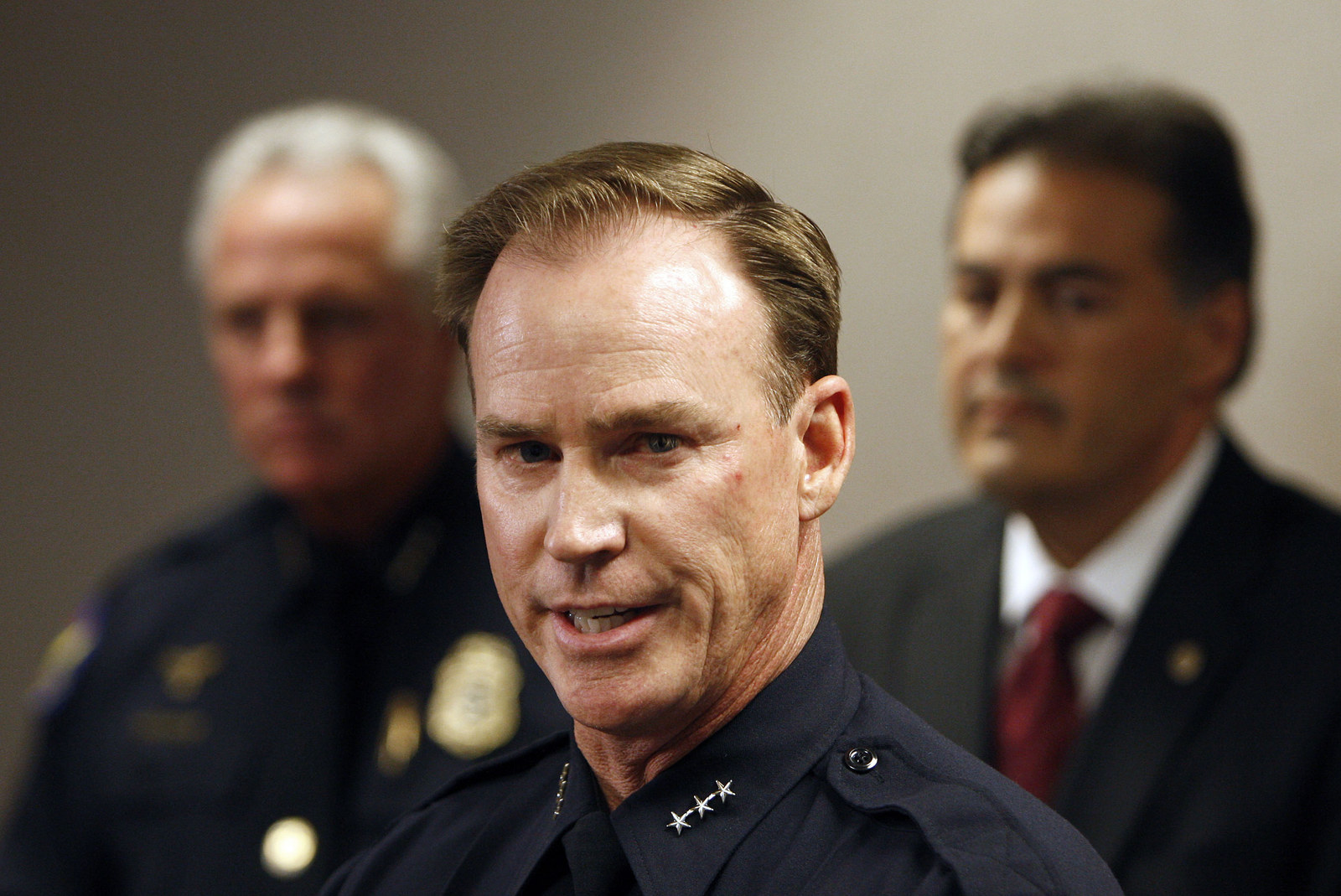 "Open the door, Roderick," bounty hunters could be heard screaming in cell phone video footage of the incident that was later released by the police department.
According to Phoenix police, the bondsmen were told repeatedly to leave and that they were at the wrong house.

"At least one bondsman was banging on the door, yelling inside, shining a flashlight inside the now surrounded home," according to a department statement.
The bondsman was armed and had his weapon unholstered when Yahner confronted him in front of his home, police said.
In the edited video released by police, someone inside the home can be heard telling the bondsmen to "turn the light off."
"We're looking for Roderick," one of the men answers.
"I don't give a (inaudible) who you're looking for," a man from inside the home yells back.
People could be seen surrounding the chief's home as someone continues to knock loudly at the door.
The video ends just as someone from the home in shorts walks out the front door.
Someone from the home also called 911, asking for police to respond to the house.

According to police, bounty hunters from NorthStar Fugitive Recovery and Delta One Tactical Recovery were armed with handguns and acting on an unconfirmed tip they received on Facebook.

Brent Farley, owner of NorthStar Recovery, was arrested early Wednesday on suspicion of criminal trespassing and disorderly conduct, according to police.
Authorities did not release the name of the suspect the bounty hunters were actually looking for when they starting banging on Yahner's door, but said it was a fugitive from Oklahoma.
On the company's Facebook page, the hunters on Tuesday asked for the public's help to find a fugitive from Texas County, Oklahoma, who was described as armed and dangerous.
The bounty hunters also included a 24-hour tip line and added that a "cash reward is available for the tip leading" to his arrest.
Police are investigating the source of the initial tip that led the bounty hunters to the police chief's home, as well as possible weapons violations on the part of the bond recovery companies.