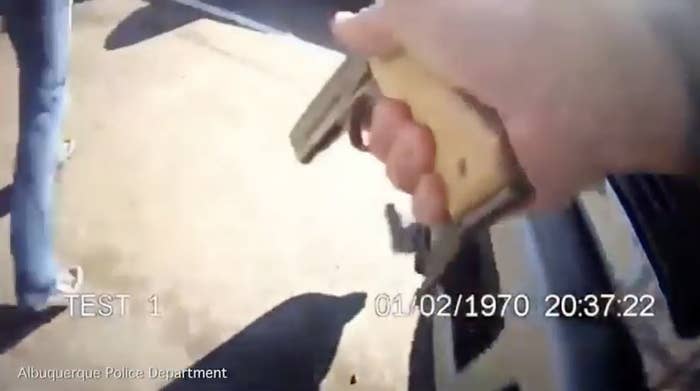 Just seconds after firing his gun at least eight times, Albuquerque Police Lt. Greg Brachle realized he'd made a crucial mistake — he'd shot and injured his fellow officer.

"I'm sorry man, I didn't know it was you," Brachle screamed. "Jacob, man, hang in there, bro. I thought you were a bad guy."

Video footage captured by a camera worn by the officer and released Friday showed the harrowing moment he mistakenly shot one of his own during a Jan. 2015 drug bust.
The body camera video was released just a day after the city settled a lawsuit filed by Det. Jacob Grant for $6.5 million. Grant, who was working undercover at the time, is still recovering from his injuries and has undergone multiple surgeries since the shooting, KOAT reported.
Brachle was Grant's supervisor and, according to multiple reports of the incident, had not attended a briefing before the bust occurred. The Police Oversight Agency recommended Brachle be fired, but the lieutenant retired instead.
In the video, Brachle can be seen jumping out of a truck and moving toward the back seat of the suspect's vehicle.

When the door opens, he opens fire.
"Gun, gun," he can be heard yelling before firing several times.
Grant, according to previous reports of the incident, had drawn his weapon on one of the suspects while inside the car.

"Oh shit, that was Jacob."
The Albuquerque Police Department has since adopted new requirements after the incident, known as a "blue on blue shooting."
That includes increased oversight of officer training, improving procedures for operation planning, and mandatory attendance for all officers on briefings.
The department also received training on how to avoid "blue on blue shootings" in their ranks, the department said in a statement.
You can watch the video here: