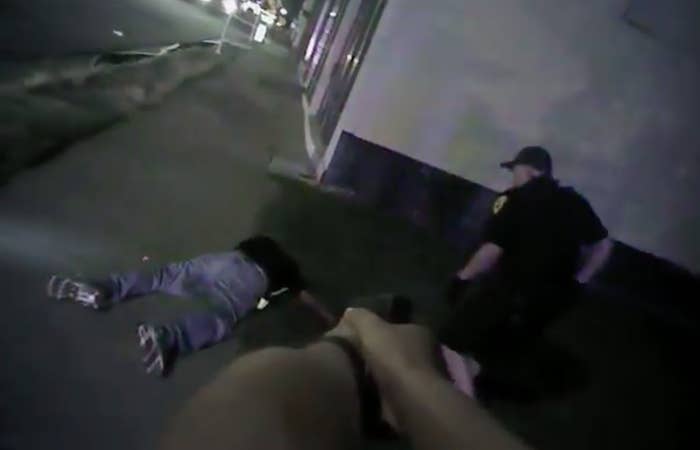 Prosecutors on Wednesday cleared a white police officer in the fatal August shooting of a black man, but body camera video of the incident released this week is raising new questions about the deadly encounter.
Salt Lake City Police Department officials, in their original account of the shooting, said Patrick Harmon, 50, pulled out a weapon while being taken into custody, prompting an officer to open fire.
In one of three body camera videos released by the department Wednesday, however, Harmon is seen running away from officers just before he is handcuffed. In the middle of the pursuit, one of the officer unholsters his handgun.
"I'll fucking shoot you," the officer is heard saying just before firing. He fires three shots, seemingly at Harmon's back while the suspect running.
On Wednesday, Salt Lake City District Attorney Sim Gill released a letter declaring that the office had found the shooting "legally justified."
In a letter to Salt Lake County Sheriff Rosie Rivera, Gill detailed that officers came across Harmon on Aug. 13 while he rode his bicycle across six road lanes and a median without a required red tail light on the bike.
Harmon was found to have outstanding felonies, and officers tried to take him into custody.
"As he ran, Mr. Harmon said 'I'll cut you,' and turned and faced the officers with a knife," the letter reads. "Officer [Clinton] Fox fired his weapon at Mr. Harmon, killing him."
The letter also states that Fox saw Harmon turn around and say "I'll fucking stab you."
The body camera footage, however, doesn't pick up Harmon saying anything before being shot. Officers are heard asking him to take off his backpack, then show Harmon taking off running as an officer tried to handcuff him. In one of the body cam videos, Harmon appears pushing an officer while running.
"They just murdered him flat out," Harmon's niece, Alisha Shaw, told The Guardian.
In the district attorney's letter, officials said Fox "believed his life and the lives of the other officers were in danger."
The Salt Lake City Police Department did not immediately respond to a request for comment from BuzzFeed News.