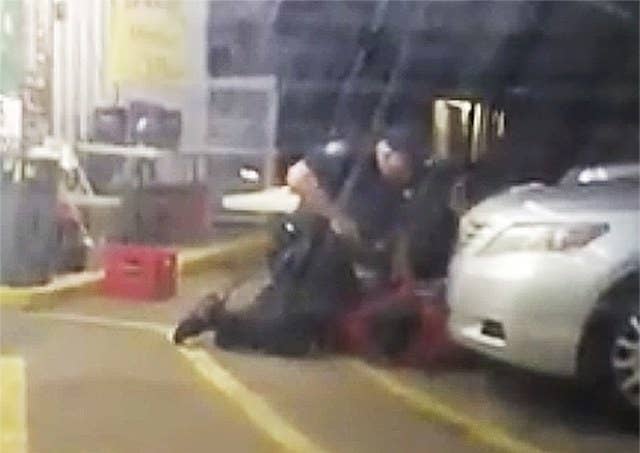 The Baton Rouge police officer who shot and killed Alton Sterling outside a convenience store in 2016, sparking nationwide protests, has been fired, officials announced Friday.
"Our police officers are held to a higher standard, fear cannot be a driver for an officer's response to every incident. Unreasonable fear within an officer is dangerous," Baton Rouge Police Chief Murphy Paul said. "Policing isn't easy."
Blane Salamoni was one of two officers who struggled with Sterling on July 5, 2016, firing six shots that proved fatal and sparked a series of protests throughout the Baton Rouge area.

The decision to fire Salamoni was made after conducting interviews with witnesses and reviewing multiple videos of the deadly shooting, which the recently installed chief of police described as "shocking to the conscience."
Two of those body camera videos released Friday show the encounter between Sterling and the two officers quickly escalating in front of a convenience store. Just seconds after walking to the scene, Salamoni is seen pulling his handgun.
"Don't fucking move or I'll shoot your fucking ass, bitch!" Salamoni says in the video, his handgun pointed at Sterling's head.
After the shooting, Salamoni is heard repeatedly saying, in Sterling's direction, "Stupid mother fucker."

Baton Rouge PD
Police body camera video of Alton Sterling death. (Warning: Graphic video.)
Attorneys for Sterling's family said the footage released Friday showed how Salamoni immediately escalated the situation and was out of control.
"Blane Salamoni came out like a pit bull," attorney Chris Stewart told reporters.
During an administrative hearing on Thursday, Paul said Salamoni refused to answer any questions regarding his actions during the deadly encounter. His firing, Paul said, was based on his violation of the department's use of force policies.
The other officer involved in the altercation, Howie Lake II, was suspended for three days.
"These actions were not minor deviations from policy as they contributed to the outcome that resulted in the death of another human being," Paul said.
However, the family believes both officers should have lost their jobs. Their attorneys said that while Salamoni threatened and ultimately took Sterling's life, Lake stood by and let it happen.
"The tragedy is that this happens all the time," attorney Michael Adams said.
The officers were responding to a 911 call about a man brandishing a gun and threatening someone in the parking lot of the Triple S Food Mart. When they arrived, they found Sterling, a 37-year-old black man, who had been selling CDs in the parking lot.
According to the Justice Department, which reviewed the shooting, the officers ordered Sterling to put his hands on the hood of a car. He initially refused and a struggle ensued, at which point Salamoni drew his gun and pointed it at Sterling's head.
Sterling then placed his hands on the hood of the car. When he tried to move his hands, the other officer, Lake, used a taser.
In the newly released video, Sterling can be heard asking several times what he did wrong.
"I'm saying, what I did?" he says as the two officers yell at him to put his hands on the car.
"Put your hands on the car or I'mma shoot you in yo fucking head, you understand me?" Salamoni responds while aiming a gun at Sterling's head. "Don't you fucking move or I'mma shoot you in your fucking head, you hear me."

"Tase his ass," Salamoni then tells Lake.
Eventually all three men ended up struggling on the ground. In video of the altercation captured by a bystander, the two officers can be seen pinning Sterling, and one is heard yelling, "he's got a gun." Seconds later, a series of shots ring out.
As other officers arrive, Sterling remains bleeding on the floor while Lake asks if he should be handcuffed.
"Fuck it, just let him be," Salamoni says. "Fuck it. Stupid ass mother fucker."
According to a police report, the officers said they saw a gun in Sterling's pocket during the altercation. And in the video, one of the officers can be seen removing an object from his pocket.

The disciplinary action taken against Salamoni came just days after Louisiana's attorney general announced that the two white police officers would not be criminally charged in Sterling's death. That decision came 11 months after the Department of Justice came to a similar conclusion.
In a statement to reporters Friday, Paul said he expected his decision to be criticized and second-guessed, but he felt it was the right one based on the evidence of the case.
"Just to be clear, my decision was not based on politics, it was not based on emotions, it was based on the facts of the case," he said.
But Paul also defended other officers in his department, saying that their good work was often overshadowed, and he asked residents to "stop running, stop resisting" when encountering police officers.
"When the police officer gives you direction, listen, follow his directives," Paul said. "Being a lawyer on the side of the roadway roadway doesn't work out."
If a police officer was unprofessional, Paul said, he asked people to "file a complaint. We want to know about it."
He also criticized the length of time all three investigations of the case took, citing a "cloud that has been over our community for far too long."
The administrative investigation was completed within 60 days of the shooting per Louisiana law, but he did not say why it had not been made public until now.

"This is over. There is no more criminal investigation. This is the last investigation," he said. "We're going to let our community heal."
Stephanie K. Baer contributed additional reporting to this story.