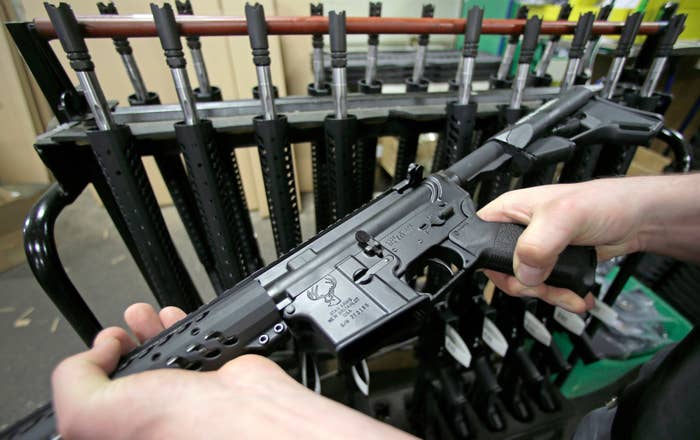 Bank of America will stop lending to gun manufacturers that make "military-style firearms" for civilians, the bank's vice chair announced in an interview Tuesday.
"We have let them know that we are going to, it's not our intent to underwrite or finance military-style firearms in a go-forward basis," Anne Finucane, vice chair for Bank of America, told Bloomberg.
The decision was in direct response to a number of high-profile mass shootings across the country, most recently at a Parkland, Florida, high school that left 17 people dead in February.
"We want to contribute in any way we can to reduce these mass shootings," Finucane said.
The decision from Bank of America, the US's second-biggest bank, came after the company announced in February it would ask gunmakers how they could help end mass shootings.
Finucane described the response from gun manufacturers as "mixed," and that the bank expects some of the companies will take their portfolios to other banks.
"They're our clients and we have enjoyed a relationship, but there are those that I think will reduce their portfolio and we'll work with them, and others that will choose to do something else," she said.
Bank of America's decision to cut ties with the manufacturers came as private companies have taken action in the debate over gun control and violence, even as effort on the federal level appears to have waned.
In the days following the shooting at Marjory Stoneman Douglas High School, several companies severed their ties with the National Rifle Association. First National Bank of Omaha, for example, stopped offering their Visa credit card with the NRA logo.
Other companies, like Enterprise Rent-A-Car, Delta, and United Airlines, stopped offering special rates to NRA members.
BlackRock, which according to Bloomberg is the world's biggest asset manager, also told investors it was reaching out to gunmakers and retailers to determine how they would respond as businesses to the spate of mass shootings.
The company told its investors last week it was working to form new products so that clients could exclude major gunmakers and retailers from their investment portfolios.