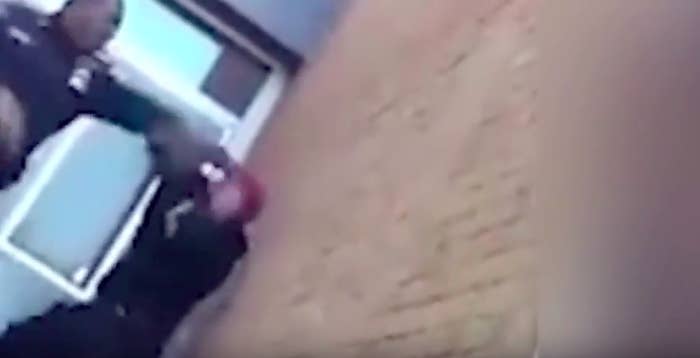 A Baltimore City School Police officer seen slapping and kicking a teenager on video has sparked a criminal investigation, officials said Wednesday.
The video, which was originally posted on Facebook, shows an officer swinging three times at the young man's face just outside of a school, then kicking the teen as he tries to walk away from the officer.
"Get the fuck, fuck outta here," the officer is heard yelling at the young man in the short video, apparently recorded by another teen.
"I am completely appalled and disappointed by what is depicted in the video," City Schools CEO Gregory Thornton said in a statement released by Baltimore City Public Schools. "The behavior in the video is completely unacceptable."
Both the officer involved, and a second officer who stood by and watched as the teen was slapped and kicked have been placed on paid administrative leave, according to the statement.
The incident has sparked a criminal investigation by the Baltimore Police Department and the Baltimore City State's Attorney's Office.

Baltimore City Public Schools Police Chief Marshal Goodwin was also placed on administrative leave, The Baltimore Sun reported, although officials did not specify why Goodwin was put on administrative leave.

WJZ reported school officials became aware of the confrontation when the news station brought the video to their attention Tuesday evening.
School officials said in a statement the confrontation happened after a young man walked inside the Reach Partnership School Tuesday.
School officials stated the young man is not a student at the school, but an attorney representing the teen told The Sun he does. She declined to identify the young man because he is a minor, and said he was taken to a hospital for injuries to his ribs and face.
Baltimore City Public Schools spokesman Edie House Foster also told the paper the officer in the confrontation patrolled several schools as part of his assignment.
The two officers were not identified because of the ongoing investigation.