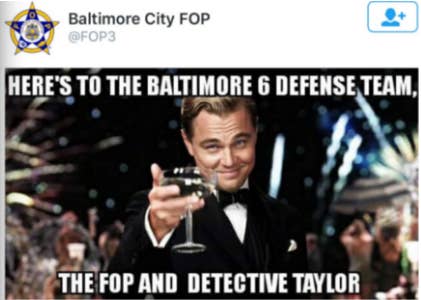 The Baltimore police union is under fire after sending a pair of tweets celebrating the acquittal of an officer charged in the death of Freddie Gray.
One of the tweets, posted Friday night, shows a Leonardo DiCaprio meme toasting with a glass of champagne, a scene from The Great Gatsby.
"Here's to the Baltimore 6 defense team," it read. "The FOP and Detective Taylor."
The tweets came after Officer Caesar Goodson Jr. was cleared of all charges in Gray's death earlier this week. The meme drew the ire of several people online, as well as the city council's president and police commissioner.
The second tweet was a picture of City State's Attorney Marilyn Mosby with a caption that read, "The Wolf That Lurks."
The tweets were deleted by Saturday morning, after Baltimore Police Commissioner Kevin Davis and City Council President Bernard C. Young condemned the tweets.
"Inappropriate, insensitive remarks or attacks that serve to detract from our necessary relationships with our community and criminal justice partners have no place in our City," Davis said in a statement.
Young said the Baltimore Fraternal Order of Police needed to apologize for the "insensitive and inflammatory tweets."
"The tweets, in addition to making light of a tragedy that claimed the life of a young man last April, only serve to further exacerbate distrust," he wrote.
As of Saturday morning, the police officers' union had not issued an apology, but deleted the tweets.
However, one of the tweets and the image was still visible on the union's Facebook profile.